Skills Learned in Liberal Arts Studies are Highly Valued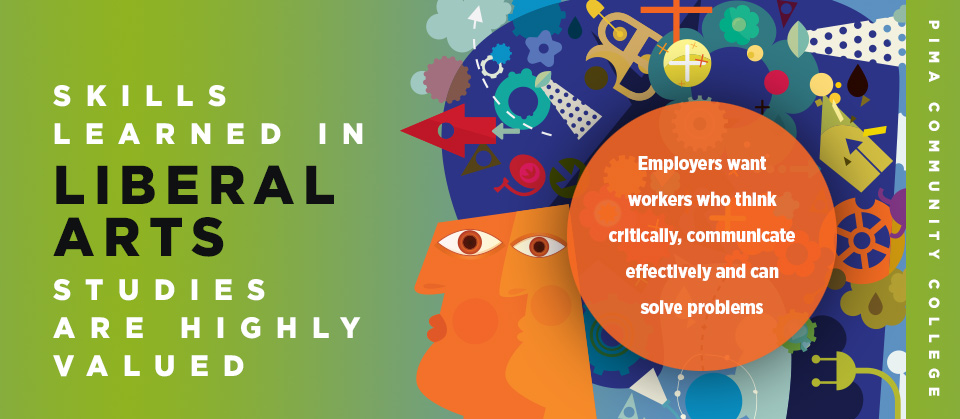 Starting college with liberal arts studies not only can help you choose a career, but also can give you the broader skills that make getting a job easier, regardless of the field.
The U.S. Bureau of Labor Statistics and Hart Research Associates say the vast majority of employers care less about a worker's degree than one's ability to think critically, communicate effectively and solve problems readily – all hallmarks of a liberal arts education.
Betsy Bolding, Tucson Electric Power's manager of Consumer Affairs, says smart local employers recognize the value of a broad-based background, but others are preoccupied with potential employees' technology skills.
"There are truths that are not revealed under a microscope or concealed in circuitry," says Bolding, who is on the boards of both UA's College of Social and Behavioral Sciences and private Prescott College. "An employee with a liberal arts background will be able to bring a deeper context and broader application to discoveries ahead."
In 2011, Jeanette Alcaraz earned Pima's most popular degree – Associate of Arts in Liberal Arts. Alcaraz took a Speech Communication concentration. The degree is for transfer into university liberal arts, humanities, social and behavioral science and education majors.
Now Alcaraz is pursuing an Arizona General Education Curriculum (AGEC)-Business certificate for transfer to the University of Arizona's Eller College of Management. Pima also has AGEC certificates in art and science. AGEC general education courses meet lower-division general education requirements for Arizona State University, Northern Arizona University and UA.
"Communications is a very good complement to business. You learn how to be a good speaker and a good listener," says Alcaraz, who is in Pima's Honors Program, has a 4.0 grade point average and works two part-time jobs. "I also took a lot of psychology classes, which can help with decision-making in business, too."
Ann Parker, PCC Desert Vista Campus vice president of student development, says students must be strategic in selecting liberal arts courses and not delay choosing a degree path. Academic advisors help them focus and learn how to explain the value of their liberal arts education to would-be employers.
Studying liberal arts at a community college gives students more opportunities to explore and find connections across disciplines, Parker says. That helps them learn what they want to do and what they don't want to do.
"Liberal arts studies broadens your cultural perspective and gives insight into what is going on in the world," Alcaraz says. "I see myself using the analytical skills I have obtained to maximize profits for a company. I don't think I would have gotten there without the liberal arts studies."
For Jordan Olsen, pursuing a liberal arts degree at Pima also saved him thousands of dollars. Olsen has dyslexia and attention deficit disorder, and had to relearn math after surgery to remove a brain tumor. He gets free comprehensive support through PCC's Project SOAR (Students with Opportunities for Achievement and Retention), a federally funded TRiO student services program for students with disabilities, including veterans.
"With my learning disabilities, it would not be easy to transition into a university. It takes me one to two weeks to adjust to a class and set up well," says Olsen, who also works part time. "The main thing that the liberal arts classes taught me was how to think on my own and learn to overcome problems. It's a very practical approach."
Olsen even discovered a knack for sign language after choosing a course to fulfill language requirements. Being a sign language interpreter is his backup plan. He will graduate this spring semester, transfer to UA and pursue a bachelor's degree in communications, with a minor in political science. He hopes to become a political strategist.
"I absolutely hate failure," Olsen says. "Still, though communications isn't the easiest for me, I see it as something I potentially can be really good at." CF