Transform your Passion for Fitness and Sports into a Rewarding Career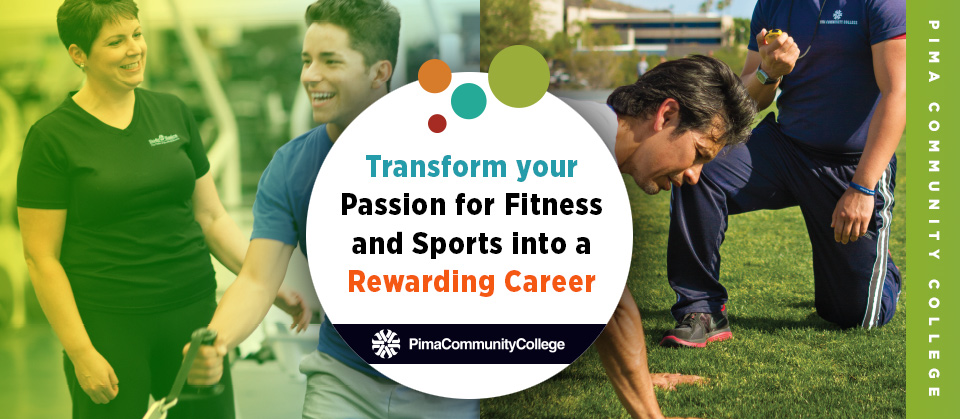 Personal trainer Maureen Raine often sees her former self in her clients.
"Having overcome a significant weight problem myself, I understand how to educate and inspire people who are newly committed to working on their health," said Raine, who was 80 pounds overweight after the birth of her second child.
Working with a personal trainer helped her lose the post-baby weight and ignited in her a passion for fitness. Raine, a former preschool teacher, earned a Fitness Professional certificate at Pima Community College. Today, as a National Strength and Conditioning Association (NSCA)-certified personal trainer, she's showing others how to take charge of their health.
Careers in coaching and personal training are expected to grow substantially over the next decade. The U.S. Bureau of Labor Statistics projects a 24 percent jobs growth for fitness professionals and a 29 percent growth for sports coaches through 2020.
"My personal trainer turned my life around," said Raine. "He inspired me to make a career out of my success … I wanted to help others achieve and enjoy the health and vitality that I found."
Students in Pima's Fitness Professional program are prepared to work with the fitness needs of the general public and the specific needs of diverse populations. The courses are taught by highly skilled professionals who also work in the field, said lead faculty John Kordich.
"Our goal is to provide aspiring fitness professionals and coaches with the most relevant and up-to-date information and competence to be successful," said Kordich.
The program's graduates are prepared to take exams for certification through the American College of Sports Medicine (ASCM), the American Council on Exercise (ACE), or the NSCA. After the exam, certified professionals may pursue a specialty certification in a wide range of areas, such as sports conditioning, weight management and functional training.
"Pima's program is outstanding," Raine said. "It covers the essential components of fitness and health necessary to produce qualified fitness professionals."
Students gain work-related experience in Pima's Fitness and Conditioning Centers and in local fitness clubs and agencies.
"It's helpful to observe as many different trainers in a variety of work settings to experience a variety of philosophies and techniques," Kordich said.
Kordich said this helps students get a feel for which type of setting they'll want to work in and with whom. They get to experience working in different environments with different populations.
"The internship program helped me see what a day and life in the personal training world is like," said Raine, who landed her job out of an internship at BodyBasics.
In addition to being certified by the NSCA, Raine is a Functional Movement Systems (FMS)-certified exercise professional and a certified kettlebell instructor. She also has a unique insight into exercising with a disability and disease. In 2011, she was diagnosed with early-onset Parkinson's disease.
"I use my first-hand knowledge to encourage others who contend with physical limitations," Raine said. "And I'm passionate about helping others succeed at being the strongest they can be in body, mind and spirit."
Today, people from all walks of life use certified personal trainers to help them learn how to exercise, lose weight and adopt a healthier lifestyle. The career possibilities for personal trainers are limitless, as varied as the fitness interests of trainers and the endlessly diverse client base.
Fitness professionals commonly find employment in health clubs or studios, universities, spas, resorts and cruise ships. Corporate fitness is a growing field, and many fitness professionals work for companies providing workplace wellness programs.  Other employment possibilities include consulting, fitness writing, online training, group fitness instruction, fitness management and club ownership.
Kelly Sharpe, who earned a bachelor's degree in psychology with a minor in nutritional sciences from The University of Arizona earlier this year, will complete her Fitness Professional certificate at Pima next spring. Her goal is to own a business that incorporates counseling, nutrition and fitness.
"I want people to be mentally and physically fit," Sharpe said.
Javier Moreno earned his Fitness Professional certificate last semester, became an ASCM-certified personal trainer and will earn his Fitness and Sports Sciences Coaching certificate from Pima this fall.
He plans to build a personal training business and become a certified conditioning coach for amateur boxers and mixed martial arts fighters.
Previously, Moreno worked in the transportation field for six years. Losing that job allowed him to embark on an entirely new career path that started with Pima's Adult Education GED program and continued with the Fitness Professional program.
"Getting laid off was a blessing in disguise," said Moreno. "It was the perfect opportunity to go back to school to do something that I loved … This program really changed my life around."
Careers in Sports Coaching
Coaching is another great career option for those interested in changing the lives of others through sports and fitness. Sports coaching can be a richly rewarding experience, helping others grow, develop and navigate their way in the sporting world.
Pima's Fitness and Sport Sciences Coaching Certification program prepares graduates to take exams for certification through the Arizona Department of Education or the American Sport Education Program.
It covers the important aspects, ethics, techniques and strategies universal to coaching all sports, as well as anatomy and physiology, sports psychology, adolescent psychology, and the prevention and treatment of athletic injuries.
Coaching, at its core, is teaching but in an athletic venue instead of a classroom. The best coaches are pillars of the community, said coach Scott Hines, FSS instructor and former high school and college basketball coach, as well as amateur soccer, tennis, and track and field coach.
Becoming a coach is not just about chasing victories. To have a successful coaching career, you must understand the other things the job entails, Hines said.
"Putting in a lot of hard work and spending time developing as a coach is an absolute requirement," he said. "This is a tough job and you have to be willing to work and put in long hours."
Coach Joel McMillon is a retired Tucson Police Department officer with more than 15 years of coaching experience. His father, also his coach, inspired him to spend time coaching other kids.
"A coach wears many hats. They are teacher, parent figure, role model and counselor," he said.
He's coached youth football, Little League baseball, and is head coach of the Mountain View High School junior varsity football team, and the receiver/defensive back coach for the varsity.
"I love supporting kids involved in physical activities," McMillon said. "Being a coach allows me to influence young lives in a positive way and be involved with the sport that I love."
McMillon earned his associate degree in general studies last spring and is receiving his Fitness and Sport Sciences Coaching certificate this fall. His goal is to be the head football coach of a high school program.
Anyone considering coaching should volunteer for a team. This allows you to learn from the coach, see the day-to-day workings of a team and get a feel for the work. You can pick up valuable coaching tools, learn more about the sport and make job contacts for down the road, Hines said.
Bryce Parker, 24, who played on Pima's men's soccer team, landed a coaching position after volunteering on his brother's soccer team and is now on his fourth season as the assistant boys' soccer coach at Marana High School. Parker also coaches club soccer for locally organized soccer programs. His ultimate goal is to be head coach of a college program.
Parker found the courses in Pima's Fitness and Sports Sciences Coaching Certification program to be very helpful in day-to-day coaching.
"I've been able to apply the skills on the field," Parker said.
According to the U.S. Bureau of Labor Statistics, schools are the largest employer of athletic coaches. The Arizona Department of Education requires coaches who are not already teachers to have a coaching certification, first aid and CPR certification, coaching experience and a valid Arizona fingerprint card. CF