Career Choices: Do What You Love or Make Lots of Money?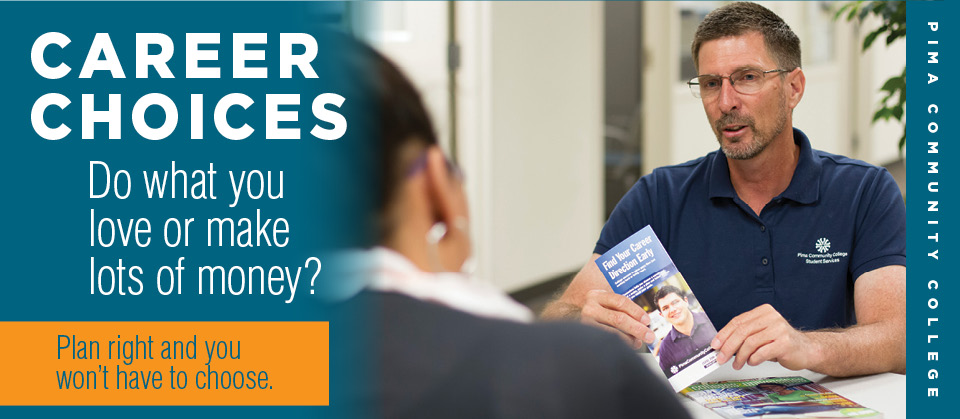 What role should money play in your career goals? Should you just go after your dreams and trust that the money will follow? Or should you set your dreams aside and pursue a big paycheck?
Are those the only choices? Not if you take the time to look at yourself and at the job market.
Who are YOU?

Ed Doran, a Pima Community College counselor, works with students deciding on a career direction. Potential salary is just one part of the discussion.
Doran begins by asking students about their interests: What do you enjoy? What are you good at? What do you care about? The answers to those questions provide a starting point.
"You're most likely to excel at a career if you find it rewarding and you fit with the work culture," Doran said.
"Students who have the hardest time finding a career are those without a sense of direction," he added. "Get clarity on your talents and interests and set some career goals before graduation, even if you're in a flexible curriculum like liberal arts."
How much do you need?
Ann Bares, a compensation specialist with Altura Consulting Group in Medina, Minn., agrees it's important to identify your interests. But it's just as important to clarify your income expectations.
She followed her own advice with her (now adult) children in their career decision process.
"The worst thing I could have done was let my kids launch without considering not only their interests and gifts, but also the kind of income and lifestyle they wanted and what the tradeoffs might be," she said.
"Ask yourself, what kind of life do you expect and what does this mean for you in your education and your life," she recommended. "If you're planning on a nice car, a house or getting married, those all require a certain income level."
"I don't recommend that anyone choose a career that seems interesting without first making sure the job outlook and income possibilities fit their hopes and expectations," Bares said.
Determine your direction

How do you find that sweet spot between salary and satisfaction? Doran encourages students to research jobs and salaries online at O*Net (onetonline.org), a website that lists salaries and job descriptions for a variety of careers, or through a college career office. More important, he said, begin the career exploration process early. Consider various career directions, take classes that prepare you, and learn more about specific jobs. Ideally, start the process before college and even as early as middle school.
Bares recommends informational interviewing to learn more about careers that interest you.
"Talk to people in different careers," she said. "Ask how they got started, what choices they made, what they like about their job." "It can be intimidating for some people to do this," she acknowledged.
You might need a teacher, a friend or a parent with connections to make introductions.
"But it's so valuable," Bares said.
"It's not really a zero sum game," she said. "You can definitely find work you love and be financially successful doing it, but it's more likely to happen if you invest the time and energy in really exploring and understanding your career possibilities."