Start Now. Finish Within Two Years.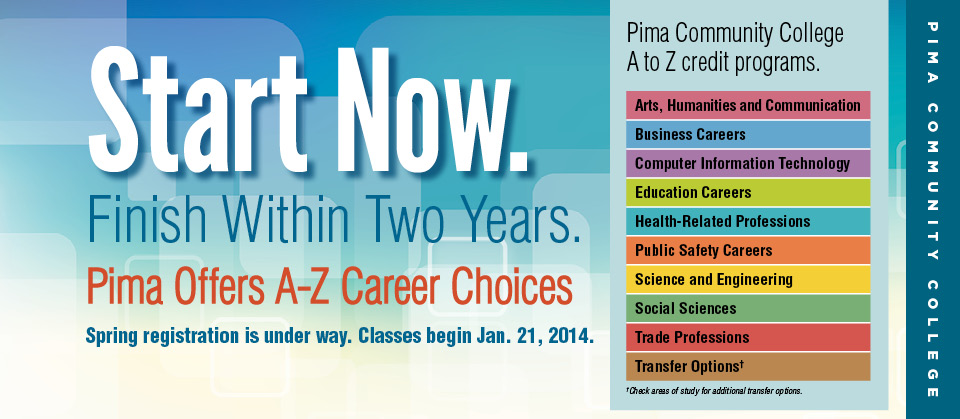 Pima Offers A-Z Career Choices
We know you don't have time to waste…
Start your college education by visiting Pima Community College at www.pima.edu. Choose a course of study, enroll and, within two years, you could be on your way to a brand new career and a lifetime of improved earning power. Check out the A-Z program list that follows to see what best fits your interests. If you need some guidance, PCC's advisors will be happy to help you figure out a career path.
PCC offers a multitude of options in a wide range of fields. Choose from more than 100 certificate and degree programs, as well as university transfer programs. PCC offers express degrees and day, evening, weekend, online and self-paced courses to fit your busy schedule.
If you're ready to get moving, Pima is ready for you!
Spring registration is under way. Classes begin Jan. 21, 2014.
Areas of Study
Gainful Employment Information
As required by federal law, gainful employment information for all of VC's certificate programs is available on the VC website. To learn more about graduation rates, the median debt of students who have completed a certificate program, and other important information about VC's certificate programs, please visit our Gainful Employment website.
Credit Programs
Victoria College's credit programs lead to a degree (AAS, AA, or AS), certificate, or academic transfer.
Workforce & Continuing Education (WCE)
VC's Workforce & Continuing Education Department offers specialized training courses that can get you started in a new career quickly or help you advance in your current career. These are noncredit courses—they do not apply toward a credit degree, credit certificate, or academic transfer. Many of the Workforce & Continuing Education courses can lead to a nationally recognized certificate or state credential.
Victoria College is a public, open-admission college.
+Additional admission requirements are necessary for this course or program.
++This is a selective admissions program. Please refer to the VC Catalog.
*Source: emsi Career Coach 2013
**Salary data obtained using local sources.