Agri-SURF Summer Bridge Program Kick Starts New Sustainable Plant Systems Program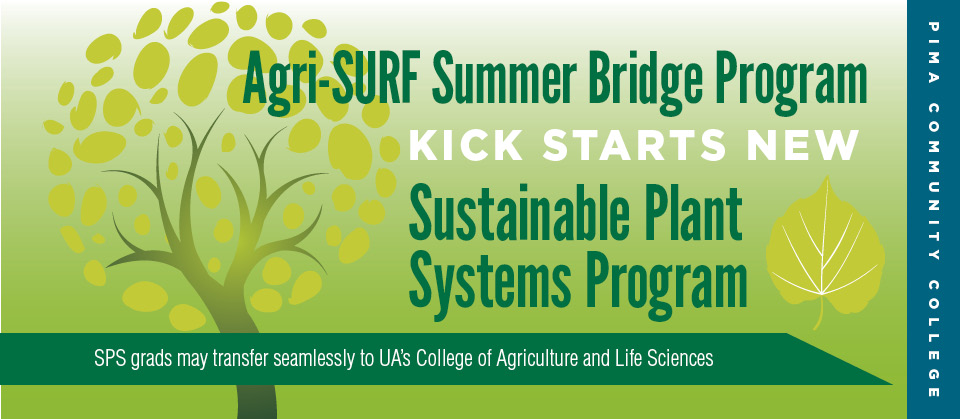 SPS grads may transfer seamlessly to UA's College of Agriculture and Life Sciences
Pima Community College is recruiting students for the new Agri-SURF Summer Bridge Program to build enrollment in its new Sustainable Plant Systems degree and certificate program.
Agri-SURF (Agriculture Sustainability and Universal Renewable Farming) targets high school students and undecided college freshman.
Agri-SURF participants earn three free college credits in the Sustainable Plant Systems (SPS) major. They also get free books, use a state-of-the-art laboratory and agricultural technology equipment for hands-on field research, hear guest lectures by professionals and take field trips.
"Agriculture is a growing area of interest to young people everywhere, and we will help our students get a real, solid foundation in these related studies," said Agri-SURF project director Ely Esparza.
The five-week Agri-SURF summer classes will be Mondays through Thursdays at PCC's Desert Vista or Northwest campuses. Esparza wants to enroll at least 20 Agri-SURF students at each campus, and start the SPS program with 80 students in fall 2014.
Pima SPS graduates will be able to transfer seamlessly to The University of Arizona College of Agriculture and Life Sciences and be eligible to apply for a $45,000 UA scholarship.
Many careers, with salaries ranging from $40,000 to $100,000, are available to those holding at least a bachelor's degree in SPS or environmental sciences. Jobs can be in anything from farming to land management, to soil conservation, consulting or research, and done either independently or for a private or governmental agency. Potential employers range from coal and oil companies to real estate firms to public agriculture departments.
A U.S. Department of Agriculture National Institute of Food and Agriculture grant supports Agri-SURF and the SPS program.