Casino Del Sol Resort and Pima Partnership a Win for All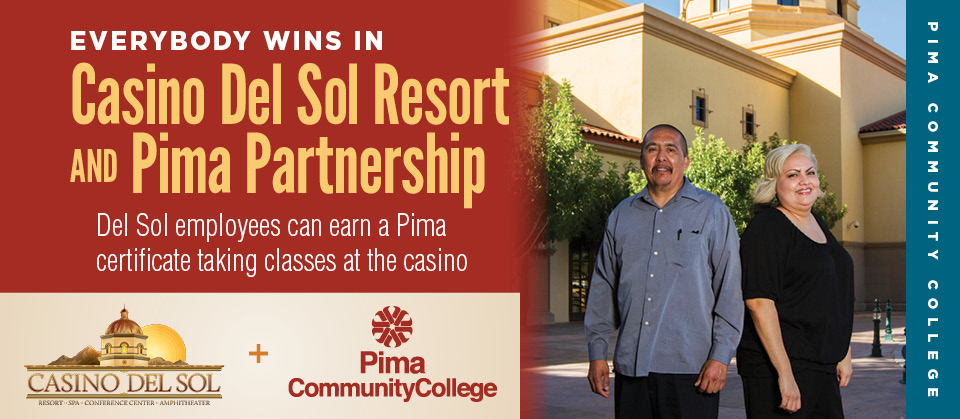 Del Sol employees can earn a Pima certificate taking classes at the casino
It was no gamble when Casino Del Sol Resort partnered with Pima Community College on a program that allows its team members to earn a PCC certificate in Hotel and Restaurant Management at their workplace with no cost to them.
It was a sure bet – one that could pay off for years to come for everybody involved, with well-rounded team members for the Casino Del Sol Resort, with college credentials and advancement opportunities for the team members, and with a lasting partnership that allows Pima to engage in its mission of developing the community through learning.
"We wholeheartedly support training and development initiatives," said Marcus Diaz, Casino Del Sol Resort's director of organizational development. "And Pima has been a fundamental component in many of our training strategies, including preparing for the opening of the hotel in 2011."
"From its inception, the College was designed to be flexible and nimble in meeting the demands of Pima County's workforce," noted Pima Chancellor Lee D. Lambert. "This partnership, and others that we have like it, exemplifies that commitment."
Armando Trujillo, who directs Pima's Hotel and Restaurant Management program, customized the program and is the course instructor. Team members attend class three hours one day a week for a year, earning 22 college credits. The program covers everything from hotel food and beverage management to front office procedures to executive housekeeping. At the end – the current cohort of 30 finishes in July 2014 – participants will have earned a Pima certificate without ever having to step foot on campus.
Casino Del Sol Resort pays for their tuition and books, as well as paying them their regular rate of pay for their class time. The classes are on-site.
Trujillo said Casino Del Sol Resort, an enterprise of the Pascua Yaqui Tribe, strives to create advancement opportunities for all team members, but especially to  prepare members of the tribe for all levels of management (the Hotel and Restaurant Management program is open to all team members, tribal and non-tribal).
"They are very proactive in trying to find ways to develop their community," Trujillo said. "They are willing to spend the money to have all the people participate in their success. I applaud them."
Diaz said Casino Del Sol Resort, which has nearly 1,500 team members, hopes this program will be an educational springboard for those who participate.
"We want them to have the education and experience and receive the credentials from this program, but the other goal is to motivate them to go back to school to earn their bachelor's or master's degrees," Diaz said.
Team members taking the classes are grateful for the opportunity.
"It's been great," said Lillian Alcaraz, a player services coordinator. "Although I'm just sticking my feet in the water, I think I'd be good in a supervisory position."
One of the most valuable aspects of the program is the reiteration that everything they do is "about providing great customer service," she said.
Valerio Valencia, a compliance officer, said the chance to further his education at his employer's cost and largely on its time was an offer he couldn't refuse.
"They make it so easy. It's on-site. The curriculum is not easy, but it's presented in a way that is very easy to learn," Valencia said. "I enjoy learning, and if I could get a degree someday that would be incredible."
The program has been eye-opening, he said, a real revelation about how much work goes into making hotels and restaurants run well.
Asked about his ultimate career goal, Valencia replied, only half-jokingly, "Corner office."
"Ultimately, I just want to go wherever it takes me. Certainly I want to be in positions of authority and leadership," he said.
Pima previously partnered with Casino Del Sol Resort to offer a six-session overview of the hospitality industry, part of a four-phase training program that preceded the opening of the hotel. More than 600 community members attended the sessions.
"We were really pleased because we ended with tribal members making up 80-83 percent of hotel team members," Diaz said. "Then we actually went on to win the prestigious AAA Four Diamond Award in 2012 and Forbes Travel Guide Four Star Award in 2013. We are the only Native American casino in the world to have a Forbes Travel Guide Four Star Award."