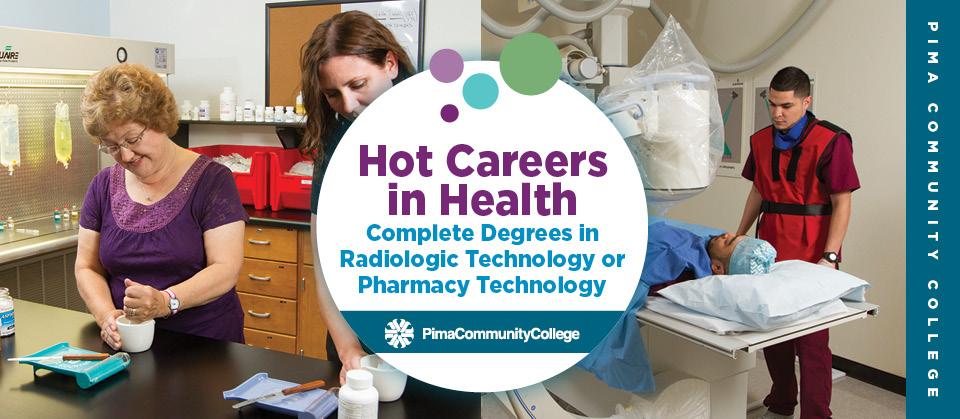 Healthcare is the largest industry in the country, with many areas of growth projected
Pharmacy Technician
"Being a pharmacy technician appealed to me because of the hands-on nature of working with, making and filling prescriptions," said Cole Keeley, who received his Pharmacy Technology Associate of Applied Science degree and works as a compounding pharmacy technician at Coram, a home infusion pharmacy.
"In Pima's program, the instructors incorporate real life and practical experience," Keeley said. "They're also committed to helping you achieve your goals, find an internship, prepare for certification and successfully move into the workforce."
Pharmacy Technology students may do internships for such top-notch companies as CVS, Walgreens, Target, Kindred Healthcare, University of Arizona Medical Center and Tucson Medical Center.
"We want our pharmacy technicians to graduate with confidence," said Susi Schmidt, lead faculty for the program. "Internships are a great opportunity – you're studying and learning the material in a practical setting."
Recent Pharmacy Tech graduate Nina Simon said her internship at University of Arizona Medical Center South Campus showed her how a pharmacy runs on a day-to-day basis and allowed her to integrate what she learned in class. She now works there.
"I really get a sense that I am making a difference in our patients' lives," Simon said. "It's a very rewarding career with its direct connection to patient satisfaction and care."
The median salary for a certified Pharmacy Technician is $35,454, according to the National Pharmacy Technician Association.
Breshka Meyer enrolled in the program as the Great Recession hit. After being a stay-at-home mother for 11 years, she wanted a solid profession to help her architect husband support their family of six. "Pima's program was very comprehensive," said Meyer, who last fall earned her AAS. "The hands-on training and coursework made me feel comfortable working in a real pharmacy."
Student Beverly Kurneta is a 25-year veteran of the U.S. Navy Reserves.
"I've always wanted to go to college and I've always been fascinated by medicine. I'm also very detailed-oriented, which is why I think this career is going to be the perfect fit," said Kurneta, who hopes to work for the Southern Arizona VA Health Care System after earning her Pharmacy Technology certificate in 2014. "Vets are near and dear to my heart, but doing what I was trained for would be great in any setting."
The American Society of Health-System Pharmacists accredits Pima's Pharmacy Technology program.
Are those the only choices? Not if you take the time to look at yourself and at the job market.
Radiologic Technologist
A new R.T. likely will work per-diem hours, whether in a hospital, imaging clinic or physicians' office. The entry level R.T. performs routine, emergency, surgical and fluoroscopic examinations and procedures. With additional education, clinical training and certification, an R.T. can advance into areas such as magnetic resonance imaging (MRI), computed tomography (CT), mammography and radiologist assistant.
Students in Pima's program say besides technical proficiency, the work requires attention to detail and strong communication skills.
"I like the fact that radiologic technology is a combination of an art and a science," said Chris Emmerich, who will graduate in 2014 with an AAS in Radiologic Technology.
Catherine M. O'Brien, M.Ed., R.T., Pima's Radiologic Technology program director and chair of PCC's Allied Health Department, said several factors besides the impact of the Great Recession have made the R.T. job market much tougher than national experts have predicted:
advances in technology requiring fewer technologists to perform the duties and responsibilities of the radiologic technologist
pressure to contain costs
reimbursement cuts for many imaging exams
low patient volumes
an oversupply of technologists in some regions of the country
Still, 92 percent and 80 percent of PCC R.T. graduates in 2011 and 2012, respectively, got jobs.
"This is a career that lasts a lifetime," O'Brien said. "R.T. work is physically, mentally and emotionally challenging. Our program is rigorous and requires a full-time commitment to be successful. You must be academically solid, professional, committed to the profession, team-oriented and have excellent verbal communication skills."
To get into Pima's R.T. program, a student must complete prerequisite classes with minimum scores before even applying to the program. Once accepted, a student may wait two to three years to start the program.
A radiologic technologist (R.T.) in Arizona earns, on average, $65,879 annually, according to a survey by the American Society of Radiologic Technologists.
Over the course of the 24-month program, there is a progression from instruction in basic patient safety and care, ethics, infection control and routine X-rays, building to more complex exams, procedures and imaging concepts.
"Right now, I'm at UMC and it's a Level 1 Trauma Center, so we see everything," said Greg Aguon, Jr., who started with his cohorts in June. "Usually, you are supposed to stay at your first clinical site for a year, but if you don't get the variety of experience that's needed, staff move you where you will get it."
Students train on state-of-the-art equipment at clinical sites and in PCC's West Campus X-ray lab. Using funds from a $1 million donation to PCC in 2004, the program has been able to make renovations and add equipment. It has purchased a portable C-arm imaging system (used in surgical settings), a digital imaging machine (requiring no film or processing) and a fully adjustable surgery table – all standard equipment in many Tucson facilities. The Thomas R. Brown Family Foundation donation was the largest-ever donation to PCC and supports various PCC healthcare programs.
"Setting up plays a big part in getting the image you want," R.T. student Steve Macz, who is doing clinicals at Tucson Medical Center, said, referring to the C-arm. "I know of techs going in a half-hour before a surgery to set up the machine as much as possible."
O'Brien said clinicals are expected to lead to jobs for graduates. PCC has affiliation contracts with 22 clinical sites, including facilities of Carondelet, Northwest Medical Center, Oro Valley Hospital, University of Arizona Medical Center, Tucson Orthopaedic Institute and the Southern Arizona VA Health Care System.
"Being able to work in a real-life environment shows you exactly what to expect and how you need to be flexible," said Brittani Johnson, who will receive her AAS in 2014.
Pima's program is accredited by the Joint Review Committee of Education for Radiologic Technology and meets Arizona Medical Radiologic Technology Board of Examiners requirements for clinical hours and skills.
The high quality of PCC's program is reflected in its 78 percent graduation rate in 2012, when all of its graduates passed the American Registry of Radiologic Technologists exam. From 2008 to 2012, 94 percent of PCC graduates passed the exam.