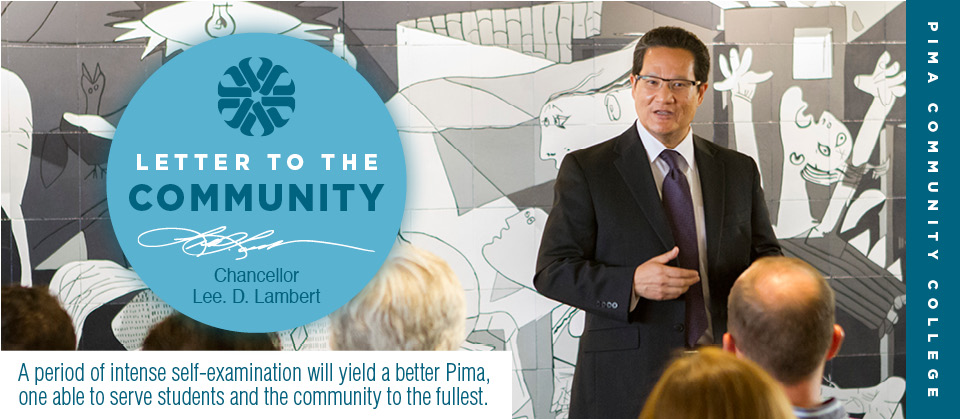 With the beginning of the spring 2014 semester only a few weeks away, I want to update the community on how Pima Community College is serving its constituents while decisively and systematically responding the challenge of probation.
Let me begin with the facts. PCC is in the midst of a College-wide effort to emerge from probation, a type of sanction imposed by the Higher Learning Commission. The HLC is one of several regional and national organizations that accredit institutions of higher education such as PCC. Accreditation is an important indication for current students, prospective students and the community that a college is operating acceptably.
The HLC directed us to conduct a Self-Study, a comprehensive review of our operations and goals, so that the College can provide evidence that it has resolved the HLC's concerns and deserves the full confidence of our accreditor and the public.
To achieve that objective, we have enlisted more than 250 employees – faculty, staff and administrators as well as dozens of students and two dozen community volunteers. Our 14 Self-Study committees have examined evidence to determine how well the College is meeting criteria in 125 areas of policy and operations. I am pleased to report that we meet criteria at a high level or acceptable level in about 85 percent of those areas. Among the areas in which PCC is operating at a high level are our educational infrastructure and resource base – areas that are critical to the College successfully serving our students and community.
In 19 areas, about 15 percent, we do not meet criteria. Of those areas, five relate to deficiencies noted by the HLC when it placed the College on probation in April 2013. Many of the other areas can be remedied through a simple revision of policy, or more prominent publication of existing information.
What's next for PCC? In areas where we meet criteria at a high level, committees will begin drafting sections of the Self-Study report. For areas of acceptable compliance, PCC will identify internal subject-matter experts, examine national best practices, and plan for further improvement.  Our goal is to go beyond minimum requirements. We want to be the best we can be, because that is in the best interests of our students.
In areas that do not meet criteria, we have assigned each to a team to make changes so that the College can fully meet criteria no later than May 1, 2014. I am supremely confident that we meet all criteria, and that PCC will successfully emerge from probation.
Current and prospective students will still be able to apply for financial aid, their PCC credits will transfer to four-year colleges, and the quality of our degrees and certificates will not be diminished. We have awarded more than 10,000 degrees and certificates over the past two years, and we will award thousands more at May's graduation. For the tens of thousands of students who will be returning to our campuses, it will be business as usual.
That is evident from this issue of Career Focus, which contains news of our new Northwest Campus building that will further education in Science, Technology, Engineering and Mathematics; our Pharmacy Technology and Radiologic Technology programs; and our employee-training partnerships with Tucson Electric Power and Del Sol casinos.
Those articles represent Pima at its best, and I view the next 12-15 months as an excellent opportunity for reassessment so that we can always be at our best. This intense self-examination of our mission and operations will yield a better Pima, one that welcomes and values the goals of every student, so that all can benefit from the promise and power of education.

Chancellor Lee. D. Lambert