Pima Part of National Push to Train Baby Boomers in Healthcare, Education And Social Services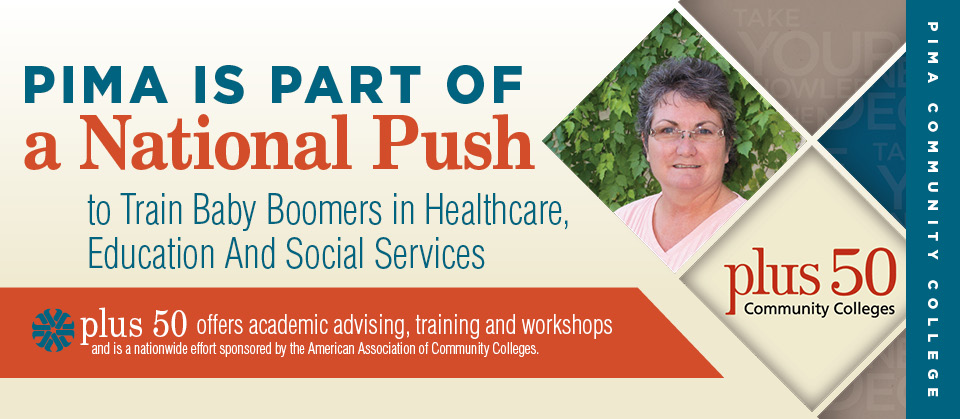 Plus 50 offers academic advising, training and workshops
Baby boomers can get extra support in completing some degrees and certificates at Pima through the Plus 50 Encore Completion Program grant.
Plus 50 is a nationwide effort sponsored by the American Association of Community Colleges (AACC) to train 10,000 people age 50 and older for new jobs in healthcare, education and social services that give back to the community. Plus 50 is designed to increase baby boomers' access to learning and maximize their marketability. The program provides such support services as academic advising, training and workshops to help participants complete training and get a job in their new career field.
Retired school administrator Judi King was among the boomers attending the program's kick-off event Oct. 29 at East Campus.
"I'm very well-educated and I've worked with tons of people and have connections in the community that I can use in the future," King said. "It's a waste of our community resources for someone like me to work as a clerk."
King, who is considering a career in healthcare, says like many boomers, she knows only basic computer skills and would benefit from Plus 50's technology training and support.
"I really think it's time to reinvent myself," said King.
PCC, one of nearly 100 Plus 50 colleges, is partnering with Pima Council on Aging (PCOA), Southern Arizona VA Health Care System and Pima County One-Stop to identify students for the program and coordinate services. To learn more, click here.
"Plus 50 is an outstanding way to identify, reach and support plus-50 learners," said Jim Murphy, CEO of PCOA. "The program will bring them the much needed education and training to connect with employers and jobs."
AACC awarded PCC $16,000 over three years for Plus 50, which is funded with a total grant of $3.2 million from Deerbrook Charitable Trust. For more information about Plus 50, visit the AACC's official Plus 50 site here.