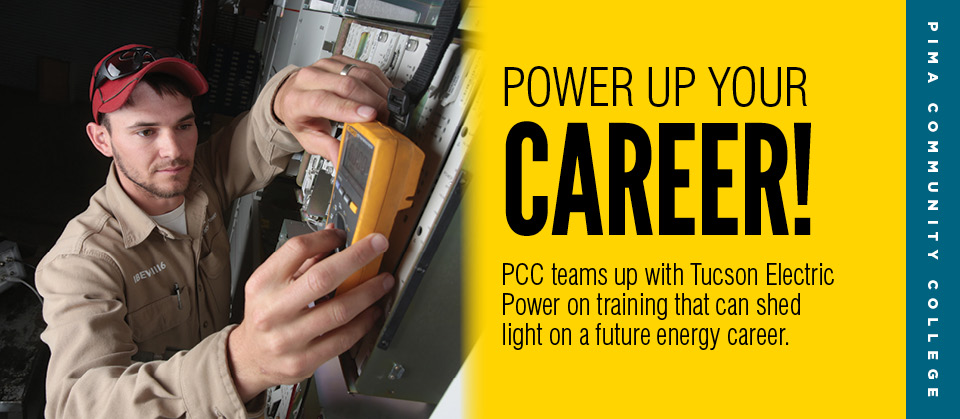 PCC teams up with Tucson Electric Power on training
that can shed light on a future energy career
As a large portion of the nation's energy workforce prepares to retire in the coming years, Pima Community College can prepare you for an energy industry career that offers competitive pay, stability and challenging work.
According to the Center for Energy Workforce Development, more than half of the country's energy workforce is becoming eligible for retirement, opening opportunities for a new generation of workers. The median salaries for certified professionals in the energy industry range from $51,572 to $88,027, according to Economic Modeling Specialists International.
Pima's Energy program, taught by industry professionals, provides innovative training in which students can earn three nationally recognized certificates and work toward an associate degree or certificate leading to a career in the industry.
Program graduates are qualified to seek employment in a variety of energy industry disciplines.  Line construction employees, for example, are responsible for installing new underground electrical lines and repairing overhead electrical lines damaged by storms. Substation employees may be quickly called into work to restore service during an electrical outage.
"In Pima's program, the instructors incorporate practical experience," said Caleb Shull, a  Tucson Electric Power (TEP) electronics technician pre-apprentice who received his Electrical Utility Technology certificate.
Shull said his group is responsible for installing and maintaining microwave radio systems, fiber optics and other equipment that allow for remote equipment operation, automated security, video conferencing and communication between employees in the field.
"Every day is different. Some days I could be up on a mountain installing a backup generator for our microwave radio system, and another day I could be in the middle of town at a substation repairing remotely controlled breaker equipment," said Shull.
Because electrical employees work under occasionally hazardous conditions, a keen focus on safety, problem-solving skills and critical thinking are crucial on the job. Pima's hands-on approach helps to prepare tomorrow's industry employees.
"Pima's program provides top-notch training and education," said David Wagner, who teaches Electrical Distribution Mathematics and is the superintendent for substations at TEP.
"I love teaching and helping students understand the concepts," Wagner said.  "Seeing them start their careers with the company is also very rewarding."
Pima students in the Energy program can apply for  internships  at TEP that allow them to rotate through different craft positions over the course of a year, giving them an opportunity to determine what field they would like to pursue.
PCC is part of an education consortium of five Arizona community colleges, identified as the Arizona Sun Corridor-Get Into Energy Consortium (ASC-GIEC). The ASC-GIEC is funded by a grant from the U.S. Department of Labor's Trade Adjustment Assistance Community College and Career Training initiative.
The grant helps the College meet the demand for skilled professionals in the local energy industry and provides a pathway to advanced certificates and degrees in a variety of energy-related fields, including bachelor's degrees at Arizona State University.
"Training the people of Pima County for meaningful employment is a priority for the College," said Pima's Dean of Workforce and Business Development Stan Steinman. "By collaborating with TEP, we create the pipeline of talent necessary to develop utility workers."
Currently, TEP has about 1,200 employees in Tucson alone, said Cathy Ries, TEP's vice president of Human Resources and Information Systems.  Ries said utility companies are known for offering stable employment with a competitive compensation and benefits package.
"Our line of work requires a talented and innovative workforce.  To serve our customers in the future, we have to make an investment today," said Ries. "Programs like Pima's Energy program are a great asset to the communities we serve and will help to ensure that TEP can continue to fill these high-skill jobs and provide safe, reliable service to customers."
For more information, visit Arizona's Get Into Energy website or call (520) 206-6591.