Skills in Science and Math Highly Valued in the Workplace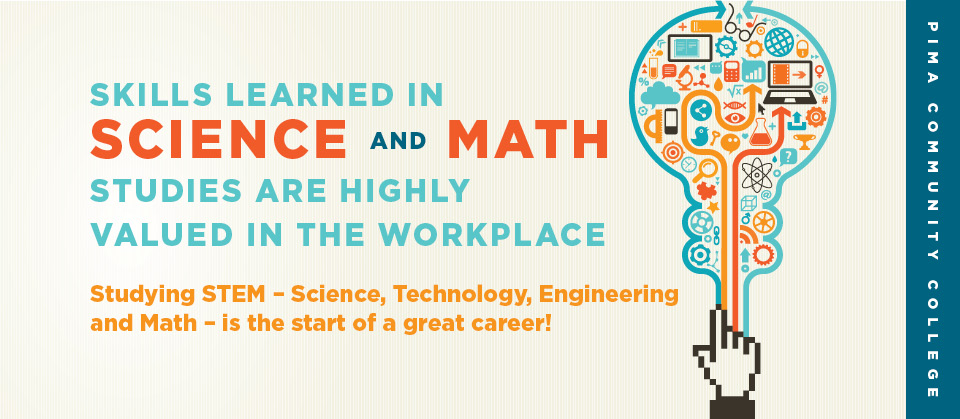 Studying STEM – Science, Technology, Engineering and Math – is the start of a great career
Want a career where innovative thinking and risk-taking are rewarded? Want to do work that's both challenging and lucrative? A good place to start is with a solid educational foundation in the STEM fields – science, technology, engineering and math.
"STEM jobs are the jobs of the future," according to a 2011 report by the U.S. Department of Commerce's Economic and Statistics Administration.
The nation both needs and rewards STEM workers, who "drive our nation's economic competitiveness by generating new ideas, new companies and new industries," said the report, "STEM: Good Jobs Now and for the Future."
The report concluded that STEM workers earn 26 percent more than their non-STEM counterparts; that STEM workers are less likely to experience joblessness; and that STEM degree holders command higher earnings, regardless of whether they work in STEM or non-STEM occupations.
The average hourly pay for a worker with a bachelor's degree in a STEM occupation is $35.81 per hour. Those with a graduate degree earn, on average, nearly $41 per hour.
U.S. Businesses Concerned About Supply of STEM Workers

The good news is that jobs in STEM fields are well-paying and ever-increasing in number. The bad news is that the United States isn't doing a good job of preparing people for those jobs. U.S. businesses are concerned about the supply and availability of STEM workers, according to the report.
The shortage seems to be driven by a cultural belief that a minority of people have an aptitude for math and science.
"Math and science are perceived as very hard, except for the braniacs who can manage it," said Mary Kay Gilliland, academic dean over STEM at Pima Community College's West Campus. "But I think that most people here would argue that you need solid education in the early years, followed by a good STEM education through college. Students need to understand that what helps them succeed in math and science is just a dedication to do the work. A lot of it is just practice."
"We're in competition with other countries, and jobs are already going overseas," said Denise Meeks, Science Department chair at Pima's Northwest Campus. "We're placing our students at a disadvantage if we don't provide them those opportunities and make sure that they succeed."
Pima is a Great Place for  STEM Education
Pima is a great place to shore up your STEM fundamentals, earn an associate in a STEM area and/or prepare for transfer to a four-year university to earn a bachelor's in a STEM-related field.
Pima has affordable tuition and offers small classes taught by instructors focused only on teaching, Gilliland said.
Additionally, Pima has many initiatives underway to improve STEM education. Here are just a few examples:
West Campus is the recipient of a $4.3 million, five-year federal grant from the U.S. Department of Education Hispanic-Serving Institution's Science, Technology, Engineering and Mathematics (STEM) program. The grant includes funds for creating better learning spaces through remodeling, for the purchase of state-of the art equipment, for faculty training in new teaching techniques, and for special programs. The special programs include a summer bridge program that exposes recent high school graduates to a variety of STEM fields, including engineering, physics, math, biology, forensics and geology.
Instructors throughout the College are incorporating new technology and teaching methods in the classroom, such as melding into one session the science lecture and lab, traditionally held separately, so that concepts are more immediately relevant to students.
Math Emporium, an innovative model of math instruction that emphasizes both the use of technology and one-on-one intensive assistance by instructors, has been implemented at Pima.
Other opportunities to explore STEM fields abound. As one example, the Northwest Campus Arizona NASA ASCEND! Space Grant student team designs, constructs, tests and flies payloads to collect atmospheric data, and presents their results at the annual Arizona NASA Space Grant symposium. At East Campus, science faculty member Lonnie Burke hosts a summer program for high school students to introduce them to chemical research.
A new, state-of-the-art science-focused instructional building is to open soon at Northwest Campus (see sidebar).
"I think what we have to offer is a really great opportunity," Gilliland said.