A Behind-the-Scenes Look at Careers in Theater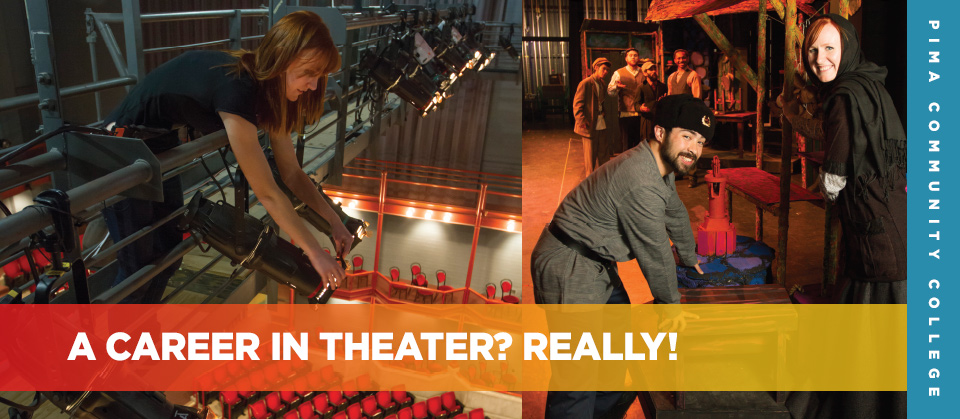 Pima's Theater Arts program prepares students for the various opportunities the industry has to offer — from acting to set building to stage management
A career in theater isn't always about shining on center-stage. It's often about performing the backstage magic that turns glitter into gold for the audience.
Pima Community College's Theater Arts program trains students in the art of acting, while also preparing them for all the opportunities offered in theater – from directing to scenic design to stage management.
"It is important for theater students to have equal qualities as an artist and a technician," said Todd Poelstra, Theater Arts program coordinator. "We prepare our students by providing them a practical setting to experiment with and challenge themselves without the fear of failure."
Recent Theater Arts graduate Jessica Morgan envisions a future as an actor but knows that having a backup plan is part of the script for success.
"I can get a stage managing position and still be involved in the theater," said Morgan, who is pursuing a bachelor's in theater at Arizona State University.
Pima's program trains students to work in behind-the-scenes positions as part of a broader career path, Poelstra said.
Graduates of the Theater Arts program currently work in the television and music industries, in various entertainment-related businesses, with professional theater companies, and behind the scenes on Broadway productions.
"Our alumni can be found working on numerous productions such as 'Wipeout,' 'The Voice,' the Broadway musical 'Young Frankenstein,' and traveling with (rock band) Nine Inch Nails," Poelstra said, noting that local theaters also regularly contact him to hire students.
"I recently was contacted by a theater looking to fill a stage manager position and another looking for a scenic designer," he said.
Opting for another direction, many of Pima's graduates go on to successful teaching careers at local high schools.
The backstage efforts in theater encompass everything from working the lights and sound, to creating sets that serve as whole worlds for the actors and audience to explore, to researching what people wore during a certain era.
"Ideally, students will assist with lighting on one show, act in the next, and then try scenic painting or sound," Poelstra said.
The goal is to provide the program's students with a solid foundation in all types of theater work, including acting, directing, arts administration and theater technology.
If a student's goal is to be in front of the camera or on stage, Poelstra said, he will have a better chance if he makes a good impression with the behind-the-scenes work he is given.
"The technical classes taught me how to get into jobs behind the scenes, which also is a good way to get on stage," Morgan agreed.  "Pima's program prepared me to do the very best that I can."
Recent Pima graduate Samantha Severson fell in love with acting as a little girl and has been able to weave together her artistic and management interests.
She gained real-world experience serving as the stage manager for PCC's spring production of the musical "Fiddler on the Roof."
"I'm usually an actor in the shows," Severson said.  "But being on the other side of it has been eye-opening. I've been able to explore other components of theater. The behind-the-scenes crew works just as hard as the actors do to make it successful."
Stage managers wear many hats. They make sure the performances run smoothly. They give cues for actors, as well as to lighting and sound crews.
"A crucial part of a live performance happens behind the scenes, both before a production and during its run," Severson said.
When Severson had to deal with a lighting problem during one of the shows, she found it exciting.
"There's nothing more exhilarating than fixing some disaster on the fly, without the audience realizing anything is wrong," she said.
Severson plans to complete a bachelor's degree in theater arts and pursue production management. Her goal is to one day own a theater.
"I'd love the opportunity to direct and act in my own show," she said.
After managing a show last semester, student Aeric Azana said he couldn't get enough of it.
"Being immersed backstage with the lights, sound, and building the set was the full experience," Azana said.  "I wanted to learn everything."
Azana has been a part of numerous productions with Pima and local theaters. He loves to perform but said learning the technical side of theater made him a better actor.
"Knowing the technical side has helped me pick the best position for me on stage for lighting and sound," Azana said.
Azana is graduating in spring 2015 and is eager to apply what he's learned wherever he goes.
"Theater requires a lot of teamwork," Azana said.  "Whether working behind the scenes or acting, we create something together— everyone makes it what it is."
In addition to preparing students for careers in the performing arts, the Theater Arts program equips its students with a broad range of communication and organizational skills applicable to many careers. The program can lead to success in the fields of business, marketing, public relations, sales and communications.
The skills learned through the study of theater – presentation, teamwork, problem-solving and critical thinking – are invaluable to any employer.
"Acting helped me to come out of my shell and blossom into a confident, self-assured person," Morgan said.  "It gave me the courage to grow not only as an actor, but also as a communicator and person. It taught me about commitment and how to work with other people toward a goal."
The Arts and Cultural Industry is a Growth Industry
Arts organizations are in every community from coast-to-coast, fueling creativity, beautifying our cities and improving our quality of life.
As the economy rebounds, the arts are well-poised for growth. According to a 2010 economic impact study, "Arts & Economic Prosperity IV," the nonprofit arts industry generated $87.7 million in total economic activity in Pima County during fiscal year 2010 — $42.8 million by nonprofit arts and culture organizations and an additional $44.9 million in event-related spending by their audiences.
This spending supported 2,602 full-time equivalent jobs, generated $55.3 million in household income to local residents and delivered $8.1 million in local and state government revenue.
Pima Offers Various Degrees in the Arts
Students can earn an Associate of Fine Arts degree with a concentration in theater, preparing them to work in theater or transfer to a four-year university to complete a bachelor's degree in theater production, education or theory.
Pima also offers an Associate of Fine Arts degree with concentrations in dance, music or visual arts to transfer to a university for further training, and an Associate of Applied Arts degree for work as an artist, artist assistant or entry-level art instructor.