Chancellor's Letter to the Community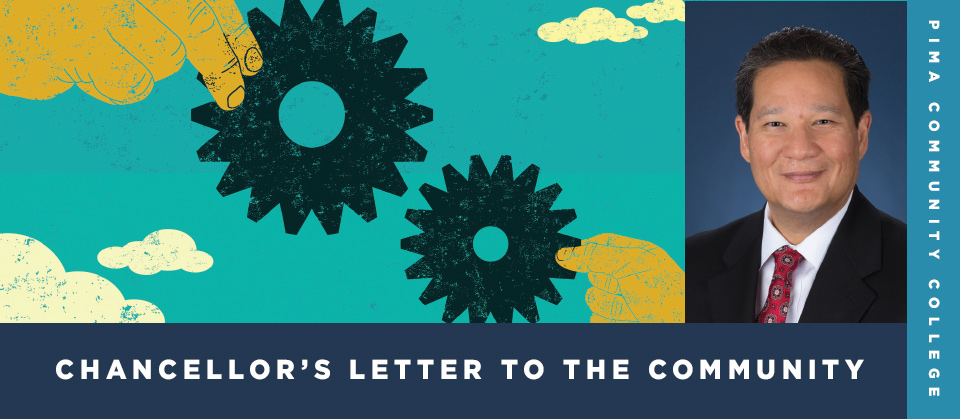 Partnering is a powerful way to enhance students' career opportunities, regional economic development
This issue of CareerFocus zeroes in on an important topic for Pima Community College: Partnerships. Engaging business and industry, education, government and the community through partnerships is crucial if PCC is to effectively serve the diverse students who come to us seeking better lives through the promise of education.
Our connections let us provide enhanced services to men aand women aged 50-plus who are seeking new career opportunities in a rapidly changing workplace (page 9). We are helping provide qualified workers in promising industry sectors such as logistics and advanced machining (pages 8 and 9). Nearly 100 Spanish-speaking childcare providers have learned about nutrition and physical education over the last four years through a PCC partnership with United Way of Tucson and Southern Arizona. (Page 9)
Clearly, educating students so that they're ready to succeed in the 21st century is a top priority for the College. By aligning resources and goals with those of area employers and other constituents, PCC has an opportunity to help drive economic development in our community.
In this scenario, both business and students are our customers. We partner with business and industry for several reasons: To align our curriculum with the real world, and to obtain the equipment and resources so that students graduate ready to successfully transition to real-world jobs. To do our part, we need to provide faculty with training so that they can stay up-to-date with increasingly sophisticated industry practices and machinery. We also must see to it that students gain both the technical and the soft skills — communication, teamwork, critical thinking — necessary for workplace success. We need to assure quality by consistently benchmarking our programs against our community college peers and industry standards. For its part, industry has to help with resources, along with expanding partnership opportunities through its customer and supplier networks.
A complex human synergy is at play when organizations partner. Suffice it to say that a partnership's success isn't guaranteed. A lot of hard decisions must be made by all sides for the process to bear fruit. Often, partners must overcome internal opposition to make the significant changes needed to align their organization with the partnership's goals and objectives. For collaboration to succeed, I have found that all partners have to think a little less about "me" and a little more about "us." The best partnerships are champion-driven "coalitions of the willing" who are truly ready to work together. I often liken a successful partnership to a successful marriage: A shared vision is necessary to make it past the inevitable rocky times.
In the interconnected, interdependent 21st century, no public organization can offer the best opportunities to its constituents – in PCC's case, taxpayers and students – without looking outside for advice and innovations, and incorporating those insights into planning and decision-making. Pima Community College cannot go it alone and does not choose to do so. We welcome the opportunity to cooperate with our external constituents for the tangible economic benefit of our students and the community.
Chancellor Lee. D. Lambert