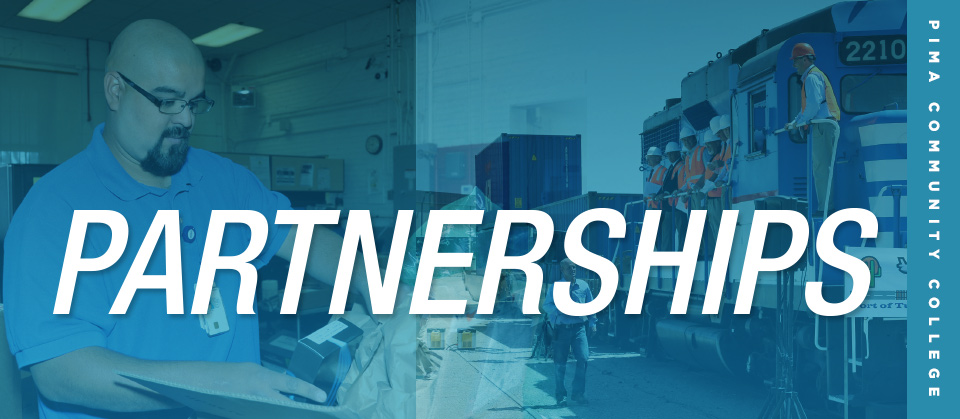 PCC, SALEO Work Together to Build Up Logistics, Supply Chain Sector
Group offers students scholarships, internship, networking opportunities
Pima Community College and the Southern Arizona Logistics Education Organization are strengthening their relationship as the region's role in international trade expands.
Local companies founded the all-volunteer SALEO in 2007 to advance global and regional logistics through education, networking and workforce development. It helped PCC start its Logistics and Supply Chain Management Program in 2009 with federal funding through Pima County One-Stop.
"Our relationship with PCC has grown to where we are now helping to develop the program's curriculum," said SALEO President Miguel A. "Mike" Valencia, owner/president of CME, an import-export business.
Manufacturing, trade, customs, warehousing, distribution, railroad, trucking and air freight are among the industries that deliver goods from producers to consumers.
SALEO primarily supports PCC by awarding scholarships to students, with most of its 10 to 12 $1,000 scholarships each year going to PCC students, said SALEO scholarship committee chair Alex Raptis, Transportation and Customs Manager for Chamberlain Group, Inc., the world's largest manufacturer of residential and commercial door operators, access control products and gate operators.
SALEO raises money for scholarships through its annual golf tournament, held each September. Details were being finalized at press time and will be available at www.saleo.org.
Albert Morales is applying for a SALEO scholarship for this semester, his last at PCC. He is earning an Associate of Applied Science in Logistics and Supply Chain Management and an Arizona General Education Curriculum-Arts Certificate.
Morales enrolled at PCC through the federal Veterans Affairs' Vocational Rehabilitation and Employment Services. He works in the warehouse at the Southern Arizona VA Health Care Systems Main Campus, 3601 S. Sixth Ave., where he developed his own internship of rotating through each of its supply chain jobs. He eventually wants to be Main Campus' acquisitions department supervisor.
"The VA is a great place to work and I do not see myself transferring anywhere else because of the ties I have here," Morales said. "Being a veteran and being able to serve the veterans here is truly fulfilling."
SALEO members also are on the program's external advisory committee. It also helps students get internships and offers networking opportunities at its monthly dinner meetings.
"Our dinners let students see first-hand how logistics works in the community," Valencia said. "They get to see people who started out like them and, in some cases, now are running their own companies."
The U.S. Bureau of Labor Statistics predicts that jobs in logistics and supply chain management fields will grow 26 percent through to 2020. Strong growth around Tucson is likely due to its proximity to the deep-water ports in Guaymas, Son., and Los Angeles and Long Beach, Calif., and Tucson's location along the Canamex Corridor, a special trade zone connecting Mexico, the United States and Canada.
"We're offering an education so that our students can gain access to jobs where experience, but not necessarily a four-year degree, is preferred," said Jim Winger, Logistics program lead faculty. "Our goal is to have our students be preferred for jobs."
Winger wants more SALEO members to do classroom presentations such as the one Raptis did last spring.
"Conveying real world experience and advice to students was extremely rewarding," Raptis said. "The questions they posed showed their eagerness to learn and become professionals." CF
PCC Partnerships in Community Reap Jobs, Better Quality Of Life
Machine Tool Technology internship program expands, Early Childhood Education helps Spanish-speaking childcare providers, other efforts help older jobseekers
Machinists' internships
PCC is forging opportunities to train entry-level machinists with skills honed to local industry needs.
PCC's Machine Tool Technology Program, Southern Arizona Manufacturing Partners (SAMP) and Pima County One-Stop (PCOS) are expanding an internship program. The program also works with Pima County Joint Technical Education District (JTED).
This summer, 18 recent Tucson Magnet and Desert View high school graduates worked eight-week internships at 10 companies, earning $8.50 an hour. PCOS and each employer split the cost of wages. Each employer then hired its intern at least part-time during his/her PCC training.
Machinists make precision metal parts using such tools as lathes, milling machines and grinders, that are manually or computer controlled.
Some of Tucson's largest companies – Raytheon Missile Systems, Sargent Aerospace and Defense, Inc., and Industrial Tool, Die and Engineering – employ machinists.
Machine Tool lead faculty Mark Backes said the program will offer dual enrollment courses for Tucson and Desert View students to earn college credits. PCC used a PCOS survey of 38 Tucson machining companies to revamp some courses and may pursue National Institute for Metalworking Skills (NIMS) accreditation.
The U.S. Bureau of Labor Statistics projects 7 percent job growth for machinists through 2022. The median hourly wage is $19.67. The high hourly wage is $28.75.
PCC offers an Associate of Applied Science (AAS) degree or Certificate for Direct Employment in each of seven Machine Tool Technology concentrations.
This fall, students will be using a new robotic welding arm in some classes.
Aaron Dinius graduated in May with two Machine Tool Technology AAS degrees (Computer Numeric Control Machinist and Manual Machinist) and a Computer Aided Drafting-Mechanical/Electro-Mechanical AAS.
"Pima offers an amazing opportunity to learn the trade hands-on and on modern, high-quality equipment," said Dinius, a mechanical drafter and prototyping machinist for Green Valley optical equipment company Control Vision Inc.
Grants support baby boomers
This year, two grants have helped hundreds of low-income, unemployed and underemployed people age 50 and older get jobs.
From March to May, PCC enrolled 38 participants in the AARP Foundation-funded Back-To-Work 50+ initiative. BTW50+ supports baby boomers training through its Center for Training and Development  to be Certified Nursing Assistants, Certified Nursing Assistant/Patient Care Technicians or Medical Records Technicians.
Through BTW50+, participants learn to network, market themselves, search for jobs, and find community support resources. Some may qualify for some financial support.
"This initiative gives baby boomers key skills and support to get them back into the job market," said East Campus Vice President of Student Development Nancee Sorenson.
PCC BTW50+ partners are
Pima County One-Stop (PCOS), Pima Council on Aging (PCOA), Pima County Library, YWCA of Tucson, Jim Click Automotive Team and local healthcare industry employers.
To participate, call the AARP Call Center, 855-850-2525.
The Plus 50 Encore Completion Program, funded by American Association of Community Colleges, has helped more than 80 baby boomers earn PCC degrees or certificates, said Roger Forrester, PCC's Plus 50 Assistant Program Coordinator. Southern Arizona VA Health Care System, PCOS and PCOA are PCC's Plus 50 partners. For more information, call 520-206-7430.
Spanish-speaking childcare providers
Nearly 100 Spanish-speaking childcare providers over the last four years have learned about nutrition, movement and health through ¡Muévete, Muévete!, a PCC partnership with United Way of Tucson and Southern Arizona.
The providers attend free, noncredit trainings and guest speaker events at PCC's Desert Vista and Northwest campuses. The training is done in a social environment, taking into account different learning styles. Also, 10 members of the Pascua Yaqui Tribe will take PCC Early Childhood Education Program courses on the Pascua Yaqui Reservation for college credit. Credit students may be eligible for a Pathways Scholarship and the First Things First REWARD$ program.
United Way's Nancy Hart said trainings start this month.
For more info: nhart@unitedwaytucson.org or 520-903-3946.