Pima's Commitment To Veterans Is Embodied in Its New Veterans Center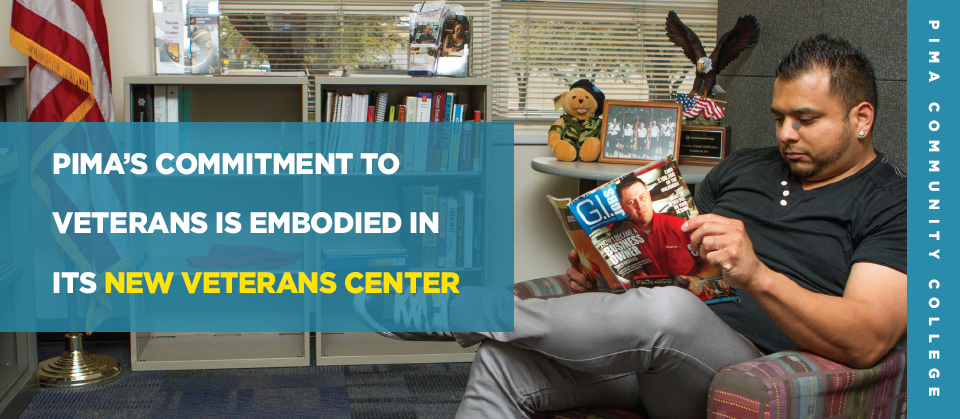 A welcoming space for student-veterans to study, meet and relax
Drop into Pima Community College's new Veterans Center on any given afternoon and you will find student-veterans studying, meeting, laughing and simply enjoying each other's company.
"It gives us a place where we can just be," said Scott Plotts, a U.S. Air Force veteran and Liberal Arts student at Pima. "It lets veterans know that they are not alone."
The center opened in February and replaces a previous center that was deemed too small and not fully meeting the needs of Pima's student-veterans.  Located at Pima's Downtown Campus, the center is 1,500 square feet, more than four times larger than the previous center.
The intentions behind the original center were good, but the execution was lacking, said Constance Strickland, who assisted with the opening of the new center as Veterans Center interim coordinator from November 2013 to June of this year.
"Space is hard to find at the College. Pima did what it thought it could at the time," she said. "It just wasn't thought out very well."
The tiny, original center became chaotic if more than four or five people were using it. The computers faced the wall, leaving students with their backs to the doors, an uncomfortable position for those veterans suffering from Post-Traumatic Stress Disorder (PTSD).
Faced with student complaints, the College went back to the drawing board, working closely with student-veterans to address their concerns and create an inviting space located in the heart of campus, not tucked away in a cramped corner. The students helped with everything from mapping out the space to picking the furniture, Strickland said.
"It really was student-driven," agreed Plotts, president of Pima's Student Veterans Association. "We saw the opportunity when the administration started changing that we might be able to get something done if we pushed. As a club we said, 'We need something more.'"
The students identified a large space in the historic Roosevelt Building – a piece of prime campus real estate that was being used for storage – as the preferred site for relocating the center, Plotts said.
"We showed Char (Charlotte A. Fugett, then-acting president of the Downtown Campus) and Lee (Chancellor Lee D. Lambert) this space, and Lee said, 'absolutely, do it.' Char took it from there," Plotts said.
"I really like the openness of the center," he said. "There's a lot of open air, open space, so no one feels crowded, which I think is very important."
Strickland said Pima's response "says a lot about Pima's commitment to veterans. We have a population of veterans who have gone above and beyond the call of duty and they have certain issues."
Pima educates about 1,400 veterans each semester, including many coming from recent service in Afghanistan and Iraq.
The center, which abuts an attractive courtyard, includes an intake desk and information space where veterans can seek answers and get referrals to other veterans service organizations. The center is staffed 8 a.m. to 5 p.m., Monday through Friday, by Veteran Work-Study students and AmeriCorps students who also are veterans. All student workers are trained in veterans' educational benefits and the variety of related issues a veteran might be experiencing.
The center has 10 computers – including two that accommodate students with disabilities and two loaded with Computer Aided Design (CAD) programs. It also has a kitchenette and conference room space for individual and group study.
The design of the center recognizes that veterans may come to Pima with additional stress because of their military service. A "quiet room" within the center includes comfortable seating and dimmable lights to allow for a calm environment. It's a place vets can use when they need to feel grounded.
"I'm extremely happy with this set-up," said Rasheen Taborn, who served in the U.S. Army from 1999-2012 and is now studying Building Construction Management at Pima. "I'm in here every day except for Fridays. I come in and use the computers because they have the CAD programs I need for my area of study. I get assistance if I need it with something going on with the Veterans Affairs. I watch television in between classes. I take a nap in the quiet room. I socialize and attend Student Veterans Association meetings."
There is a feeling of family among the veterans who use the center, Taborn said. Not a lot of people on campus understand the unique challenges that veterans go through, from, in some cases, dealing with PTSD, to simply making the adjustment to a civilian world that is far less structured than the military, she said.
Her fellow veterans "already know what you've been through and they can help you adjust to being a civilian," she said. "It's easy, relaxing in here. I don't have to stress." CF
Pima Focuses on Better Serving Those Who Served our Country
Improving the veteran experience at Pima Community College is an ongoing goal for the College's Veterans Services office.
One of the ways the office is doing that is by encouraging Veteran Benefit Recipients (VBR) to take an active role in staying in compliance with the terms of their educational benefits, said Gary Parker, a U.S. Air Force veteran hired last year as the assistant registrar for Veterans Services. The office offers VBR orientations at least once a month, and Parker urges both new and current students to participate. Call 206-4640 for the schedule or check at any PCC campus for fliers.
"I really believe this is something that new students should attend before they are even allowed to go to class because they need to understand their Veterans Affairs educational benefits. We also provide information on the generalities of being in school," he said. "This would be good even for current students because I get into a discussion of W (withdrawal) grades and F (fail) grades, how those are reported and how it affects their benefits."
In late May, Pima's authority to certify the enrollment of Veteran Benefit Recipients was reinstated after a two-month suspension because of shortcomings in record keeping. Pima reviewed and updated its files and was found by the state to be "fully in compliance" and able to certify new students.
Pima educates about 1,400 veterans each semester. The College recently hired an additional three Veteran Services specialists (bringing the total to four full-time and one part-time certifying officials). These specialists and Parker have the time-consuming task of certifying eligibility for benefits and making sure students are in compliance with the terms of their benefits.
These students can help smooth their own paths by registering early to insure the certification process is complete by the start of the semester and by making sure they have all educational transcripts sent to Pima from the military and any educational institutions they have attended, Parker said.
Pima VBR processes have been streamlined over the last year, including reducing the paperwork students submit by 50 percent, he noted.