Seeking a Great Career in Healthcare?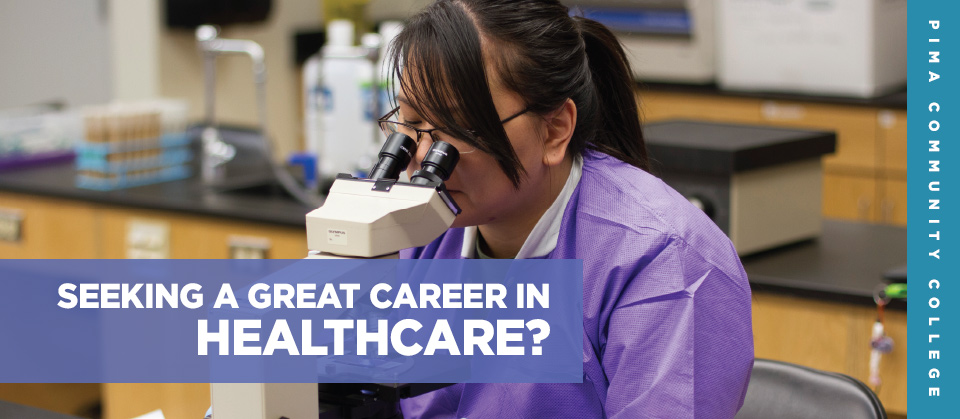 Earn an associate degree in the rapidly expanding field of medical laboratory technology
Jasmine Wong enrolled in Pima Community College's Medical Laboratory Technician (MLT) program after being unable to find a job despite having a Bachelor of Science in physiology.
"I couldn't find a job because I didn't have the necessary experience," Wong said. "Pima's program will provide me with the clinical experience I need to get a job."
Employment prospects in the field are bright. The U.S. Bureau of Labor Statistics predicts a 22 percent increase in medical laboratory technician jobs through 2022, a rate better than the average for all other occupations.
This growth, along with the quality of Pima's program, has translated to near- certain employment for Pima MLT graduates in recent years.  Since 2008, 90 percent of PCC's MLT program graduates have received a job offer within six months of graduation.
"We like to hire students from Pima's MLT program because we know that their training is high-quality," said Sandy Kovacs, division manager for the University of Arizona Medical Center (UAMC) Pathology Department. "The instructors have a good working knowledge of what is needed in the workplace and communicate this to the students, enabling them to be successful."
Wong – who completed her bachelor's in 2012 — will earn her Medical Laboratory Technician Associate of Applied Science (AAS) degree in spring 2015 and plans to work as an MLT, then sit for the Medical Laboratory Scientist (MLS) American Society for Clinical Pathology (ASCP) examination or apply to medical school.
"I know I want to move up. This career offers opportunities for advancement," Wong said.
MLTs collect samples and perform tests to analyze body fluids and tissue and other substances.  They work in clinics, hospitals, blood banks, reference laboratories, coroner's offices and biomedical research companies. According to the U.S. Bureau of Labor Statistics, the volume of laboratory tests continues to increase with the growth of the U.S. population and the development of new types of tests.
Recent Pima graduate Tyrell Cox was attracted to the profession by the science and laboratory work. Cox, who already had a Bachelor of Science in molecular and cellular biology, received his Medical Laboratory Technician AAS degree in spring 2014 and immediately was hired by UAMC, where he earlier completed his clinical rotation. His work includes pathology testing for respiratory viruses.
"The research field is not always gratifying," Cox said.  "But working in the medical lab, I provide clinical results to physicians to help diagnose patients. You are helping people and there is a gratification in that."
"This is a very good program," said Amee Rosales, director of Pima's MLT program, "for people just entering the field or for those who have their Bachelor of Science degree and want clinical laboratory experience to qualify to sit for MLS ASCP exam. You can have a lifelong career in this field or use it as a stepping stone for advancement."
Elyse Gayda earned her AAS from Pima and, immediately after graduation found an excellent job in the field. She performs transfusion services for Tucson Medical Center's blood bank.
"I'm there to save lives," Gayda said. "It's very rewarding to hear a patient made it because I helped them with the blood they needed."
Pima's program is accredited by the National Accrediting Agency for Clinical Laboratory Sciences and meets the ASCP Board of Certification Standards of clinical laboratory professionals.

The high quality of PCC's program is reflected in its certification examination pass rate. Since 2009, all the Pima graduates who took the American Society for Clinical Pathology exam within a year of graduation passed the exam.