56 Weeks of Training = a $38k Salary as a Surgical Technologist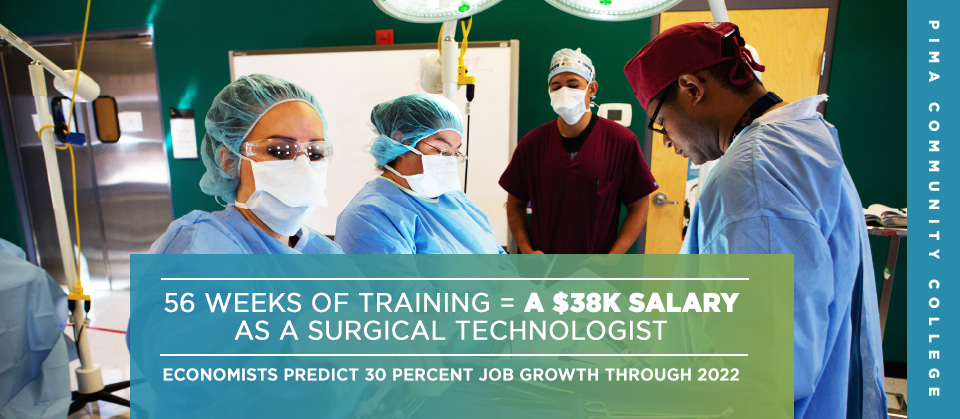 With slightly more than a year of specialized training, Lacey McLaughlin will go from supporting her family on her meager pay as a server/bartender to nearly doubling her salary as a surgical technologist.
"I wanted more stability and retirement savings – I have two children to raise," said McLaughlin, who has worked 10 years as a server and bartender. "I always wanted to be in the medical field."
McLaughlin is one of 10 students who recently completed the Surgical Technologist Training program offered by Pima Community College's Center for Training and Development (CTD). Each year, CTD staff selects 10 students from more than 40 applicants to the program.
"This job requires different aptitudes and attitude," said Corey Hinton, CTD's surgical technologist instructor. "You have to be thick-skinned. Our field calls for a lot of critical thinking. You have to be able to quickly anticipate what instrument the surgeon will need."
The 56-week training includes clinical work at one of Tucson's major hospitals and hands-on work in the CTD Surgical Technology lab at PCC's Desert Vista Campus. Students spend 8 a.m. to 3 p.m., five days a week, split between lectures and lab training.
After eight months of classroom work and training at the lab, students start clinical training at a local hospital, where they must participate in a total of 125 surgeries covering specified areas.
"We tell the students, the clinical is your interview time; it's four months for them to evaluate you," Hinton said. "We are here to get you a job."
Currently CTD has surgical technologist clinical placements at University of Arizona Medical Center campuses, Tucson Medical Center, St. Joseph's Hospital, St. Mary's Hospital, Northwest Medical Center and Oro Valley Hospital. Approximately 60 percent of students are hired by the facility where they completed their clinical. Between 80 percent and 90 percent of all students get jobs after graduation.
The surgical technologist field is one of the fastest growing professions in the country, thanks to recent advances in medical technology that have made surgery safer and more common. The number of surgical technologist jobs added to the economy from 2012 to 2022 will increase 30 percent, according to the U.S. Bureau of Labor Statistics.
Surgical technologists are paid well, too, with the national median starting salary at $41,790, while the top 10 percent earn more than $60,240. Starting salaries for CTD's graduates are approximately $38,000.
Because of the strong local demand, PCC may soon add an evening program for 10 students, CTD Director Amanda Abens said.
"There is a great need in Tucson for these well-paying jobs," Abens said. "We are dedicated to both partnering with local employers to meet their needs for highly trained graduates and to providing opportunities for hardworking students to transform their lives through education and training."
Hinton, a surgical technologist since 1987 and a certified surgical first assistant (the primary assistant who can play a more active role in the surgery), said the keys to being successful in the profession are adaptability, flexibility and a deep knowledge of anatomy. He said CTD's application and interview process ultimately helps students be better prepared.
"Think of it this way: You have one year of training and you're going into a work environment with very educated, type-A people who are under a tremendous stress level and their livelihood relies on you and they don't know you," Hinton said. "You are the low person in the room and a person's life is at stake."
CTD's training is designed to prepare students for the rigors of the profession. Each week, students attend 26 hours of class and take at least two tests. They are expected to spend at least 20 hours more doing reading and workbook assignments, making class presentations and studying for exams.
Surgical technologists generally work full time in hospitals, surgery centers or for a specific physician or surgeon. They can work a variety of types of surgery, but often develop specialties. After three to five years of work experience and additional formal training, a surgical technologist is eligible to become a certified surgical first assistant. As a surgical first assistant, you work for a surgeon who has selected you, and are able to do many of the same procedures as the surgeon, such as suturing or making an incision.
Like most of her classmates, McLaughlin eventually wants to become a surgical first assistant. In her case, she hopes to be part of a cardiac surgery team.
"I've watched many surgical procedure videos to make sure my stomach could handle it," McLaughlin said. "Nothing can prepare you for your first day in the operating room, but I feel confident in my skills and knowledge that Corey has provided me with through this program at Pima."
McLaughlin's classmate Stephanie Fimbres also has a background in hospitality, as a restaurant manager. Fimbres was searching for a more fulfilling career when she learned about the surgical technologist field.  She already was researching medical careers and accepted a job as hiring manager in housekeeping at University of Arizona Medical Center, for insight into the industry. Now she is a surgical service assistant, which she believes has given her valuable background.
Still, there is a lot of anatomy and thousands of instruments to learn.
"You have to know a lot more about anatomy than I realized," Fimbres said. "You need to be able to anticipate the surgeon's needs. It's not just about knowing the instruments."
Fimbres sees a range of career options. She is considering pursuing certification as a surgical first assistant, more education to become a registered nurse or maybe even a surgical equipment sales representative. She reveres her career choice.
"As a surgical technologist you play a major role in patient care both during surgery and post operatively," Fimbres said. "If you think being a surgical technologist is just passing scalpels, you're in for a big surprise."
For her classmate Anthony Soto, being a surgical technologist is about giving back to the community.
"Your 9-to-5 is basically helping other people," said Soto, who already has an associate degree from PCC's Administration of Justice Studies program and works as an assistant in a medical office. "I grew up in South Tucson and my school was all about giving back what you can to help."
Soto wants to become a surgical first assistant, "and who knows from there, maybe get a higher medical degree."
The relatively young surgical technology field developed from work that generally was done by registered nurses. As surgeries got more sophisticated and common, and nursing became more specialized, technicians dedicated to and with training specific in surgical procedures were needed.
Before an operation, surgical technologists prepare the operating room by preparing sterile solutions and medications used in surgery and check that all surgical equipment is working properly, setting up surgical instruments and equipment. They also prepare patients for surgery and help the surgical team put on sterile gowns and gloves. During an operation, surgical technologists pass instruments and supplies to surgeons and first assistants. They also hold retractors and may hold internal organs in place during the procedure. CF
CTD Surgical Technologist Training Program
Accredited by the Commission on Accreditation of Allied Health Programs (CAAHEP)
All program graduates must take the Certified Surgical Technologist (CST) national certification exam offered by the National Board of Surgical Technologists and Surgical Assistants (NBSTSA)
The Surgical Technologist Training program is eligible for federal financial aid, including Pell Grant and student loans.
CTD Student Services Office, 520-206-5100