CADD opens up a variety of career options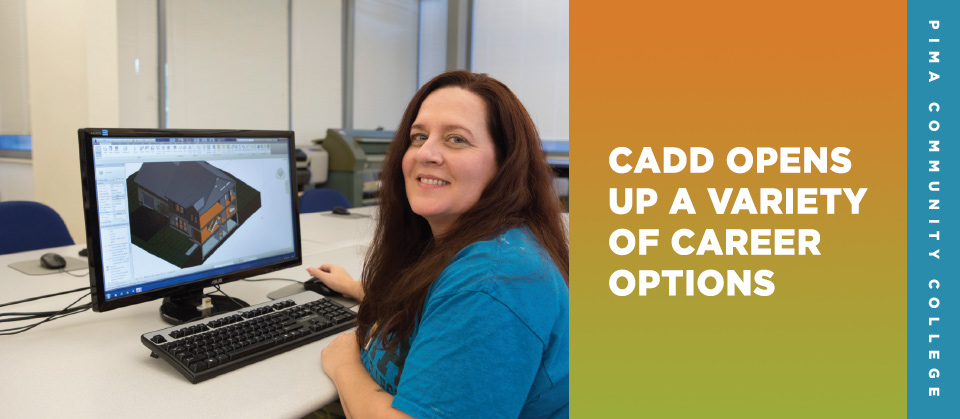 Rachelle Hornby is on a career-changing journey leading from her current job in a salon where she sculpts beautiful artificial fingernails to a future where she helps design innovative "green" buildings.
You wouldn't think the skills from the first endeavor lead naturally to the other, but Hornby's talents are intrinsic to both.
"I'm very artistic and very visual and I think that's helped me a lot," said Hornby, a student of Pima Community College's Computer Aided Drafting/Design (CADD) program and recent graduate of Pima's Building and Construction Technologies (BCT) program.
Students in Pima's CADD program come from various educational and career backgrounds. A key strength of the program is helping students to maximize their strengths, skills, backgrounds and interests for the diverse career options provided by an education in CADD.
"Our program prepares students to be drafters or entry-level designers, but that's not the whole story," said Stephen Grede, CADD lead faculty. "I do a lot of career advising with CADD students because there are so many choices. It's a matter of what part of this industry is most appealing  to them. What is their background?  What are their strengths and combination of skills that make them most appealing to potential employers?"
Depending on the concentration a student chooses, he or she could end up employed by an architectural, civil, construction, electrical, mechanical, plumbing or structural engineering firm.
Pima's CADD graduates may use their skills developing parts used in many different industries, such as automotive, machine tool, aviation and aerospace. Or, as an integrated circuit layout designer, one of the many training options offered by Pima's CADD program, a graduate could work for a high-tech company that produces integrated circuit components for the electronic industry.
It's not surprising, then, that the stories of Pima's students couldn't be more different from each other.
Hornby started taking BCT classes at Pima in 2010. In addition to doing nails, she co-owned a floor installation business with her then-husband and wanted to learn how to read blueprints so that they could get commercial contracts. When they divorced, he kept the business. She continued with her education and earned her Associate of Applied Science in BCT in 2013.
She's completing an advanced certificate in CADD this spring and is taking classes in the Sustainable Built Environments program at The University of Arizona School of Architecture.
"The government eventually will require every construction company to build a percentage of their buildings as sustainable-built," she said. "Hopefully, by the time I'm finished with my schooling, that whole field will be in high demand."
Fabien Elenes, who graduated from Pima in 2010 with an Associate of Applied Science in CADD, is putting his degree to work with Tucson Water Co., as a senior engineering technician in the Planning and Engineering Division.
"I create and maintain technical drawings, along with overseeing multiple areas of construction sites within Tucson Water," Elenes said.
He previously worked with Southwest Gas Corp., in various positions as a contractor, developing construction plans for the replacement of vintage pipe.
Although he had CADD experience in high school, Elenes said, "there was no way I could have found a job with just a high school diploma, not in the field I'm in right now."
Jesus P. Lopez worked his way up from land surveyor to senior designer with a civil engineering company. But there was no work to be found when he was laid off in 2008. Like many others, he returned to school to improve his employment prospects.
He graduated in May 2013 with an associate degree in CADD and found part-time jobs in the field soon afterward. Then, last fall, he was hired full time as a drafting technician by Antech Corp., which designs and manufactures parts for traffic control-based security systems. He also teaches CADD classes at Pima as an adjunct instructor.
Lopez said his favorite part of Pima's CADD program was the "real world" experience it provided. He spent 1,400 hours working on the design of a mechanical step motor, a collaborative project between the College and Raytheon Missile Systems.
"That actually got me hired for one of my jobs. They were very impressed with my portfolio and the arrangement of the drawings," Lopez said.
Pima's CADD program offers instruction in nine different software programs, said Carmen Cueva, CADD faculty.
All are used to build things, "whether it's in manufacturing, constructing buildings, or creating parts for engines or tiny microchips that fit in a recorder, a telephone or other electronics," she said. "These are all tools to investigate how something might be built or how it might come together before it does come together. It's a way to test ideas and communicate that information to other people." CF
Software taught in Pima's CADD program:
AutoCAD®, AutoCad® Civil 3D, AutoCAD® Revit, Cadence, Creo, Inventor®, MicroStation, SketchUp, SolidWorks