Careers for the Tech-savvy are Lucrative and Varied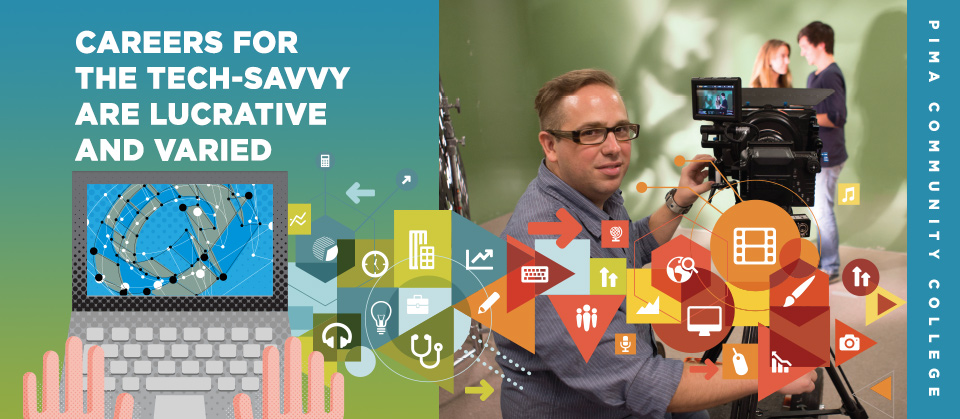 Whether you have a creative flair, a love for technology, or are a natural whiz with computers, Pima Community College can help you turn your talents into a career.
The arts, health care, information systems and computer-aided drafting/design are among the many fields looking for people capable of using modern technologies and willing to learn the technologies of the future. If this describes you, consider some of Pima's state-of-the-art programs – including multiple options in the digital arts alone – as your first step to a rewarding and well-paying job.
Digital and Film Arts: Learn the Art of Filmmaking
In Pima's Digital and Film Arts program, you "learn by doing," said recent program graduate Derek Lookingbill.
Lookingbill, co-owner of a small independent film company, said the courses teach the process of filmmaking as it occurs in the industry.
"In Pima's program, you learn how to create films using the same equipment and production process currently used in the industry," Lookingbill said. "It emphasizes a hands-on learning approach."
"Our students use the same cameras used in filming major motion pictures and hit TV shows," said David Wing, Digital and Film Arts faculty. "They cut their films on industry-standard editing systems and they learn production techniques from faculty with experience in the industry."
Lookingbill earned an Associate of Applied Science (AAS) in Digital and Film Arts, a Digital and Film Arts certificate with a concentration in cinematography, and a Digital and Film Arts certificate with a concentration in digital video production.
As a steppingstone toward his goal of filming Hollywood movies, Lookingbill is interested in producing commercials for local businesses and major corporations, music videos, short films and documentaries.
Digital Arts: Become a Graphic Designer
Student Michael Mellor enrolled in Pima's Digital Arts program to stay up-to-date with current graphic arts trends and techniques.
Mellor, who already has a bachelor's degree in media arts and works as a graphic designer and pre-press specialist at a local print and graphic design shop, said Pima's courses teach the cutting-edge computer programs that every graphic designer needs to know to be successful.
"Pima's hands-on training helps me to stay up-to-date in this industry," said Mellor, who hopes to own a Web design company someday. "The faculty is knowledgeable and they share their real-life experiences."
"Digital artists and designers must plan to continually learn new techniques, software and technical equipment," said Dennis Landry, department chair of Pima's Digital Arts program. "Whether you're an illustrator, graphic designer, animator or game designer, the software you use is constantly evolving."
Web and design student Amanda Schreiber is thrilled with every opportunity she's given to tackle a project. The experience is helping her to become a well-rounded designer who understands the challenges of real-world projects.
"You must know how to successfully take a project from concept to completion," Schreiber said.
Digital Game and Simulation: Bring Your Game Ideas to Life
"Designing games is a dream come true," Pima graduate Jeffrey Wattel said. "Pima's program taught me the ins and outs of video game design and programming."
From creating lifelike landscapes, designing game levels and stories, writing the coding that brings everything together or testing games, Pima's Digital Game and Simulation program prepares you to enter the gaming industry.
Wattel earned his AAS in digital game and simulation last semester and transferred to the University of Utah to work on a bachelor's degree in film and media arts. He hopes to one day own his own game/cartoon company, design adventure games or games requiring skill to complete, and own a gaming center filled with arcade games he developed.
"I look forward to having my creative vision played and enjoyed by others." Wattel said.
Video game popularity and complexity is exploding, along with opportunities at game companies and studios. CNN Money reported game design as one of the top jobs last year and predicted job growth of 27 percent in the next 10 years.
Simulation skills are also marketable outside of video gaming, noted Reinhard Pawlicki, Digital Arts faculty. Computer-generated animation professionals are sought in such varied fields as advertising, architecture, television and multimedia design.
Health Information Technology: The Business of Health Care
The government's push to move health care record-keeping into the modern age – from paper to electronic files – is creating jobs for people who want to use their computer skills in health care.
Employment of medical records technicians and other health information specialists is expected to grow by 21 percent from 2010 to 2020, faster than the average for all occupations, according to the federal Bureau of Labor Statistics.
Prepare to enter this rapidly expanding job market by earning an associate degree or certificate in Health Information Technology (HIT) at Pima. With a HIT credential, you could land a job as a medical records technician, a coding specialist, a medical receptionist, an insurance biller or claims specialist.
"The job market is really expanding because of the big changes in health care right now," said Theresa Brown, chair for Pima's HIT program. "Along with the federal mandate to transition to electronic medical records, new privacy, liability and security concerns are driving the demand for better-educated HIT workers."
HIT faculty Kelly O'Keefe estimated that billers and coders start at $30,000 a year in Tucson. Those willing to re-locate can make considerably more.
"In Chicago, for example, billers and coders start at $50,000 to $70,000 and can move up quickly if they have a certificate or degree," O'Keefe said. "Employers want the education and familiarity with medical technology."
Brown added that people used to be able to find jobs in medical records without a formal education in it, but that's not so easy today.
"It's important for the employer to see something that validates a potential hire's knowledge," Brown said.
Recent Pima graduate Thomas Wilson, a retired U.S. Navy Petty Officer 1st Class, is intrigued by the possibilities the field offers.
Wilson was a pharmacy technician in the Navy, running ship pharmacies that served up to 5,000 sailors. He retired with 20-plus years of service, worked as a truck driver for 15 years, and after being laid off, returned to Pima to find yet another new career.
Despite struggling with a hearing disability and other medical issues, he flourished as a student and earned an AAS in Health Information Technology.
Now he wants to use his knowledge to help his fellow veterans. Since completing his degree, he has volunteered at the Southern Arizona VA Health Care System in various areas, with the goal of using his skills to identify problems and improve processes.
"I have a personal mission to do that," said Wilson, who ultimately wants to work in quality assurance. "I'm chasing the health information trail from the time a patient first comes in, all the way through, and I'm looking to see what's broken. If I can't fix it, I want to move it in the direction that it can be."
Computer Information Systems: A Lucrative Future
Career opportunities in computer programming, analysis and/or network and computer systems administration are growing rapidly and generally offer high starting salaries.
The Bureau of Labor Statistics predicts 25 percent job growth through 2022 for computer systems programmers/analysts holding at least a bachelor's degree. According to Economic Modeling Specialists, Inc., median salary in the Tucson region in the field was $47,507. For network and computer systems administrators with at least a bachelor's degree, job growth is about the average for all occupations, 12 percent, with a median salary of $62,462.
Pima's Computer Information Systems program offers certificate and degree options in programming and analysis or network and systems administration. Credits in either area may transfer for a bachelor's degree.
With a Pima computer programmer/analyst degree or certificate, you may get a job as a C or Visual Basic programmer or a website designer, developer or administrator. Or, get an entry-level programmer or programmer/analyst job.
If you'd rather oversee computer systems networks, choose one of Pima's systems administration/networking degrees or certificates. You may specialize in Virtualization, CISCO, cyber security, Linux, Microsoft or general network administrator, or go on to administer microcomputer systems, such as CISCO and Microsoft systems. CF
---
For degree and certificate options visit Pima's Credit Program & Degrees Web page
Health Information Technology can be found under the Business Careers category, while Computer Aided Drafting/Design, Computer Information Systems and Digital Arts can be found under the Computer Information Technology category.