Chancellor's Letter to the Community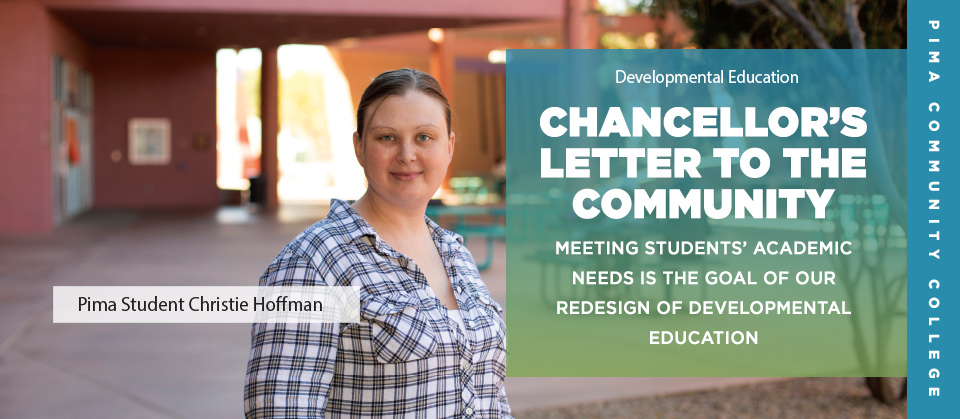 One of the biggest challenges facing community colleges across the nation is how to help the many students who come to us needing additional instruction and integrated support – or, what is known as developmental education — before taking on college-level work.
I'd like to share with you the experience of Christie Hoffman, a story that illustrates how Pima Community College is responding to the academic needs of those students in an innovative and focused way.
Christie, a 29-year-old military veteran, was concerned about resuming her education after graduating from high school more than 10 years ago. Taking more math courses topped the list, because she knew there was much she had forgotten.
Fortunately, PCC is piloting a promising self-propelled math course that puts students in charge of their education and allows them to advance through the coursework as they are ready. The class, MAT 089, propelled Christie to the next level of her education.
When asked today, Christie recommends the class to anyone who hasn't been in school in recent years. Watching videos, doing step-by-step problem-solving, and going over the material before a test were all beneficial to her. Christie is on schedule to graduate from PCC in May and plans to transfer to The University of Arizona to pursue a degree in Early Childhood Education.
But improving the skills of incoming students so that they're ready for the rigors of college-level school work is an ongoing challenge.  We've found at Pima that about 80 percent of recent high school graduates need to take developmental education courses in at least one of the three disciplines of reading, writing and mathematics. Twenty percent need help in all three areas.
Like community colleges everywhere, PCC is built on the bedrock principle of open access. We don't turn anyone away from our doors. The College's Standard Practice Guide on Admissions states, "Admission to Pima Community College is open to all who want to continue their learning." As Pima Provost Erica Holmes has said, "We meet students where they are and take them where they want to go academically." That goal is behind our ongoing redesign of the Developmental Education program, led by the provost's office.
We intend to align our developmental education coursework and procedures with curricula and practices that have a proven record of success at our peer community colleges. We are adding staff, beginning with a new executive director for developmental education and four developmental education faculty members. Our effort also is notable for its inclusiveness – newly formed committees on each campus are made up of faculty, counselors, librarians and representatives of Information Technology, Disabled Student Resources, English as a Second Language and the learning centers.
Our redesign will be integrated with our nationally respected Adult Education program and Center for Training and Development, which offers noncredit education leading to direct employment, to create numerous bridges to college-level coursework regardless of how students enter PCC.
The class Christie took is especially promising. MAT 089 teaches fundamentals and applications of basic math, and elementary and intermediate algebra. The course is taught at all of our campuses using the Math Emporium model, which puts students in control of their education. The curriculum is divided into 35 modules. Students complete assignments online in a classroom setting with help from instructors and PCC staff. Learning is "self-accelerated" rather than self-paced. Students can go as fast as they want but have the flexibility to slow down when they don't understand the content. Class attendance is mandatory. Students must master the content before moving to the next module. There is plenty of support in the labs, with instructors, proctors and peer tutors on hand to help.
MAT 089 covers subjects that in traditional classrooms take four semesters to cover. Motivated students have finished the modules in one semester, which saves time and money. Students who need more instructional time can take the course up to four times without having to purchase a new textbook.
MAT 089 is an example of how a smart structure and quality support can empower students to succeed.
Developmental education should not be a destination. Pima's objective is to move students into college-level coursework as quickly and effectively as possible, so that they may achieve their educational and professional goals. CF