Clinical Research Coordinators: Helping to Advance Medical Knowledge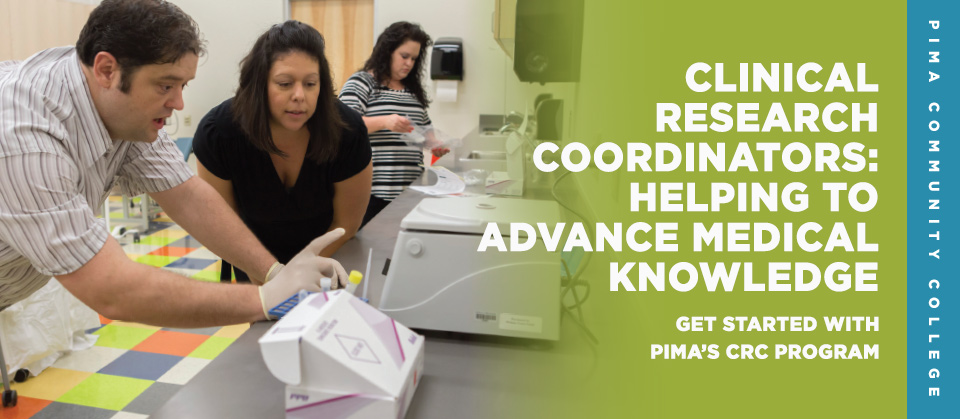 For Pima Community College student Kenneth Lee, his future as a clinical research coordinator is a potentially more satisfying extension of the work he's done as a patient care technician.
"As someone who was involved with direct therapies and direct patient care, I was able to affect the lives of one to a few people every day, which is a really amazing thing," said Lee, who will complete Pima's Clinical Research Coordinator (CRC) program in May. "As a CRC, I can be part of a team that develops a new drug or medical device that can affect the lives of countless people. The idea that I could be a part of something that cures cancer or some other disease is really humbling."
Pima's CRC program trains students to coordinate the medical trials that test new medications, treatments and medical devices, leading to therapies that can help millions of patients. The coordinator is responsible for tasks that run the gamut, from reviewing and developing study protocol to recruiting and tracking study participants to collecting data and making sure that study protocols are precisely followed.
"Our students learn about the laws, the ethics, the rules and guidelines we have to follow to conduct a clinical trial," said Rita Lennon, CRC lead faculty. "They learn about pharmacology, along with such medical skills as how to draw blood, how to take vital signs and how to conduct an electrocardiogram. It's very diverse."
Pima offers a Certificate and an Associate of Applied Science degree in CRC, with many required courses offered online.
Employment prospects are excellent for graduates of Pima's CRC program, whether they want to stay in Tucson or travel the globe. Only a handful of programs nationwide train CRCs, while thousands of medical studies launch in any given year. According to clinicaltrials.gov, a service of the U.S. National Institutes of Health, nearly 176,000 medical studies are ongoing across the world, including 70,000 in the United States. Locally, Lennon is often contacted by area research companies looking to hire a CRC.
"Nearly 100 percent of Pima's CRC program graduates find a job, except for a few who go on to a four-year degree or choose to use it as the groundwork for another health profession," Lennon said.
Tucson-based Adobe Clinical Research asked Lennon to recommend an intern, whom the company ended up hiring.
Lori Botello, research director at Adobe, said the intern came to Adobe "with a good foundation."
Botello said Adobe has hired people without any clinical experience, "and you definitely can see the difference between someone coming from Pima and someone who isn't a Pima graduate."
CRC student Crystal Robles will graduate in May but already is working as a CRC with a local clinic that conducts medical research. Robles completed CRC course work and is finishing required support courses for her associate degree.
She had previous experience coordinating clinical trials, learning on the job. But her current job is based on her finishing her degree. She considers her experience at Pima invaluable.
"The CRC program teaches you integrity, ethics, and good clinical practice," Robles said.
She eventually will pursue a nursing degree to improve her opportunities for advancement but plans to continue on the research side of nursing.
"Once you have worked in the research industry, it opens your eyes to another side of the medical field. Clinical trials can help patients who would not be able to receive the investigational medication that could help save their lives. I have patients whose family members bring me cards to thank me for all we do. There is a rewarding emotional connection because you help make a difference in lives of patients," Robles said.
Lee also envisions himself making a lifetime career as a CRC.
Lee previously taught languages in public and private schools in Los Angeles. Several years ago, he moved to Tucson to take care of a sick family member.  In need of an intellectual challenge, he started taking math and science classes at Pima, then completed Pima's Certified Nursing Assistant program. He went through three semesters of the nursing program before changing course.
"Nursing wasn't really a good fit for me, but I enjoyed the research part. I found the CRC program and I've never been happier in my life," Lee said. "Every morning I wake up and I'm inspired about what I'm learning. It was a journey for me of five years, but I found my niche." CF
Rita Lennon estimates starting pay for a CRC at $14-$17 per hour in Tucson and significantly higher in Phoenix. The website Salary.com reports a salary range of $35,000 to $60,000, with $47,000 being the median for CRCs employed in the Tucson area.