Pima Offers Classes and Student Services at Davis-Monthan Air Force Base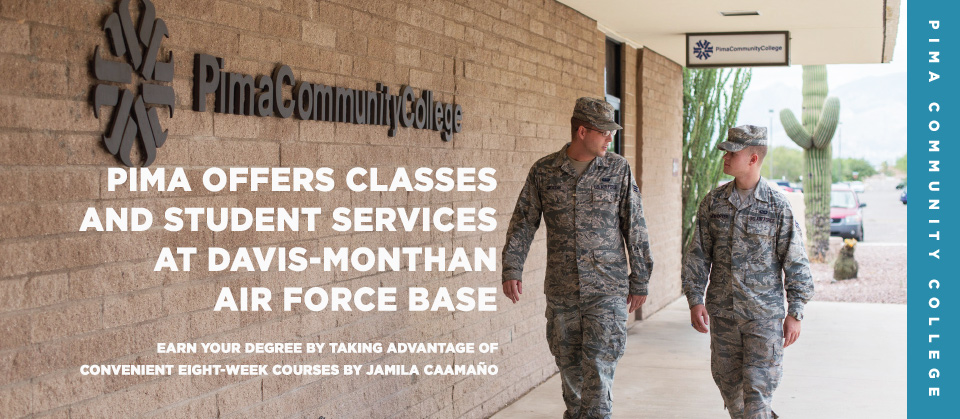 You don't have to be an airman to take classes at Pima Community College's Davis-Monthan Air Force Base Education Center.
"Our programs and services are available to military and civilians, retirees, veterans … pretty much anyone," said Larry Bearden, advanced program manager for education services at the base.
The center is located at 5355 E. Granite St., less than one mile from the base's main gate and visitor center on Craycroft Road.
Courses are available in many areas of study and are taught in traditional, online, Web-classroom hybrid or self-paced formats to provide flexibility and convenience. Some courses can be completed in eight weeks, a good fit for anybody with a busy schedule.
"I took two classes, each eight weeks," said U.S. Air Force Airman 1st Class Jasmin Martin, 355th Force Support Squadron food service.  "I had a full-time course load but I only had to juggle two classes at a time."
Such flexible scheduling helped Martin earn her Associate of Arts in Liberal Arts in fall 2014. She plans to transfer to a university to pursue a degree in psychology.
"Finding time to go to school and study was a challenge," said U.S. Air Force veteran and recent Pima graduate Liza Clark. "But the convenience of taking classes at Davis-Monthan Education Center made it possible for me to obtain a college education."
Having to juggle school, work, family and more seemed overwhelming at first, Clark said, but being able to take classes on base during lunch breaks and in the evenings made it easier.
Another benefit of taking classes on base was the small class sizes, Clark said.  "I received personal, one-on-one instruction."
Clark completed her Associate of Science degree in spring 2014 and transferred to The University of Arizona. She will earn her Bachelor of Science degree in Speech, Language and Hearing Sciences in spring 2016 and plans to pursue a doctorate to become an audiologist.
"The thing I like best about taking courses on base is the instructors," said Airman 1st Class D'aja Underwood, 355th Force Support Squadron. "It's as if they hand-pick instructors who understand nontraditional students and their busy lifestyles."
"I feel as though my instructors really get me and offer me support and opportunities to grow," said Underwood, who is working on earning an Associate of Arts in Early Childhood Education.
Pima has offered courses at its Davis-Monthan Education Center for more than 30 years.  The College annually serves more than 3,000 students there, offering classes that permit students to complete Associate of Liberal Arts, Associate of Business, Associate of Science and Associate of General Studies degrees.
Center staff also can help with admission, registration, assessment, orientation, advising, testing, financial aid, military tuition assistance, and College Level Examination Program (CLEP) and Defense Activity for Non-Traditional Education Support (DANTES) testing.
For more information about the courses offered at the base, as well as base access and entry requirements, call the base Education Center, 206-4866, or go to www.pima.edu/dmafb. CF
Pima Partners with the U.S. Air Force to Train Paramedics
Pima Community College recently was awarded a five-year contract by the U.S. Air Force to train personnel to become paramedics.
Under the contract, worth up to $1.8 million, Pima's Public Safety and Emergency Services Institute, located at the 29th Street Coalition Center, will train up to 260 Air Force personnel. The first class completed four months of hands-on training in November 2014.
"This collaboration is an example of the College's ability to customize education and training programs to meet the needs of our partners," Chancellor Lee D. Lambert said.
PCC services for veterans, members of the military and their spouses have been ranked in the top 20 percent in higher education, making Pima a Military Friendly School. Pima has been a Military Friendly School every year since the designation was created in 2009.