PimaOnline: Your pathway to a college education where, when and how you like it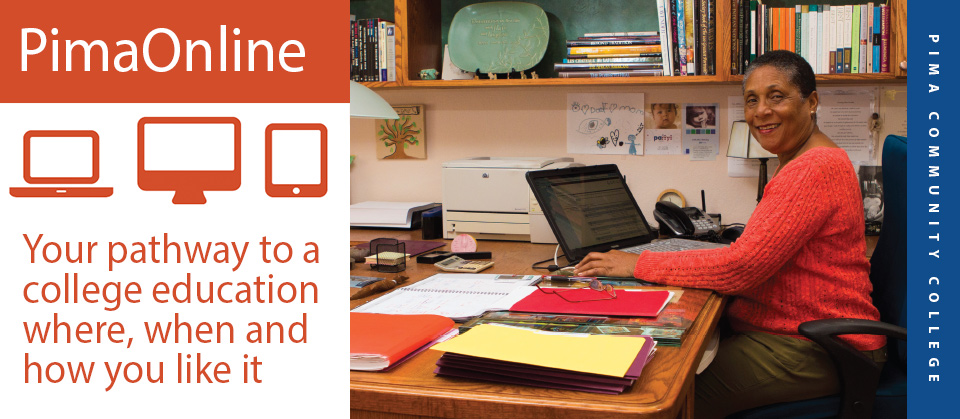 There is more than one way to take classes at Pima Community College. You can do it in a classroom at one of our many locations or in your own home with PimaOnline.
"Taking online courses can be a great starting point for people who want to change career paths or need to take classes to fit their schedules," said Lorraine Morales, president of PCC's Community Campus, where PimaOnline is based.
Accessing PCC's 500 online courses is easy; all you need is a laptop or a desktop computer and a reliable Internet connection.
Current degrees and certificates offered entirely online are an Associate of Applied Sciences (AAS) in general studies; an Associate of Arts degree for transfer to a four-year institution; a certificate in Human Resources and a two-year post-degree certificate in Elementary or Secondary Education. More online degree programs will be added in coming semesters.
"Pima's flexibility makes it possible for everyone to get a college education," Morales said. "You can gain the skills and earn the credentials you need to succeed in today's competitive employment market."
Terryl Mack and Mary Zeller, who completed PimaOnline classes, both say the flexibility, along with autonomy and convenience, offered by PimaOnline has played a key role in achieving their educational goals.
Mack, an older returning student, already had a full plate. A freelance technical writer and editor, she works part time as a bookkeeper/office manager at a Tucson custom furniture company and has an active social and family life.
"When I came to Pima in 2000, I had a specific goal — to get a degree in cultural anthropology, an intriguing and diverse discipline that describes and interprets interactions from many aspects of human life," she said. "My focus will be to use my research and writing skills to help further an understanding of what it means to be human."
To meet the pre-admission course requirements for admission to The University of Arizona through the Arizona General Education Curri-culum (AGEC), she began taking classes at PCC.
The first few years, she took anthropology courses. But as the years passed, Mack wanted to accelerate her progress. She signed up for three required classes online, the most challenging of which was botany.
In the summer of 2012, she took the online botany class, which compressed 16 weeks of study into eight. She spent four to five hours a day completing labs, studying for quizzes and tests, and participating in online class discussions. The hard work paid off with an "A" in the class.
Learn more: Call (520) 206-6408 or email us at ccinfo@pima.edu
Mack said she had some initial concerns about taking classes online.
"I worried about how to access and organize the class components, but PimaOnline is almost flawless. It is totally, easily accessible. I got it immediately," she said.
To succeed in taking classes online requires organization and discipline, according to Mack.
"Being a freelancer, time is money, so I had pretty much mastered those skills before I began. There was more memorization of facts rather than context with the botany class, and it was very difficult for me initially. But I learned how to do it," she said. "This has been an incredible learning experience. It has forced me to step out of my comfort zone."
She has completed the final required classes in natural history and humanities for transfer to UA and hopes to start her UA anthropology studies this fall, with the help of an academic scholarship.
Zeller's motivation for taking online classes was markedly different, but she found the experience equally rewarding.
In 2012, Zeller completed PCC's two-year post-degree certificate program in elementary education entirely online after having little luck pursuing her original career.
"I graduated from law school in 2008, and received my bar exam results that October," Zeller said. "Unfortunately, this was not long after the economic collapse, and not a lot of firms in Tucson were hiring new attorneys. After two years, I began considering other options. Teaching was the first thing that came to mind. I have always loved working with children, and have a knack for teaching. So it seemed like the best choice."
Zeller's sister, who is a teacher, told her about the PCC program and suggested it might be a good fit.
Courses emphasize professional teaching standards, technology, diversity and current teaching theory, along with supervised and directed student teaching field experience. A student must maintain a "B" average throughout the program.
But what really appealed to Zeller was that the program could be completed entirely online.
"After so many years of college and law school, I was loath to set foot in another college classroom. Also, I do not have a driver's license, so taking classes online was much more convenient for me," she said.
Zeller also preferred the online program "because I was able to 'attend' the class when I wanted to, rather than at a scheduled time. It was also more enjoyable for me, because I work much better alone than I do in groups. I was able to engage with other students more often than I probably would have had I been in a traditional classroom."
Halfway through the program, Zeller began working for the Tucson Unified School District (TUSD). She was in an intern pathway program, which enabled her to start student teaching after completing a certain number of credit hours. The intern pathway no longer is available; students going through the program now do on-site student teaching.
"I completed as much of the program as I could during the first year, so by the time I began my first year teaching, I only had about three classes left. It was fairly easy for me to work and take classes at the same time," Zeller said.
Zeller was hired at TUSD's Miller Elementary School in south Tucson in 2012. She teaches third grade, and loves the work.
"My decision to switch careers did not come easily, but now that I have finished Pima's program and have started teaching, I do not regret it at all. In fact, I'd say it was one of the best decisions I have ever made!"
Do you have questions about online classes? Call (520) 206-6408 or email us at ccinfo@pima.edu
- Jodi Goalstone
Go Hybrid
If you're not ready to entirely cut the cord to classroom learning, consider a PCC hybrid course, which blends the best of online and in-class learning.
"The advantages of taking a hybrid course are similar in terms of convenience and access. But the real advantage is that students spend class time on activities such as labs and group discussion," explained Lorraine Morales, president of Community Campus.
This fall, PCC has 303 hybrid courses in a variety of disciplines, including astronomy, emergency medical technology, food science/nutrition and veterinary sciences. Available throughout PCC, the majority of hybrid classes are at Downtown Campus, East Campus, West Campus and Northwest Campus.