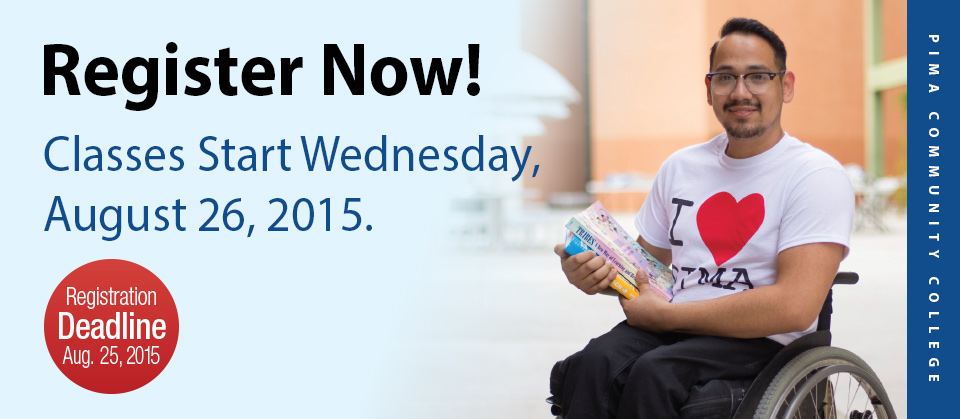 Your community colleges provide nearly 75 percent of the education and training in Arizona after high school, serving students who will typically stay in Arizona.
Many Arizonans choose community colleges as the starting place for a better life with broader choices:
For students who transfer to universities
For adults who need more training to get new jobs or keep their current ones
For high school students who want to get an early start on college through dual enrollment courses
For adults who decide later in life that they want the benefits of an education and a better life for themselves and their families
Pima Community College serves approximately 52,000 students each year, and is among the largest multi-campus community colleges in the nation. Pima Community College is committed to providing convenient, affordable and accessible high-quality education with the power to transform the lives of our students and improve our community.
Register Now!
Classes Start Wednesday, Aug. 26, 2015.
Registration Options*:
Continuing Students: Go to www.pima.edu and log into MyPima.
New Students: Walk-In Registration: Go to any campus Student Services Center (except at Community Campus) or Education Center. Admission, registration, advising and financial aid services are available:
Campuses: 
Monday – Thursday 8 a.m. – 7 p.m.
Friday 8 a.m. – 5 p.m.
Saturday 8 a.m. – 1 p.m.**
DMAFB Education Center:
Monday – Friday 8 a.m. – 1 p.m.
2 p.m. – 5 p.m.
*Register for 16-week courses by Aug. 25, 2015. For short-term classes, registration continues throughout the semester.
**The Downtown and East Campus Student Services Centers are open every Saturday, with extended hours during peak times. Hours are subject to change.
Major College Locations:
Community Campus
401 N. Bonita Ave.
(west of I-10, just south of
St. Mary's Road)
Desert Vista Campus
5901 S. Calle Santa Cruz
(west of I-19, south of Irvington)
Downtown Campus
1255 N. Stone Ave.
(Speedway & Stone)
East Campus
8181 E. Irvington Road
(Pantano & Irvington)
Northwest Campus
7600 N. Shannon Road
(Shannon & Magee)
West Campus
2202 W. Anklam Road
(west on St. Mary's Road,
east of Greasewood Road)
Davis-Monthan AFB
Education Center
5355 E. Granite St.,
Building 2441, Suite 100
(through Main Gate, at Craycroft
and Golf Links Roads)
Aviation Technology Center
7211 S. Park Ave.
(south of Valencia Road)
The most current schedule is online at www.pima.edu, or you can pick up a Schedule of Classes in the free publications distribution area at the following locations:
PCC Campuses and Centers
7 Eleven stores
Albertsons
Archer Center
Bear Canyon Library
Bookmans
Catalina Library
Cherry Recreation Center
CVS Pharmacy
Donna R. Liggins Recreation Center
El Pueblo Activity Center
El Pueblo Library
El Rio Library
Flowing Wells Library
Fry's stores
George Miller Library
Green Valley Library
Himmel Park Library
Marana Library
Martha Cooper Library
Mission Library
Nanini Library
Oro Valley Library
Pascua Neighborhood Center
Platinum Fitness
Prince Market
Quincie Douglas Center
Randolph Community Center
River Library
Roy Laos Transit Center
Sam Lena Library
Santa Rosa Center
Southwest Library
Super Kmart
Tucson Main Library
Udall Park Recreation Center
Valencia Library
Wheeler Taft Abbett Sr. Library
William Clements Center
Wilmot Library
Woods Library
YMCA Jacobs Park
YMCA LOHSE
YMCA Northwest