Automotive Program Striving for Top Gear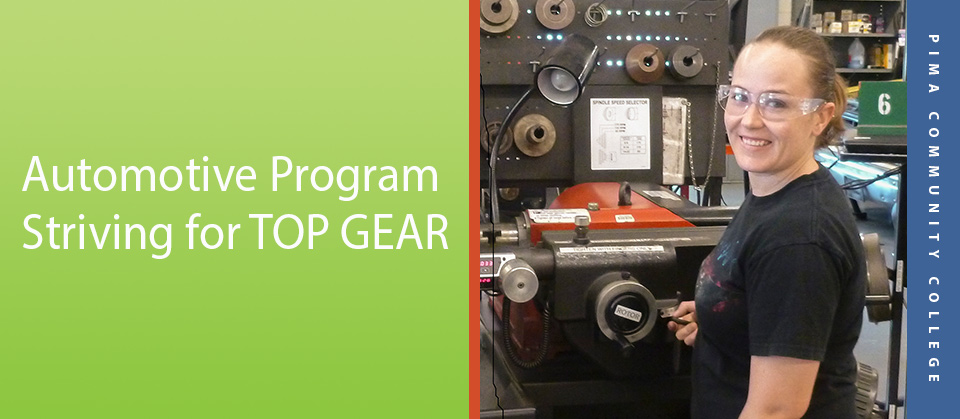 The automotive technology lab at Pima Community College's Downtown Campus is a world apart from most classes offered at Pima.
The nontraditional learning environment is ideal for students looking for something to take them outside of the confined walls of a normal classroom and into a place of freedom and exploration.
Numerous cars and equipment have been donated by dealerships, colleges, manufacturers and individuals, to ensure that students have maximum hands-on opportunities.
Full-time instructor David Stephenson and his fellow instructors emphasize practicing skills through physical learning.
"In a typical classroom, you would have a lecture hall, where a teacher writes on a blackboard," Stephenson said. "If you have a lab, you might go to the lab portion of it and have students gathered around one vehicle, touching it one at a time. All of this is independent instruction."
Students from many different backgrounds, ages and lifestyles pursue the self-paced curriculum.
"Our curriculum appeals to the widest possible audience, but the level of instruction is consistent from student to student," said instructor Bryan Goldkuhl.
Hands-on work especially appeals to students who are auditory or tactile learners, Goldkuhl added.
The program offers flexibility for students who have a hectic life schedule outside of the school walls, by making a variety of instructional times available throughout the week.
Automotive student Jimmy Pham enjoys being outside a traditional classroom and in an environment where he has the opportunity to actively learn and practice his newly acquired skills.
"I couldn't see myself going anywhere else," Pham said. "You're working while listening. It's not very class-like."
Pham is working toward earning his mechanic certification. He plans to return to his hometown in Vietnam, where he will use his skills and certification to open his own shop.
"Cars are something I like, and this is something I can see myself doing," Pham said. "The car industry is booming in Vietnam and that's where I plan on going."
Students have an opportunity to earn either a technical certificate or credit toward an Associate of Applied Science degree.
"We train students on all the necessary skills to gain an entry-level position, and also prep them for taking their mechanic and technician certification," Stephenson said.
Student Cord Polinger earned his associate degree in December and plans to complete his certification exams in 2016. His immediate goal is to start working as a mechanic, with a long-term goal of becoming a service manager at a dealership.
"Pima's Automotive program gives you the confidence and a strong fundamental base on which to start a career as an automotive technician," Polinger said. "It teaches you the real world application of auto technology as a trade skill."
PCC's program is accredited by the National Automotive Technician Education Foundation/ Automotive Service Excellence, which requires an intensive on-site inspection every five years.
During the inspection, accreditors examine equipment, curriculum and the skills students are learning.
This type of accreditation requires instructors to consistently update their curriculum to match the newest skill requirements and technology being produced in the automotive world.
Upon completion of the program, graduates have a high success rate for earning an entry-level mechanic position at a major dealership or an automotive shop, Stephenson said.
If being outside a normal classroom, having a self-paced curriculum and being free to roam in an independent learning environment doesn't appeal to students, perhaps the availability of one-on-one instruction will.
Instructors are available to answer even the simplest of questions.
"I like that I can ask questions, even if it's something that has an obvious answer," Pham said. "There's always someone to help, someone to point something out to me or show me what to do."
- Tanisha Knutzen courtesy of the Aztec Press
In an effort to showcase both the Automotive program and the excellent work of PCC journalism students, CareerFocus is reprinting this article, originally published Feb. 12, 2015, from the award-winning Aztec Press.