Ignite your Career in the Natural Gas Industry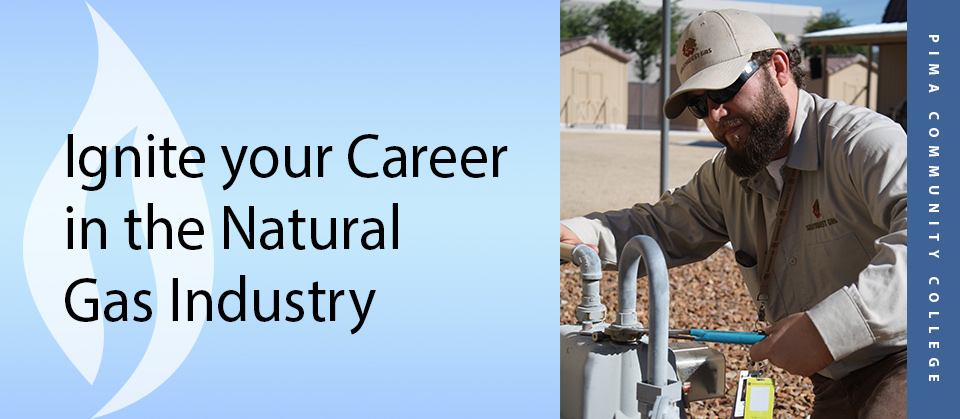 PCC teams up with Southwest Gas Corp., on training that can help you enter a rewarding career offering competitive pay and stability
Are you thinking about a career in the natural gas industry? With the increasing demand for energy and a large portion of the nation's energy workforce retiring in the coming years, there is no better time than now to start your career.
According to the Center for Energy Workforce Development, more than half of the country's energy workforce is becoming eligible for retirement, opening opportunities for a new generation of workers.
Job prospects in Arizona are also plentiful.  Elaine Babcock, human resources division manager at Southwest Gas, said 21 percent of the company's employees in southern Arizona alone are eligible to retire within the next five years.
Pima's Natural Gas Utility Technology (NGT) program provides industry-approved curricula that can lead to successful careers in the natural gas industry. Students in the program are trained in the basics of the natural gas industry and prepared for well-paying energy industry careers. Program graduates qualify to seek entry-level positions at Southwest Gas and with pipeline contractors, with starting pay ranging from $22 to $30 per hour, plus benefits. Students who complete the program also receive a U.S. Department of Labor OSHA-10 certification.
Southwest Gas technicians Chad Petitt and Mark Prosise, who each earned a NGT certificate last summer, said Pima's program helped them to get a foot in the door.
"Pima's program helped me be more competitive in the hiring process," Petitt said. "It provided me with the required safety and compliance training for Southwest Gas."
Prosise, now a Southwest Gas employee in Phoenix, found the instructors to be most valuable.
In Pima's program, "you have connections to the industry," Prosise said.  "The courses are taught by industry professionals who work in the field.  They helped me build networks and learn more about the industry."
Both Petitt and Prosise plan to earn a bachelor's degree and move up the career ladder into better paying jobs.
"I can transfer anywhere within the company," Petitt said. "There are so many career paths once you enhance your skills and continue your education."
PCC's partnership with Southwest Gas is beneficial to the entire utility industry.  "Pima's program is a great asset to the communities we serve," Babcock said. "We need people who want a great career and Pima does a great job in helping us find the right people to fill these in-demand jobs."
Industry professionals also can benefit from this program, says Andrew Dominguez, Superintendent/Gas Operations support staff at Southwest Gas.
"Employees looking to improve themselves professionally and learn more about something they do every day is impressive," he said.  "It shows that they are passionate and eager to learn and grow within the industry."
NGT student Jacob Castaneda has worked in the gas industry for 23 years.
His career began as a laborer working with Arizona Pipeline Co., a contracting company for Southwest Gas.  He worked as a crew leader, welder's helper and service technician.  At Southwest Gas, Castaneda worked as a construction technician, construction crew leader and lead construction specialist.  Last April, he was promoted to construction supervisor.
"Knowledge is everything," says Castaneda, whose goal is to become a gas construction superintendent.
"The competition is fierce," he said. "Earning a degree in the gas industry could help me be more competitive in getting a promotion."
"PCC is committed to providing resources for employers to help enhance their workforce development practices," said Ian Roark, PCC's vice president of Workforce and Continuing Education.  By partnering with Southwest Gas, "we're able to prepare our local workforce for well-paying careers in this industry." CF
For more information or to enroll, contact Mary Mercado, mmercado8@pima.edu or 520-206-6569.
- Jamila Caamaño
Energy annual salaries in Arizona*
Construction Laborers (pipe layers, pipe fitters): $28,116 – $43,761
First-line Supervisors (crew leaders): $55,423
*Source: Energy Workforce Demand Report-West Region, prepared by EMSI for CEWD, December 2013