Start Your 4-year Degree at PCC
Money-saving move also helps some find a career, adjust to college studies
Whether they transfer to Princeton, another Ivy League school, Stanford or The University of Arizona, thousands of students start their college education at Pima Community College each year.
PCC transfer students say opportunities for ongoing, individualized instruction, small class sizes and low tuition and fees are what draw them here.
"I decided to start at Pima for practical reasons," said Gabriela De La Cruz, a Sabino High graduate now pursuing an Associate of Science Degree. "I realized that by going to a community college I would be able to get more individualized attention. That was the best fit with my learning abilities. Also, Pima class sizes are smaller and the college as whole is more personal."
De La Cruz and Oscar Zepeda are the first PCC students awarded scholarships to the UA College of Agriculture and Life Sciences (CALS) as part of Pima's Agri-SURF Summer Bridge Program. Each will receive a $22,500 scholarship when they transfer during the 2016-17 academic year.
UA is the leading choice for PCC students transferring to a university. Former PCC students comprised 22.7 percent of the total 40,621 UA enrollment in fall 2013, compared to approximately 12 percent at both Arizona State University (ASU) and Northern Arizona University (NAU). In spring 2015, 1,893 current or former PCC students were enrolled at UA and 71 at ASU.
For the same semester, 121 former PCC students were enrolled at some of the country's best schools, including Princeton, Harvard, Yale, Stanford, Massachusetts Institute of Technology, University of California, Los Angeles and University of Southern California, with a total of 2,009 former PCC students attending one of the country's top 200 schools, as ranked by U.S. News & World Report.
UA even has a Pima Pathways Agreements Web page, admissions.arizona.edu/transfer/pima-pathways-agreements, under its Transfer tab. There you can find links for requirements of each PCC-UA transfer degree.
To get an idea of the many options for attending PCC then transferring to UA, NAU or ASU, visit aztransfer.com. AZTransfer is a statewide collaboration to help students navigate their higher education options in the state. On its website, you'll find information and resources on each of Arizona's public and tribal community colleges and universities.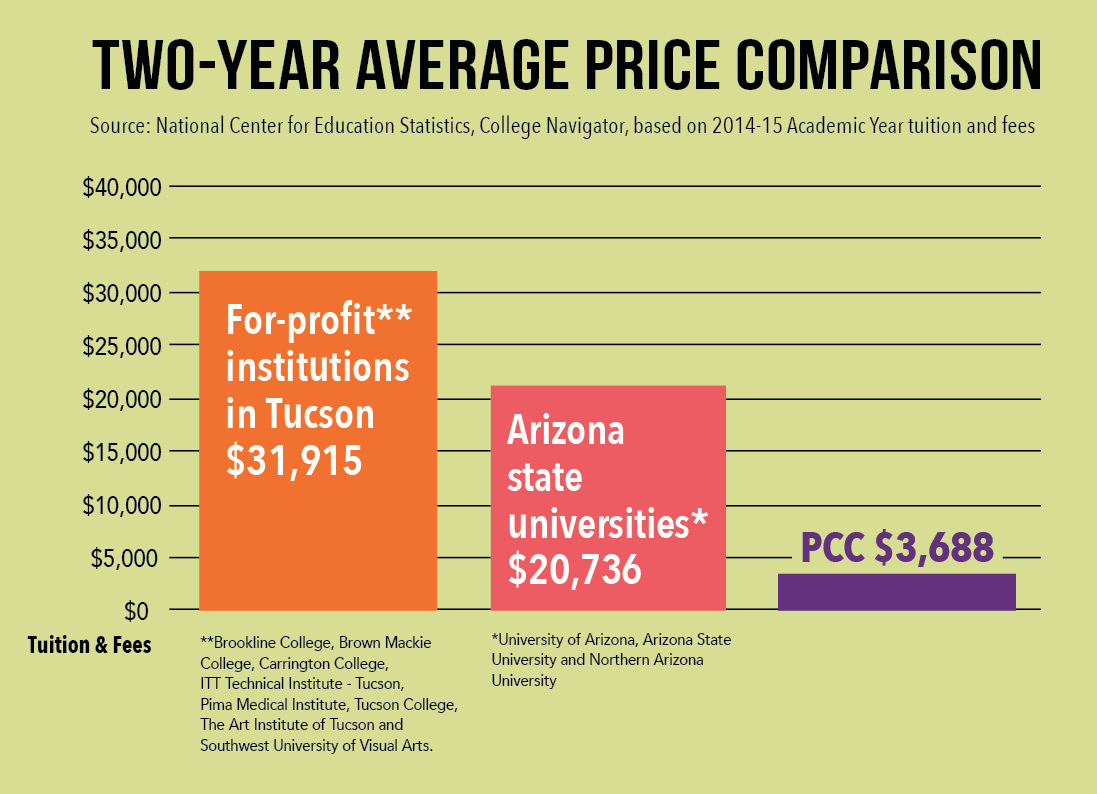 Miguel N. Topete says his studies at PCC helped him decide on an experimental psychology career and helped him understand the demands of college. In the fall, Topete, who has a high school equivalency diploma, completed his last class to earn his PCC Associate of Science degree and also started full time at UA.
He and his family moved between Arizona and Mexico throughout his youth. He attended high school mostly in Mexico, but says he took his studies lightly. Now, he revels in learning and wants to show people how to "develop their intelligence through self-education and self-motivation."
"I am really glad I started out at Pima," he said, praising the individual attention and support of PCC instructors. "It also helped me understand the processes."
For other students, such as Armand Gahol, the low tuition and fees at PCC made it the obvious choice. According to the National Center for Education Statistics College Navigator, the average net price for a full-time beginning PCC student over two academic years was $3,688. That same student would pay an average of $31,915 over the same period enrolled at one of the for-profit institutions in Tucson. Attending one of Arizona's public universities would cost an average of $20,736.
"Economically, Pima is a better way to go," Gahol said. "Also, the classes are smaller and I learn better in a close environment." At PCC, "the instructors have a more intimate relationship with the students. You're not a statistic."
Gahol is a U.S. Air Force veteran who served four years, including deployments to Kuwait and Afghanistan. He's studying Computer Engineering and Electrical Engineering at PCC, for associate degrees for transfer to UA in 2017.
PCC's low tuition also appealed to De La Cruz. While at Sabino, De La Cruz sought out opportunities to improve her job and career prospects. She was taking cosmetology classes through the Joint Technical Education District when she learned about the scholarship that was part of Agri-SURF (Agriculture Sustainability and Universal Renewable Farming). The program is free to eligible recently graduated high school seniors and undecided college freshmen interested in pursuing a science degree or certificate with an agricultural focus.
De La Cruz and Zepeda were eligible for the scholarship because they participated in Agri-SURF the last two summers, taking classes and tours, and doing lab work and projects. Zepeda, a graduate of Trevor Browne High School in Phoenix, plans to pursue a degree in veterinary sciences through CALS' School of Animal & Comparative Biomedical Sciences.
"I knew deep down that I would not be able to attend UA if I didn't receive financial assistance. Ever since I heard about this scholarship, I knew this was my chance," said De La Cruz, who plans to major in Agribusiness Economics and Management in CALS' Department of Agriculture Resource Economics or Environmental Sciences in CALS' Department of Soil, Water, and Environmental Sciences. "When I found out I had gotten the scholarship, I broke down into tears and thanked God that I had money to go to school."
PCC Transfer Options
PCC has a variety of transfer options. An advisor can help you decide which transfer program is right for you. 
Liberal Arts Transfer
You can prepare for a variety of bachelor's degrees by completing a transfer degree in liberal arts or science in areas including:
Biology
Chemistry
Communication
Family Studies
Journalism
Mathematics
Physics
PCC Degrees for Transfer
Administration of Justice Studies
American Indian Studies
Anthropology
Business Administration
Early Childhood Education
Elementary Education
Engineering
Fine Arts
Dance
Music
Theater
Visual Arts
History
Hotel and Restaurant Management
Political Science
Psychology
Retailing and Fashion Consumer Sciences
Science
Social Services
Sociology
PCC Certificate Options for Transfer
PCC students can earn an Arizona General Education Curriculum Certificate with an Arts, Business or Sciences focus that meets lower division general education requirements for Arizona's state universities (UA, ASU and NAU) and other institutions. Along with completing an AGEC-A, AGEC-B or AGEC-S, students are strongly encouraged to complete the appropriate Associate of Arts, Associate of Fine Arts, Associate of Business Administration or Associate of Science degrees before transferring.
Another certificate option is the Honors Certificate through the Pima Honors Program. You can find more information at pima.edu/program/honors.