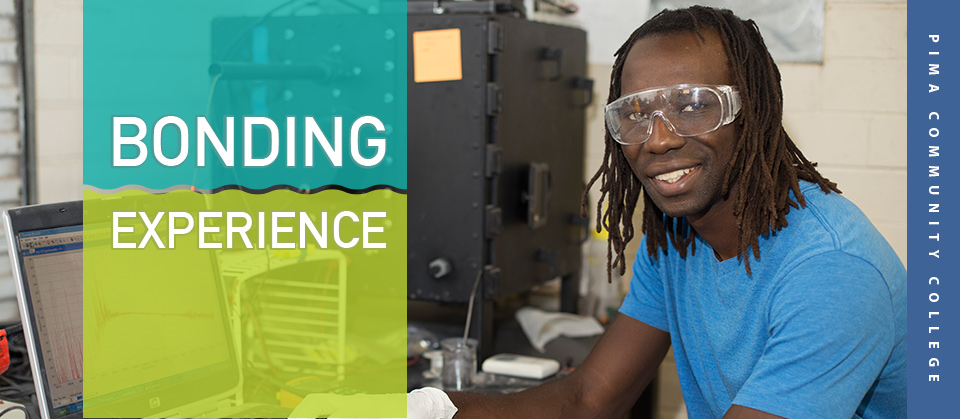 Thanks to a strong connection between faculty and a local business owner, PCC students are immersed in cutting-edge science.
Outside, it's completely nondescript. But inside the South Tucson building housing Ventana Research Corp. — amid the chemistry labs and workshops — ground-breaking scientific work is being done to support U.S. national security, with Pima Community College students playing an integral role in cutting-edge research and development.
Ventana's website describes its specialties as "materials science as well as applied surface and polymer chemistry." Ventana Principal (think chief executive officer) Dr. John Lombardi calls his company "an R and D firm with a capital D." Ventana's goal is to apply scientific principles to create products and processes that solve complex problems for its clients.
Some of its clients are in private industry. For example, Ventana is working with a Phoenix-area company to develop ways to convert waste from tire-making into chemicals with commercial value. For the most part, however, Ventana works with such entities as the Defense Department, U.S. Army, U.S. Air Force, Department of Homeland Security and the Defense Advanced Research Projects Agency. Ventana does not work on munitions. It often works on sensitive projects.
For the better part of a decade, the unassuming Lombardi and instructors at PCC have built a partnership that has brought in a steady stream of students, about 15-20 in total, from PCC. And as Lombardi told the PCC Governing Board during a presentation in February 2016: "I don't have the interns just washing test tubes and emptying waste paper baskets or sweeping the floors. The interns I have had are working on really cutting-edge projects."
One example of a pushing-the-envelope project: Developing protection against chemical weapons, such as anthrax, shortly after 2001. While the interns did not work with anthrax spores – Ventana had a Ph.D. microbiologist handle that – they were involved in developing materials that could become part of paints and textile coatings that would decontaminate against toxic chemical weapons.
The non traditional student
Lombardi is drawn to the non traditional student, one who did not graduate from high school and head directly to a four-year university. Many of his interns are a little older than the typical college freshman, and are working while going to school part time. One of the interns who worked on the anthrax project, for example, had a wife, two children and tended bar before coming to PCC.
Ventana intern Andrew Okonya fits the non traditional student profile. At 27, he was on schedule (as of May) to graduate from PCC in summer 2016 and will study mechanical engineering at The University of Arizona. His interest in engineering was piqued while working as a business manager in an engineering firm after graduating from Ironwood Ridge High School, and he was especially interested in being part of research and development.
"Real life is messy"
Interns Connor Stahl and Stefan Hinote started at PCC before moving to UA, where each graduated in May with bachelor's degrees in chemical engineering and biochemistry, respectively. They explain the benefits of working in a real-world lab in terms of success and failure. Both say failure isn't necessarily an undesirable option.
"Classroom experiments are designed to work," Hinote says. In a class lab, following simple, precisely described steps will yield the expected chemical reaction. "Not until you get into R and D do you come into situations where the result isn't clear," he says.
"Real life is messy," Stahl adds.
The advantages of immersing students into projects of consequence are many, Lombardi says. The students take part in all phases of the project: Description of the problem; breaking it into discrete steps; creating experiments to test hypotheses; sometimes creating one-of-a-kind instruments to conduct tests; and collecting and analyzing data. The emphasis is on perseverance and efficiency. Creating the simplest, least expensive process is extremely valuable in the world of business.
"The devil is in the details," Lombardi says.
The faculty connection
Lombardi says that for a business to develop an effective talent pipeline with a college or university, it must go beyond posting want ads. It's necessary to forge a strong connection with involved, knowledgeable faculty members. At PCC, that connection is Lonnie Burke, Ph.D., a former university professor and former research chemist at Bristol Myers-Squibb, and current chemistry instructor at East Campus.
"Having the industrial experience, I know what John is looking for," such as a strong foundation in the sciences, he says.
"Lonnie pre-screens the students," Lombardi says. "It may sound déclassé, but he's a headhunter for me, because I'd much rather be in the business of hiring than firing."
The mentoring Lombardi provides is crucial, Burke says. "It allows them to grow, résumé-build, and become very competitive in applications towards graduate school and other research institutions."
As for Lombardi, he crystallized his feelings like this: "Pima [is] really the jewel in the educational crown here. I truly believe it's the best thing going…. I mean that from the heart."
- Paul Schwalbach
Student recruitment and internships
PCC is the place to find workers or interns. To learn more: pima.edu/business-industry/recruitment-internships or careerservices@pima.edu