Train for an Exciting Career in the Growing Hospitality Industry
Preparing students for real careers — not just jobs — in the hospitality industry.
Tourism growth equals opportunity
Pima Community College pairs well with Arizona's $20.9 billion tourism industry.
Arizona attracts more than 40 million visitors a year. And as home to two of the top-rated destination spas in the world, a variety of luxury hotels, a booming downtown, and as America's only UNESCO World City of Gastronomy, Tucson is a popular Arizona destination. The College provides the skills and training to those who wish to work and advance in this growing industry through well-regarded programs in the Culinary Arts, Hotel and Restaurant Management and Travel/Tourism Operations.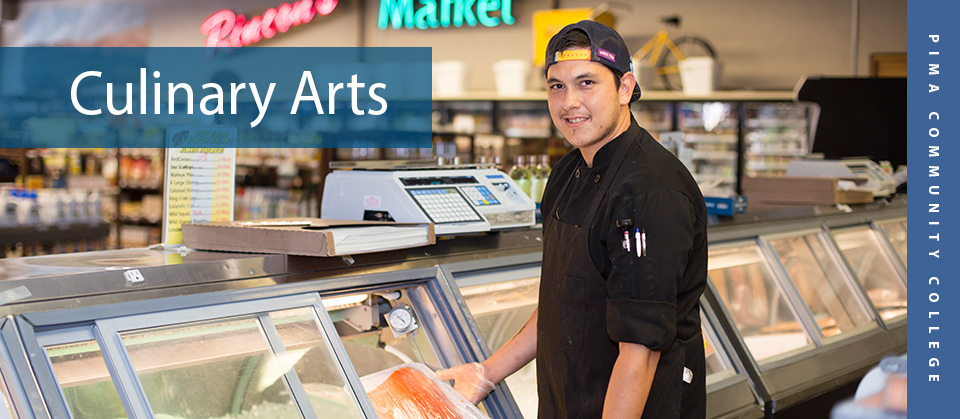 The Labor Department's Bureau of Labor Statistics projects that through 2024 the number of food service-related jobs will grow faster than the U.S. average of 6.5 percent.
As demand for skilled, disciplined culinary workers grows, Pima's combination of premier training and affordable tuition is a good fit for the career-minded.  PCC is streamlining and consolidating its Culinary Arts degree program and the Center for Training and Development's culinary program so that students will earn multiple certificates leading to a two-year degree.
"We also are targeting professionals who want to get better," said culinary faculty Darryl Wong, who is general manager of Tucson's oldest family-run Chinese restaurant.
Wherever culinary students start at Pima, many go on to coveted jobs. Curtis Peralta completed his culinary arts studies at Pima in 2007 and has been sous chef at the five-star Four Seasons Hotels and Resort in New York City since 2014.
"PCC Culinary Arts provided me with a foundation for an amazing career," he said.
Both of Pima's culinary programs are housed at Desert Vista Campus, where two commercial kitchens are used daily for instruction and preparing students for internships designed to lead to jobs. When Grace Ormand finished her CTD internship in baking and pastry at The Grill at Quail Creek, the Green Valley resort hired her as a pastry cook.
"My program does a really good job of mimicking the industry so I knew what to expect," she said.
Culinary student Mateo Cancio, a grill cook at Rincon Market, hones his skills in competitions. This spring, Cancio was Arizona's representative in the American Culinary Federation's Regional Culinary Salon Competition. He also won the 2015 Chaîne des Rôtisseurs Far West Region Jeunes Chefs competition and was one of 10 national finalists.
"He is a remarkable student with a great attitude and passion," said culinary faculty Barry Infuso.
Infuso, as well as CTD's Elizabeth Mikesell, are among the PCC instructors active in the American Culinary Federation's Chefs Association of Southern Arizona chapter.
Pima degree program graduates may be able to transfer credits to a college or university for a Bachelor of Applied Science (BAS). CTD trains for specific jobs, from baker's helper to prep cook. Its Fundamental Skills certificate qualifies completers for a journeyman apprenticeship. Pima also offers high school dual enrollment through the Joint Technical Education District. Students can earn up to 12 college credits.
Learn more at a Culinary Information Session, held at 1 p.m., every Wednesday in Room A156 of the Pueblo Building at Desert Vista Campus. Or, call 520-206-5302.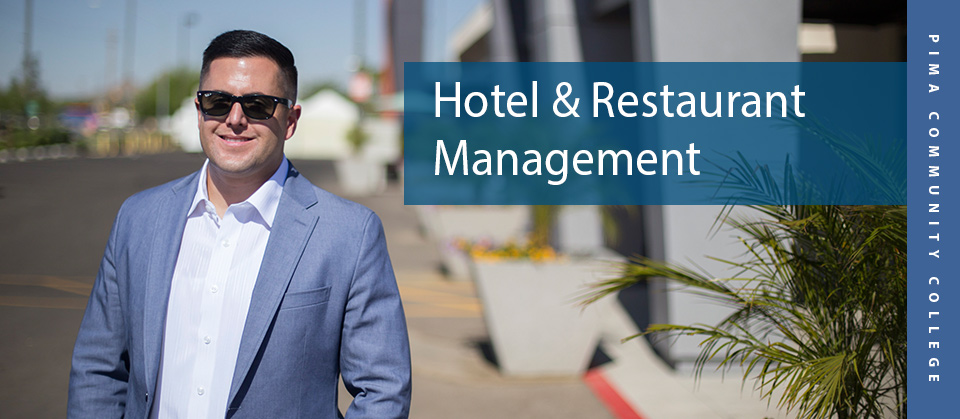 The Bureau of Labor Statistics projects that through 2024 the number of lodging management jobs will grow by about 8 percent.
Such statistics, however, weren't what caught the interest of PCC Hotel and Restaurant Management (HRM) graduate Christopher Itule. He simply liked nice hotels and the idea of working in them.
"As a kid visiting resorts, I was always so fascinated with how big and glamorous they were," said Itule, who earned his HRM associate degree at Pima and HRM bachelor's degree at Northern Arizona University, completing both in 2011.
While still attending classes, he persistently pursued a job as a front desk agent at a local resort, getting hired shortly after he informed a human resources representative that he would keep applying every day until they gave him an opportunity. He left to work at another luxury property, held a variety of supervisory positions, and was guest services manager by the time he graduated. In his free time, he obtained an Arizona real estate license.
He left Tucson to become the general manager of a hotel in Chandler and then was hired as operations manager for its parent company, which owned four hotels and was developing a fifth. In seven years, he had tripled his salary.
"I liked the flexibility of Pima's schedule. I worked full time through school, so I didn't have to take any loans to get through Pima," Itule said. "I enjoyed the professors because they make the class. These are instructors with real-world experiences, not just 'professional professors.' They were instrumental to my success in the program. It's not every day that you meet somebody who will go out of their way to pick you up, and they did."
HRM adjunct faculty Armando Trujillo said Pima's HRM program is a great start for anyone thinking about a career in the industry and for those already working in hospitality who would like to advance to management.
"Our program prepares you for immediate employment, or for a seamless transition to a bachelor's degree program at NAU, along with other opportunities for transfer," he said. "There is no other comparable program in Pima County in terms of breadth or affordability."
The average salary of a hotel manager in the United States is $51,827, according to payscale.com. But the employment opportunities for someone with such a degree are abundant and varied: Banquet manager; cruise line director; tourism director; housekeeping manager;  front desk supervisor, restaurant manager and more. The salaries for each position vary, based on years of experience and other factors.
If your ambition leads to upper management, a general manager for a high-end resort makes $150,000 or more, along with benefits and perks, Trujillo noted.
Itule recently started selling and developing commercial real estate full time. He still thinks about one day combining his interests and developing a successful luxury hotel.
"The HRM program touches on so many facets. You learn about operations, human resources, and sales and marketing – the three pillars of business." Itule said. "As a real estate agent, I'm still using everything I've learned. Those are the same skills I'm applying now. And one thing a hospitality degree gives that a general business degree doesn't is an emphasis on customer service."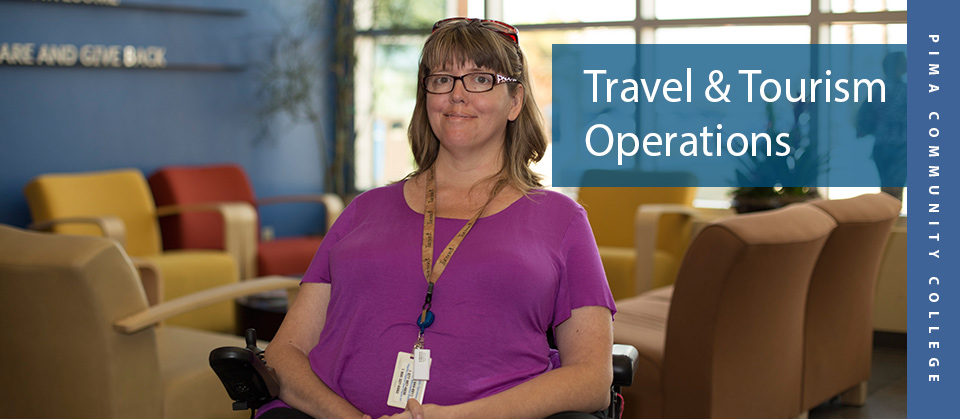 PCC offers online tourism education coursework that prepares students for a wide variety of careers in hotels and resorts, cruise lines, airlines, tour companies, convention and visitor bureaus and ecotourism businesses.
"The diversity of career paths within the travel, tourism and hospitality industry is so great that you can basically work in any type of environment you want," said Dottie Sutherland, lead faculty of Pima's Travel/Tourism program. "Having the right training and knowledge of the tourism industry can help you start or continue a career in the field."
Cyndi Segroves said Pima's tourism classes helped prepare her to work as a certified accessible travel specialist, one who works to ensure that people with disabilities have accommodations while traveling.
Segroves, who has facioscapulohumeral muscular dystrophy (FSHD) and uses a power wheelchair, learned firsthand the difficulties related to traveling in a wheelchair but refused to be limited in her adventures. She has visited Australia, China, London, France, the Caribbean islands and 38 states in the United States.
"I love to travel," she said. "And I wanted to make sure that people with disabilities had more options. Travelers with disabilities shouldn't have to be limited to certain destinations or certain activities during their stay."
About the Travel Industry*
One in nine American jobs are supported by the travel industry
Overall, the travel industry has been a consistent employment driver in the U.S., adding new jobs 18 out of the last 20 months**
Since 2010, travel has outpaced job creation in the rest of the economy by 22 percent
As of January 2016, a record 8.2 million U.S. jobs were reported in the travel industry
*Source: U.S. Bureau of Labor Statistics
**Source: U.S. Travel's economic research team's April 2016 report