Anthropology Students Begin Exciting Archaeology Careers at PCC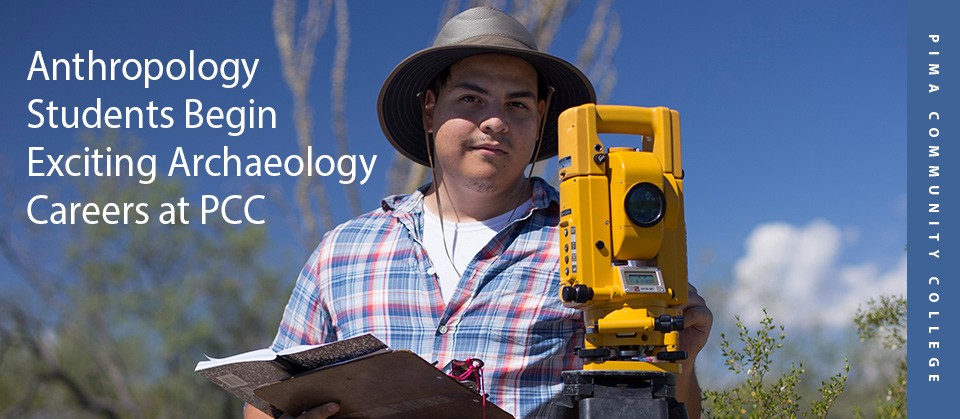 In a few years, PCC sophomore Kerri Pike expects to have a master's in Physical Anthropology and be part of a dig in Africa, working to expand our knowledge of man's origins.
By then, classmate Christian Mathews should be well on his way to a Ph.D., ultimately teaching at a university and researching Viking history "on the side" in Scandinavia. He plans to transfer to The University of Arizona after graduating from PCC.
Sophomore Daniel Montoya also is taking a UA class with an eye on attending a UA field school in Egypt. Eventually, he said, he'd like to focus his archaeology work on Aztec and Mayan culture in Mexico and Central America.
Then there is Wolfgang Whitney-Hul. As soon as he completes his anthropology associate degree and Field Archaeology Certificate at PCC, the sophomore plans to get to work, continuing his formal education as needed.
"I like Southwest archaeology. I wouldn't mind staying here to work," said Whitney-Hul, who moved to Tucson from Georgia three years ago. "But, I like to travel, so who knows where I'll go."
These are some of the aspiring anthropologists and archaeologists who chose to start their studies at PCC. Other students are retirees pursuing classes — some even certificates — for personal interest. But most of the students plan to transfer to a college or university.
Anthropology/Archaeology faculty Mary Prasciunas, Ph.D., said PCC's field archaeology certifications give students applied skills that prepare them to work as archaeological field technicians or pursue advanced archaeological studies. Many find jobs at local firms.
Pima offers two associate degrees in Anthropology, with either a concentration in Anthropology or Archaeology. Field Archaeology Certificate students may pursue certificates in any or all of four concentrations: Field and Lab Fundamentals; Field Methods; Geospatial Information Studies & Technology; and Southwestern Cultures.
The program is based out of the PCC Centre for Archaeological Field Training, which was founded in 1976 at West Campus.
"The Centre is one of the leading community college field archaeology training programs in the United States," said Prasciunas, Centre director. "It is dedicated to providing high-quality undergraduate education and training in archaeology and anthropology. Students benefit from small class sizes, experienced instructors, and the resources of the Archaeology Centre."
A total of 17 instructors and faculty who taught a PCC archaeology or anthropology class between 2013 and 2016 have doctorate degrees in the field.
"We have been training students to do great field work for the past 40 years," said Helen O'Brien, long-time program coordinator for the Centre. "This has enabled students to go on to work in Belize, Brazil, China, Israel, France, Greece, the Central African Republic, Cyprus, Sicily, Egypt, Mexico, Portugal, Peru and South Africa as well as all over the United States."
Pike is pursuing an anthropology associate -archaeology concentration. Her first field archaeology certificate class was in fall 2016 — Archaeological Excavation I, taught by Prasciunas. Students in the class first learn skills at a simulated archaeological site on the west side of campus. Later, they work at the prehistoric 29 Wash site northeast of Tucson, where Hohokam people lived 1,000 years ago.
"This is definitely my favorite class — being outside and working in the field," said Pike, who moved to Arizona from upstate New York. "I'd like to get my Ph.D., but that's so far down the road right now."
Mathews also was in the Excavation I class, after taking two anthropology classes in spring 2016. He plans to study, maybe even double major, in history and archaeology at UA.
"This is kind of my first step," Mathews said.
Montoya already has his Associate Degree in Anthropology-Archaeology Concentration and a Field Archaeology Certificate with a Field Methods Concentration. Now, he is pursuing archaeology certifications on Geospatial Information Studies & Technology and Southwestern Cultures, while also taking UA classes, including one on Egyptology last fall.
"My first year at Pima, I was undecided on a major and took an intro to anthropology course," said Montoya, who is active in the PCC Archaeology Club. "Then I went with my family to Mexico City on vacation and visited some Aztec ruins. That was amazing — it got me really interested."
Whitney-Hul became interested in history and archaeology as a child, when his public school teacher parents would take him and his brother on summer cross-country vacations to national parks and historic sites, including some in southern Arizona.
"We went to places like Mesa Verde and Chaco Canyon," Whitney-Hul said. "Those trips let me know that history is not set in stone — that work still is being done to learn about it."
- PCC Staff
Job Outlook
According to the U.S. Department of Labor Bureau of Labor Statistics, employment of anthropologists and archeologists is projected to grow 4 percent through 2024, which is slower than the average for all occupations. Job prospects will be best for candidates with a Ph.D., extensive fieldwork experience, and experience in quantitative and qualitative research methods.
Anthropology Associate of Arts Program: 520-206-6905 or pima.edu/program/anthropology
Field Archaeology Certificate: 520-206-6022 or pima.edu/program/archaeology
Pima Community College Centre for Archaeological Field Training: 520-206-6022 or on Facebook
Archaeology Club: President Rachel Peltier, rpeltier@mail.pima.edu; faculty advisor Tineke Van Zandt, Ph.D., tvanzandt@pima.edu
Students: Join the PCC Archaeology Club
You don't have to be an anthropology or archaeology major to join the PCC Archaeology Club.
Advisor Tineke Van Zandt, Ph.D., West Campus Social Sciences department chair and Anthropology/Archaeology faculty, said 15-18 students regularly are part of club activities, which range from spring break visits to archaeological sites in the region to tours of UA's tree-ring research lab.
Club members also get insights from fellow students and graduates who give presentations about their field school or work experiences. And, each spring, the club offers workshops on writing résumés to apply to an archaeological field school or for an archaeology job.
"We're very excited this year to be exploring ways to coordinate activities with other clubs," Van Zandt said. "The Game Developers Guild wants to work with the club to develop a game based on an archaeological excavation. We hope to have a joint workshop on traditional technologies with the Native American Students Association in the spring, and want to explore traditional ceramic manufacturing methods with the Ceramics Club."