Career Transitions in Your Fifties and Beyond Don't Have to Be Difficult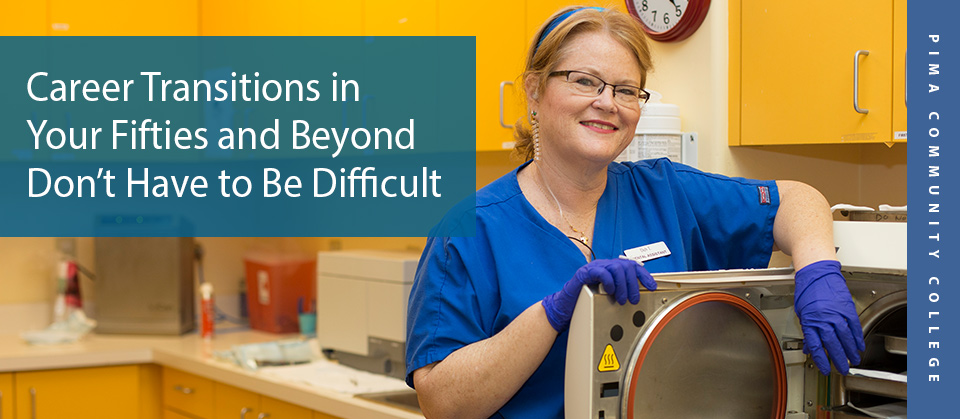 Following a new career path or getting back into the workforce after age 50 can be daunting for some.
Fortunately, Pima Community College's BACK TO WORK 50+ (BTW 50+) program has proven to be effective in providing job seekers, age 50 and older, with a pathway to success.
Patrice Kokola completed the PCC Center for Training and Development's Medical Office Specialist Certificate and now works at Radiology Ltd., as a scheduling specialist. Pima's BTW 50+ program taught her how to turn her age into an advantage and brand herself for success, she said.
Kokola took advantage of BTW 50+ workshops that focused on career planning, personal marketing, social media, interviewing and networking, and computer training.
"I learned how to strengthen my résumé to give me the all-important competitive edge that set me apart from the typical mature worker," she said.
Deborah Tilley, a recent graduate of Pima's Dental Assisting program who landed a job at General Dentistry 4 Kids, credits her participation in BTW 50+ at Pima with helping her get job-ready.
She now plans to become certified to do restorative dental work.
"I can't give enough thanks to the BACK TO WORK 50+ career coaches for working to help me, and so many others like me, have the opportunity to be back in the workforce in such a meaningful way at this time of my life," Tilley said.
Tilley enjoys working with children and has found a passion for educating families on the importance of dental care and oral hygiene. This summer, she plans to volunteer in Peru providing dental care.
Kokola and Tilley are just two of the 148 participants who completed Pima's BTW 50+ program in 2015-2016 and have found jobs.
"Mature workers bring assets to the workplace that employers need," said Roger Forrester, Pima's BTW 50+ program coordinator. "Pima is committed to providing high-quality training options and workforce services to 50+ workers."
BTW 50+ not only helps program participants find resources and training to keep their job skills current while looking for work, it also provides coaching until they secure a position.
"I have nothing but good things to say about the BACK TO WORK 50+ program," Kokola said. "Everyone was so helpful and supportive, and provided great assistance in helping me make my career change."
BTW 50+ is a free program funded by the AARP Foundation. Enrollment as a PCC student is not required to participate. Visit pima.edu/btw50 or call 520-206-6335 for more information. To get a free job search guide and register for a BACK TO WORK 50+ 7 Smart Strategies Workshop at Pima, call 855-850-2525.

- Jamila Caamaño
Pay Half-price Tuition if You're Age 55 or Older
In-state residents, age 55 or older, receive a 50 percent tuition discount on credit courses taken online or in person at any campus. ‣ Learn more at pima.edu/costs.
This program is available to all, without regard to race, color, national origin, disability, sex, age, political affiliation or religion.