Experience Our First-Class Course Offerings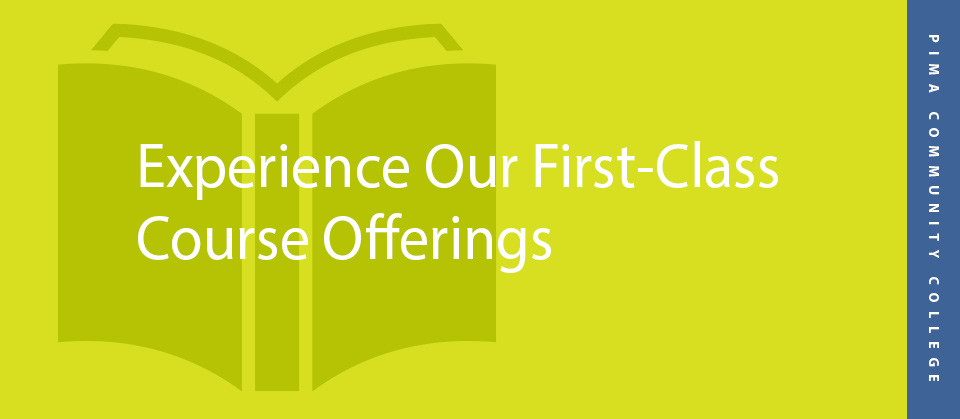 Whether you're studying for a degree, certification, career advancement or personal interest, PCC has a great class for you.
Storytelling with Molly McCloy
Learn the art of storytelling with one of the best
Join us in March for a fun and fabulous Creative Writing Weekend Workshop in Nonfiction on the Art of Storytelling. Writer and performer Molly McCloy will teach workshop participants how to write and perform nonfiction stories from their lives in a creative and entertaining way. At the end of this three-day workshop, students will have the option to perform their work for a live audience.
The two-credit workshop is March 3-5 at Pima Community College's Downtown Campus, Room AH-140. Cost is $183 for Arizona residents. Current Pima students can enroll in Writing 298T4/CRN 23823 through MyPima at pima.edu. Non-students can complete our easy College admission form at pima.edu and then enroll. Students age 55 and older get a significant discount.
Molly McCloy is a three-time NYC Moth StorySLAM winner with work published in Slate, Nerve, and Swink. She holds an M.F.A. in nonfiction from The New School. She has performed around the country.
Lifesaving Skills Training and Continuing Education for Healthcare Professionals and Public
Pima's Public Safety and Emergency Services Institute (PSESI) offers training courses for initial (two days), continuing (one day) and instructor (one day) certification. A few options are:
American Heart Association (AHA) Advanced Cardiac Life Support (ACLS)
AHA Basic Cardiac Life Support for Healthcare Providers (CPR)
AHA Heartsaver CPR with Automated External Defibrillator (AED)
AHA Heartsaver First Aid
AHA Pediatric Advanced Life Support (PALS)
Pediatric Education for Prehospital Providers (PEPP)
Advanced Medical Life Support (AMLS)
Prehospital Trauma Life Support (PHTLS)
Tactical Combat Casualty Care (TCCC)
Reserve your spot today. Private group classes and pre-scheduled courses are offered monthly. For dates, times and registration information, call 520-206-3501.
Border Culture in the Classroom and the Public Square classes
Pima's Desert Vista Campus is offering "paired" classes as part of its $100,000 grant-funded Border Culture in the Classroom and the Public Square project.
These classes, such as an art-writing course related to life along the U.S.-Mexico border, are open to all PCC students and all majors. Students also learn how to have effective public dialogue on difficult, complicated/controversial issues. For details and CRNs, contact program coordinator Sandra Florence, sflorence@pima.edu.
The Border Culture in the Classroom and the Public Square project has been made possible in part by a major grant from the National Endowment for the Humanities: Exploring the Human Endeavor.
Any views, findings, conclusions, or recommendations expressed in this article do not necessarily represent those of the NEH.