IBEST Career Programs Help Adult Education Students Achieve Education and Employment Goals Faster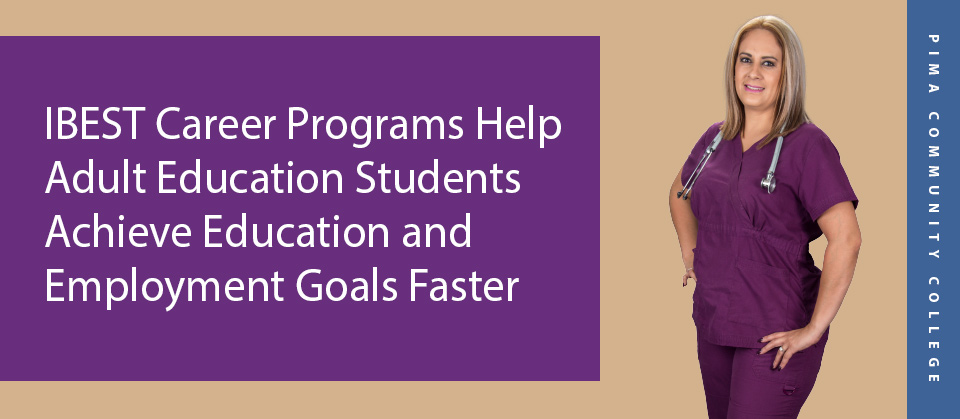 "Pima's IBEST program helped me get the credentials I needed to advance in my career," said Pima Community College graduate Liz Rendon.
In 2015, Rendon completed Pima's Integrated Basic Education and Skills Training (IBEST) and graduated with an Arizona High School Equivalency diploma and a Behavioral Health Services (BHS) certificate. After working as a low-paid, non-certified caregiver for more than a decade, she now earns a much healthier wage as a behavioral health services technician.
Rendon, a mother of five, was acutely aware of the potential boost to her salary if she returned to school to prepare for her GED® (General Education Development) test.
According to the U.S. Bureau of Labor Statistics, adults with high school credentials, on average, earn $10,000 more per year than those without.
"Earning a GED was always in my thoughts," Rendon said. "I enjoy helping others and getting certified to do the type of work I love made total sense."
The BHS field is one of the fastest growing professions in the country. The U.S. Department of Labor expects jobs for behavioral health technicians and other social and human service assistants to grow by 28 percent through 2020. According to the firm Economic Modeling Specialists. Inc., by 2020, Pima County will see 18 percent growth for both behavioral health specialists and psychiatric technicians.
"BHS IBEST is a great program for people just entering the field or those in an entry-level job who want to move up," said Laurie Kierstead-Joseph, director of Pima's Adult Basic Education for College and Career.
"Through IBEST, students can get a start on a career in fast-growing sectors of the economy while they're strengthening their basic skills," said Kierstead-Joseph. "Students are able to learn faster and go further."
IBEST classes are designed to help students be successful by having two instructors in the classroom-one teaches the professional-technical content, while the other supports the development of basic skills, such as reading, writing and math. Together, the instructors build a classroom environment that provides maximum support for student success.
According to research conducted by Columbia University, IBEST students are three times more likely to earn college credit than traditional basic education students and nine times more likely to earn a workforce credential.
-  Jamila Caamaño
PCC's BHS IBEST program has prepared 27 students for in-demand positions. The program is a collaborative effort between PCC Adult Basic Education for College & Career, PCC Center for Training and Development and Arizona@Work-Pima County (formerly Pima County One Stop).
PCC also has an IBEST program in Machine Tool Technology and plans to develop more career pathway programs soon. ‣ To learn more about the IBEST Certificate programs, call 520-206-6502 or visit pima.edu/adulted.