STEM Event Combines Fun and Science
First-ever STEM Innovation Challenge encourages teamwork and problem-solving
Pima Community College held its first-ever STEM Innovation Challenge this past fall, encouraging the pursuit of science education and careers.
" The value of the PCC STEM Innovation Challenge to our students is many-fold. First, the students get to create their own long-term project centered around improving the STEM ecosystem in Tucson. I was impressed by how the students were interested in helping younger students. Our students also received first-class training from LeadLocal and other community partners on the innovation process. Our students then were able to test, through experiences, how this process can actually work to create a finished product. Finally, students learned how important 'soft skills' are when working and communicating as a team. "
— Mark Moellenhoff, PCC Mathematics Faculty
The event at PCC's West Campus drew community members of all ages and students from high schools as far away as Nogales to explore the fascinating arenas of science, technology, engineering and math (STEM), as well as touching on the arts.
The Innovation Challenge was designed to address two key components of PCC's new mission: supporting student success and community engagement.
"The focus was to strengthen connections between innovative STEAM (science, technology, engineering, the arts and math) areas, students and faculty, and related community organizations and training partners such as JobPath, Xerocraft, Innovengine LLC, LeadLocal and the STEMAZing Project," said Michael Peel, the College's Community and Government liaison. "It did this through team-based projects that serve unmet community needs in new and emerging STEAM areas."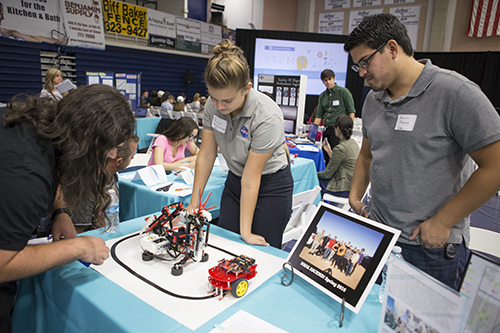 Teams of PCC students, faculty and community mentors began meeting this past June to learn how to use innovation and entrepreneur skills to answer the question "What does a STEM town (ecosystem) look like that will support your future?" After a two-day intensive training session, they worked through the summer on projects to compete for scholarships and seed funding. To support the endeavor, PCC hosted a series of 10 workshops for the teams, that also were open to the public. The workshops featured leading community experts as speakers.
The Innovation Challenge competition was partially supported by a Hispanic-Serving Institution STEM grant hosted at the West Campus.
"It's important to note that the Department of Education (DOE) supported this initiative even though it was not part of the original grant," said Frank Velasquez, STEM Division program manager. "Two of the main components of the HSI-STEM grant at West Campus are to create better student pathways to universities and to improve instruction through inquiry-based strategies. I'm happy the DOE approved it because I know without a doubt that this initiative strengthened the students' problem-solving skills as they move into universities. But more so, this challenge prepared them to find real-world solutions to real-world problems."
The Innovation Challenge competition culminated at the Oct. 15 event, where the teams displayed their projects to judges and the public, and were awarded prizes.
More than 50 exhibitors comprising community organizations and PCC faculty joined the teams in showcasing the exciting possibilities the STEAM field can offer. The exhibits featured interactive and engaging activities, such as cornstarch activities for the younger set by the S.Y.STEM Coalition; a virtual welder from PCC's Business, Occupational, and Professional Programs; a ceramics demonstration by PCC instructor Hirotsune Tashima;  and a demo showing how fog is made for theater productions, by PCC instructor Todd Poelstra.
Exhibitors also represented "serious" science and engineering, such as The University of Arizona Lunar & Planetary Lab's exhibit on the OSIRIS-REx mission to asteroid Bennu, and a demonstration on purifying water by PCC's Duke Schoonmaker, Life Sciences instructor.
Later in the afternoon, PCC's community partner, JobPath, hosted a Career Exploration for high school and college students, featuring 13 local employers discussing the kinds of skills and education they expect from job candidates in STEM fields. The employers provided information on careers, applying for positions and writing résumés.
Meanwhile, community experts led half-hour workshops on topics ranging from "How can Tucson reduce carbon emissions by 50 percent?" to a panel discussion sponsored by PCC Women in Technology, featuring four Tucson women who are leaders in STEM fields, as well as a PCC engineering student.
And if all this was too intellectual, the Pima Association of Governments brought in an alternative fuel computer game and cool cars to admire. Cars on display included Chevrolet Impala Bi-Fuel, Honda Civic Natural Gas, BYD e6, Chevrolet Volt and a Tesla Model X.
For many attendees, the high point of the day was the keynote address given by Nagin Cox, an engineer with NASA/Jet Propulsion Laboratory who speaks around the world on behalf of the U.S. State Department and NASA. Cox is currently a Mission Lead on the operations team for Mars Science Laboratory (MSL)-NASA's Mars Curiosity Rover that landed in August of 2012 and has been exploring Mars ever since. Cox has spoken to audiences around the U.S., in Europe, the Middle East, and South Asia, on the stories of the people behind the missions. She also has an asteroid named after her!
Besides talking about the Mars mission, Cox emphasized to the students the importance of following their passion. She spoke of how she came from a traditional family in which girls and boys were expected to follow very different paths. She didn't let that stand in the way of pursuing her dreams, and she encouraged the students not to let obstacles stand in their way.
- Libby Howell and Michael Peel
STEM Career Facts
"STEM jobs are the jobs of the future," according to a 2011 report by the United States Department of Commerce's Economic and Statistics Administration.
The nation both needs and rewards STEM workers, who "drive our nation's economic competitiveness by generating new ideas, new companies and new industries," stated the report, STEM: Good Jobs Now and For the Future. The report concluded:
STEM workers earn 26 percent more than their non-STEM counterparts.
STEM workers are less likely to experience joblessness.
STEM degree holders command higher earnings, regardless of whether they work in STEM or non-STEM occupations.
The average hourly pay for a worker with a bachelor's degree in a STEM occupation is $35.81 per hour. Those with a graduate degree earn, on average, nearly $41 per hour.