Hot Career! Demand for Hvac-R Technicians and Installers Is Strong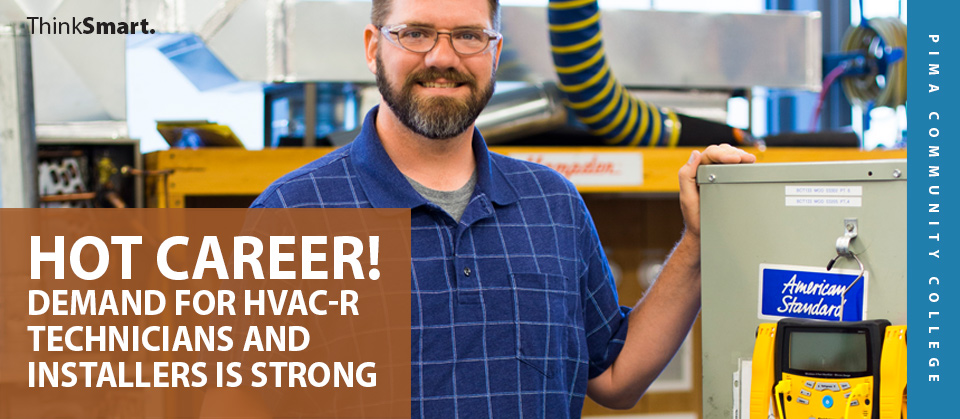 By Anne T. Denogean
Whether the economy is running hot or cold, there's one career field with a consistently sunny employment outlook.
Heating, Ventilation, Air Conditioning-Refrigeration (HVAC-R) technicians, specialists and system installers are always in demand, especially in Arizona where temperatures can soar above 100 degrees during the summer and drop below freezing in the winter.
"It's solid," Pima Community College Building Construction Technologies (BCT) department head Patrick Lawless said of the job market for HVAC-R. "The demand nationally is very high. Locally it is also high, but the survey is done in months of high temperatures."
That demand includes employers such as the University of Arizona, where close to 50 percent of employees responsible for maintaining its facilities will be eligible for retirement in the next 10 years, Lawless said, noting that the UA has apprentices receiving training through Pima's BCT programs.
The U.S. Department of Labor Statistics predicts job growth in the field at 14 percent, much faster than average. Nationally, the average hourly wage for an HVAC-R mechanic or installer is $23. Locally, Lawless said wages can range $18 to $35 an hour depending upon expertise, sales and other bonuses, and summertime comes with overtime hours. Outstanding technicians can make more than $100,000 annually, he said.
At Pima, students learn through hands-on experience on modern systems. They can study HVAC-R as their concentration while earning an advanced certificate or an associate degree in Building and Construction Technologies.
A certificate or degree isn't required to work in the HVAC-R field, but it certainly helps if someone wants to work for a reputable company that pays well, Lawless said. Students also may test for national certification as Pima is a National Center for Construction Education and Research (NCCER) testing center.
"The better prepared a technician is, the more valuable they are," he said.
PCC student Richard Foard, who served in the U.S. Air Force from 2011-2014, did a lot of research about his next career prior to leaving the military as part of his transition.
He picked HVAC-R because "it's an interesting trade and it's growing and growing. It's always needed, practically recession-proof. I also completed electrical (as a concentration), because they kind of go hand in hand."
"The program has been fantastic," Foard said. "The education is great. The instructors are very knowledgeable in all aspects of the trades. The systems we're learning on are the same as in the field."
After completing some courses at Pima and with a little bit of previous experience as an installer, Foard was hired in May 2016 by Green Valley Cooling and Heating. He continues to work toward his associate degree in both the electrical and HVAC-R concentrations.
Lawless said it's not unusual for Pima HVAC-R students to find employment before they complete the program.
"We have much more interest from employers than we have had in the past. We have employers who come by and see us often. They are looking for employees who already have an interest in the HVAC-R industry," he said.