PCC Fashion Design Student Named Phoenix Fashion Week Lifestyle Emerging Designer of the Year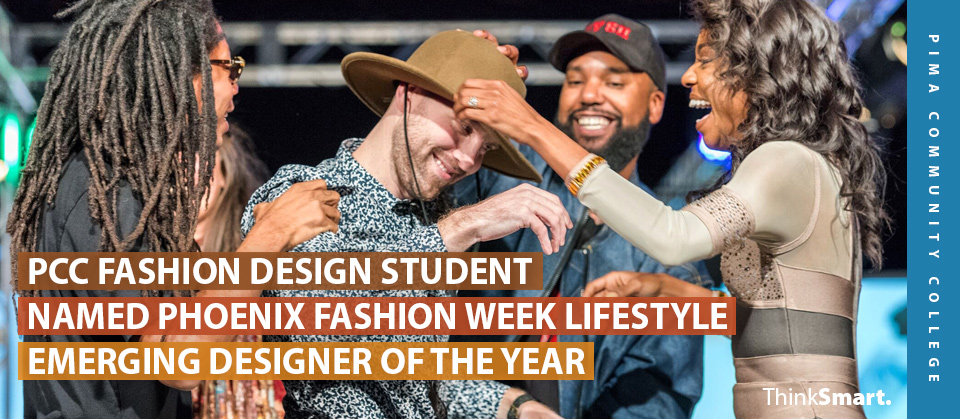 By PCC Staff
A Pima Community College Fashion Design student is riding a wave of success after being named Phoenix Fashion Week 2017 Emerging Designer of the Year in the Lifestyle category.
Phoenix Fashion Week announced Quinlan Wilhite as the Lifestyle category winner during its October event. He was one of 15 emerging designer finalists who participated in the four-month Emerging Designer Bootcamp 2017 that ended in late September. Emerging Designer awards also were given in Couture, Contemporary and Accessory categories.
He said he will make good use of the $10,000 prize package of production/manufacturing funds and resources that came with the award. The award also gives him an opportunity to present his fashions on EVINE home shopping network.
Wilhite, a Salpointe Catholic High School graduate and founder of QMULATIVE brand, is putting the finishing touches on his fall 2018 collection. His spring/summer 2018 collection is available now.
Though Wilhite didn't take any PCC classes in the fall in order to focus on the designer bootcamp, he is considering eventually transferring from PCC to Arizona State University's new Fashion bachelor's degree.
"I'll be meeting with (PCC lead faculty) Nancy Spaulding to learn more about ASU's new fashion bachelor's program and see what I'd need to do via Pima to consider ASU," he said.
Wilhite's fashion design journey began in 2013, when his grandmother taught him to sew. Though he had started studying optical sciences at the University of Arizona, he soon was taking fashion design classes at PCC. He founded QMULATIVE in 2014. (Find out more about the brand at qmulative.bigcartel.com, or on Facebook, Instagram and Twitter.)
PCC offers a Fashion Design Certificate or Associate of Applied Arts with Fashion Design electives. The College also is aligning its program with ASU to help PCC students more easily transfer there.
The median wage for fashion designers in the U.S., was $65,170 in May 2016, according to the U.S. Department of Labor. Labor projects that employment of fashion designers in the wholesale apparel industry will increase 17 percent through 2024.
"I am overwhelmed by the support leading up to and after my Phoenix Fashion Week victory," said Wilhite. "It's instantly humbling and inspiring. I definitely won't have any days off now!"
For more information about this program, go to: pima.edu/program/fashion