PCC Provides High-tech Dental Studies Training with Upgraded Facilities, Programs and Courses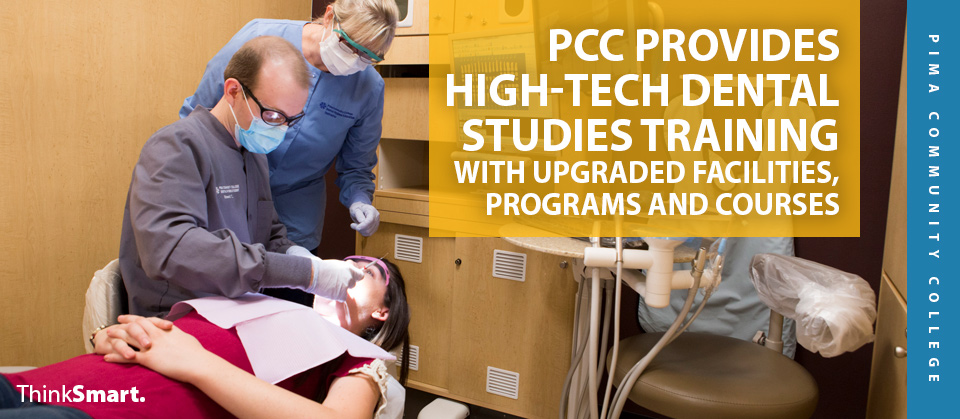 By PCC Staff
Renovation of Pima Community College's Dental Studies public clinic, lab and curricula was completed this past summer.
"It is crucial for dental students to have a professional and adequate setting where we can practice our skills," said Dental Assistant Education student Isaac Rodriguez, who plans to work as a dental assistant while waiting to start the Dental Hygiene program. "Our clinic provides us with ample space and enough operatories to accommodate every student in the program."
The federally funded renovations enhance the three Dental Studies programs – Dental Hygiene, Dental Laboratory Technologies and Dental Assistant – that make up one of Pima's first Centers of Excellence.
"Being able to take digital radiographs and having two monitors in the Dental Clinic op mean I can interpret the patient's radiographs in conjunction with the periodontal chart – all while working on them," said second-year Dental Hygiene student Cathryn Lovio. "The combination of the technology and design of the program, along with our quality dental hygiene instructors truly sets up students for success."
Renovation highlights include:
30 percent increase in Dental Studies program enrollment capacity
10 additional Dental Clinic operatories for 23 total
12 Pilot Dental Studies courses with redesigned curricula
New pathway from Dental Assistant certificate to Dental Hygiene associate degree
____________________________________________________________________________________
$3.25 million grant over five years from U.S. Department of Education Hispanic-Serving Institutions Title V: Abriendo Puertas/Opening Doors; Innovation in Dental Studies Education
PCC Dental Clinic: Open to the public, with Dental Hygiene students, supervised by dentists and dental professionals, providing various low-cost services; PCC West Campus, Room K-259; 520-206-6092