Ask Ryan: How to Minimize, Avoid College Debt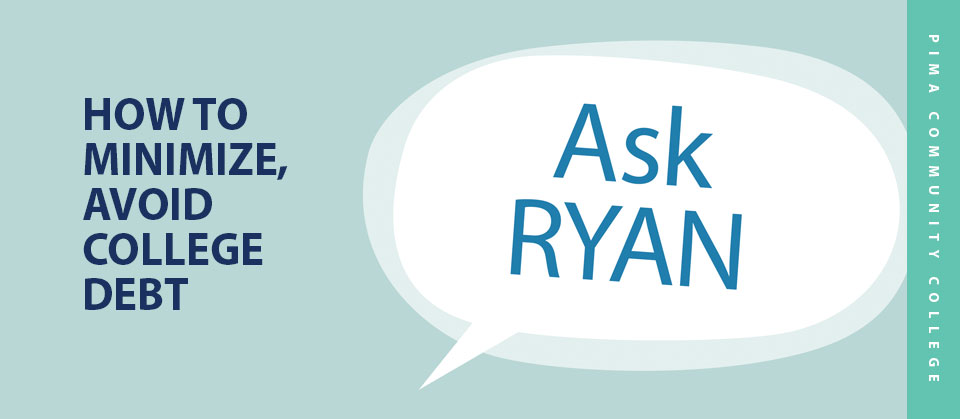 The money question comes to me daily and in various ways: How much is tuition? Do you offer scholarships? Are there opportunities for on-campus work-study positions?
The specter of debt is the underlying fear. Most people want to leave college with a degree and a promising future. Nobody wants to leave college with a mountain of debt. And there certainly are ways to minimize or avoid it.
Start at Pima Community College even if your goal is a bachelor's degree. Attend Pima for two years to complete lower division general education requirements for Arizona's state universities, then transfer to a university for the final two years to continue your studies and complete a bachelor's degree. Pima's tuition is significantly lower than that of the universities.
Average net price for a full-time beginning student over two academic years*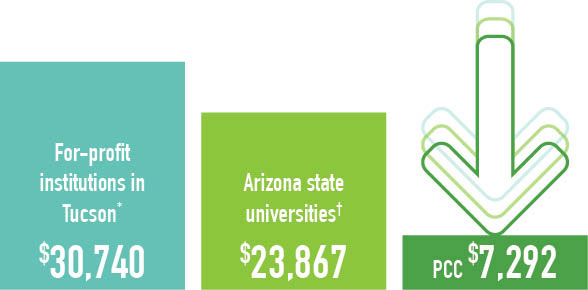 Explore Financial Aid. I can't say it enough: Apply for federal financial aid at fafsa.ed/gov.  Also, talk to a Financial Aid expert at one of our Student Services centers to understand your options from grants to work study to student loans. If you must take out loans, accept only what you absolutely need and return any money left over after paying for educational expenses. It isn't free money. Loans must be paid back with interest later. For more information about financial aid, call 520-206-4950, email fahelp@pima.edu or or visit a PCC Student Services Center.
Institutional and External Scholarships. Apply for scholarships every year and start early, as the majority of scholarship deadlines are from February
to April.
Pima offers merit-based aid to students who meet the criteria, which can be found in your MyPima portal in the PCC Scholarships database. You can be auto-matched to opportunities because of certain qualifiers in your personal student record, such as program of study and grade point average. Three scholarships that focus on academic success, leadership experience and community service are:
Pima Merit Scholarship
Chancellor's Service Scholarship
All-Arizona Academic Team Scholarship
For more information, go to pima.edu/scholarships.
Seek out other scholarships. The Arizona Community Foundation, azfoundation.org, allows high school seniors and current college students to apply for more than 100 scholarship awards online with one general application. Other websites with scholarship info include collegeboard.org, fastweb.com and scholarshipsaz.org.
Finally, ask your high school counselors and teachers and check with local Rotary and Lions clubs about scholarship opportunities.
Save on College Textbooks. Take classes that use low- or no-cost Open Educational Resources (see p. 10 for details). Compare prices between renting and purchasing textbooks. Before buying a newer version textbook, ask your professor what's changed from the previous version. It may be significantly cheaper to obtain the previous version.
Credit through Prior Learning Assessment. There are various low-cost ways through which you may be able to earn college credit for knowledge that you already have mastered. Among them are portfolio assessments, challenge exams, nationally standardized exams, professional certifications, ACE-approved military or corporate trainings, and prior PCC noncredit coursework. See a PCC advisor for more information.
Student Discounts. Always ask about student discounts when shopping, dining and traveling.
AmeriCorps. Acquire valuable skills through national, state and local community service while earning an education award. After completing an AmeriCorps term of service, you are eligible to receive the Segal AmeriCorps Education Award, which can be used to pay current educational expenses at eligible institutions of higher education and training programs. Visit arizonaserve.org for more details.
Ryan Sermon is a PCC Admissions and Recruitment Program Coordinator. You can reach him at rsermon@pima.edu or 520.206.7448