Ease Your Educational Journey with Guided Pathways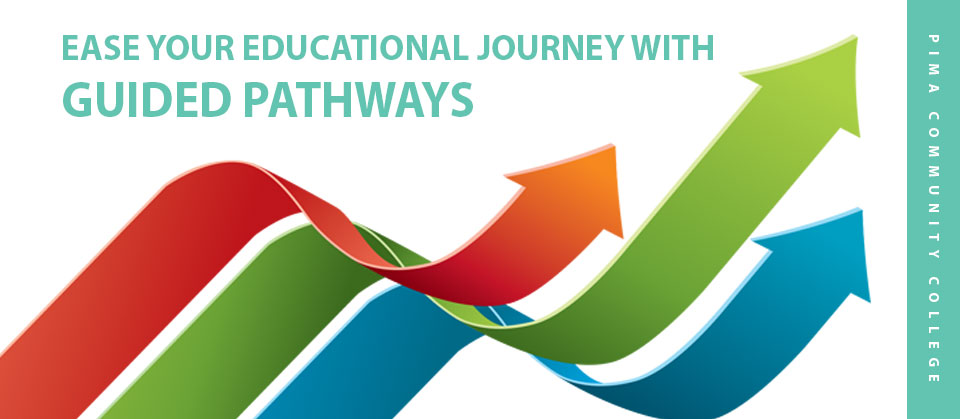 By Lisa Brosky
Save time, save money and achieve your goals with Guided Pathways
While in college, time is money, both in education-related costs and lost wages. At Pima Community College, students can take advantage of Guided Pathways that will help ensure an on-time graduation.
For more than a year, the College has been restructuring each major so that students know what they need to take semester-by-semester to achieve their goals.
For most full-time students, following a program pathway means completing an associate degree in two years. Pathways also help ensure a seamless transfer to four-year programs.
Elements of guided pathways:
Academic Maps and Proactive Advising: rograms are laid out semester-by-semester, allowing students to see the most expedient route to graduation. Students have a clear path to their goals, with guidance from advisors.
Exploratory Majors: tudents who aren't sure what to study can begin in a broad major that covers several similar programs, such as healthcare or science and technology. Classes taken while deciding on a specific major will count toward a certificate or degree and keep students moving toward their on-time graduation.
15 to Finish: ull-time students who take 15 credit hours per semester or any combination of 30 credits in a year can finish a 60-credit hour associate degree program in two years. Best of all, students at every level of academic preparation have demonstrated higher GPAs when taking at least 15 credit hours and are much more likely to earn a certificate or degree. Need to go part time? Taking just one more class per semester can make a big difference to student success.
Block Scheduling: houghtful, structured course scheduling means minimizing students' required time on campus each day and ensuring that students have the classes they need, when they need them.
Informed Choice: tudents will always have choices. Students who want to explore different classes or alter their path can do so. Advisors will guide them in those choices.
The educational journey can be a wild and wonderful adventure, but don't get lost on the trail. Learn more about Guided Pathways from any advisor or counselor.