WHAT is a Clinical Research Coordinator?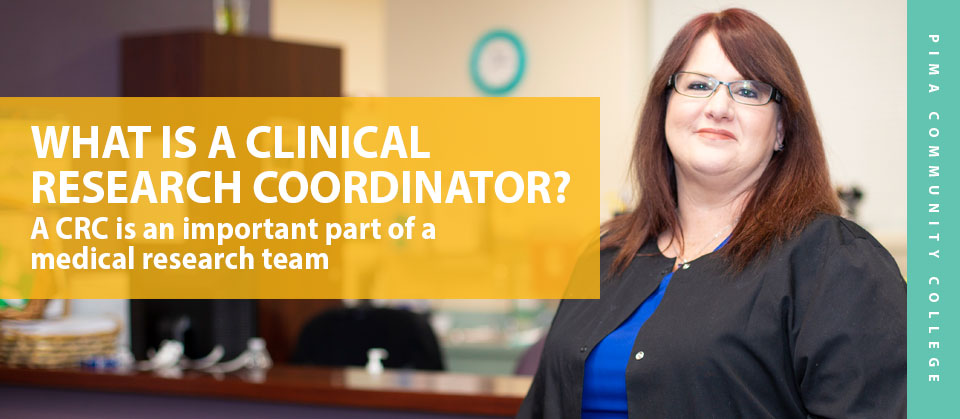 By Anne T. Denogean
When Pima Community College faculty member Rita Lennon talks to potential students about a career as a clinical research coordinator, she often is met with a blank look and one consistent question:
"'What's a clinical research coordinator?'"
"A clinical research coordinator is a critical member of the research team that tests new medications, treatments or medical devices, leading to therapies that can help millions of patients," said Lennon, program director and faculty member for Pima's Clinical Research Coordinator (CRC) program. "The coordinator helps review the study protocol, recruit and track study participants, collect data and generally make sure that study protocols are followed to the letter."
Jessica Mims, a 2017 Pima graduate with an Associate of Applied Science in CRC and now a clinical research coordinator level 1 with Urological Associates, said her average day includes communicating with patients by phone and email, collecting and processing lab samples, recording patient vitals, making research notes, billing tasks and data entry.
"I love this job," Mims said. "Without medical research, there wouldn't be all the new drugs and devices that are out there. It's a huge deal to me to be part of helping people to live better lives."
Pima offers the associate degree in CRC, with many required courses offered online to accommodate the scheduling needs of today's busy student. The coursework includes classes in ethics, anatomy, pharmacology, protocols, research data, data analysis, regulatory compliance and study design, along with practical lab skills, such as drawing blood samples.
Graduates are in high demand for well-paying jobs. And many local employers come straight to Lennon for their prospects.
"We have about a 95 percent placement rate," Lennon said. "I can't get them trained fast enough. Most work in Tucson, some go to Phoenix, others graduate and move on to positions in California or Texas."
Chad Adams, assistant director for cancer clinical research at the University of Arizona Cancer Center, said he sees Pima as a potential pipeline for qualified candidates. The Cancer Center has a staff of about 62 in the clinical research enterprise.
"We are bringing on six interns from Pima," he said in mid-May. "Last year we started taking on interns from the program and we have hired seven graduates to full-time positions."
"Every student is unique, but my general experience is that the quality of people and education is as good as or better than any program nationally," Adams said.
Adams said most CRCs at UA earn from $33,000 to $47,000, while senior CRCs make between $45,000 and $65,000. Salary.com reports that the median salary for a clinical research coordinator in Tucson is $55,438, with a range between $47,620 and $64,403.
For more information: 520-206-2153 or visit pima.edu/program/clinicaltrial