Chancellor's Letter: PCC in An Era of Exciting Change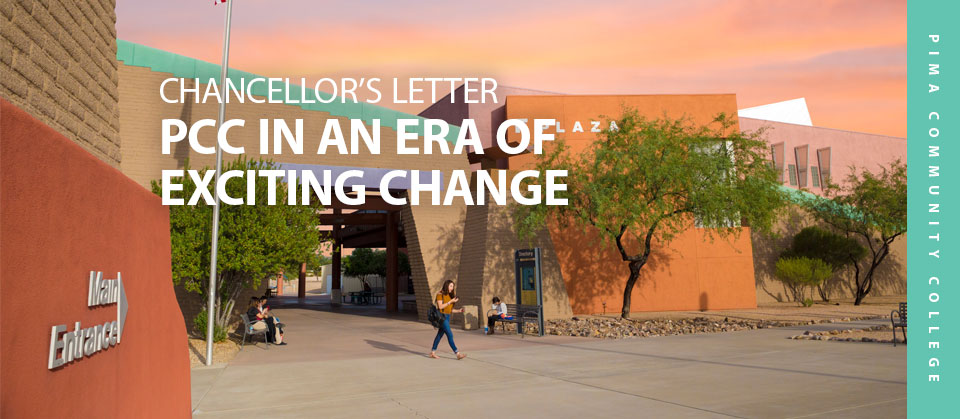 If you're considering attending Pima Community College, you'll find we're making lots of exciting changes to help you be more successful as a student, and ultimately, as you prepare to enter the workforce.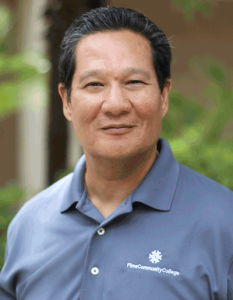 Guided Pathways – Pima is about to implement roadmaps for students that will help them select the appropriate classes in the most efficient timeframe. Courses are grouped together to form clear pathways through college and into careers, whether students enter those careers directly after graduation or transfer to a university for more study in their chosen fields. This will enable students to take a particular class in the semester they need it. Read more on p. 9.
Partnerships with industry – We're nurturing relationships with employers so that we can assure students they are receiving the training to get the best jobs in a given field. We're keeping up-to-date on job and career trends so we can advise students on the best careers to pursue for tomorrow's changing business and industry. For example, PCC has responded to the nursing shortage by substantially expanding degree options in our nursing program. Read about it on pp. 4-5.
Centers of Excellence – We are taking the feedback we've received from business and are using it to develop Centers of Excellence, which will incorporate rigorous, best-in-class training with state-of-the-art equipment.
Diversity, Equity and Inclusion – Pima values its diverse student and employee populations, and we are committed to providing and supporting programs, services and training that will enable all students and employees to achieve their educational and career objectives. PCC is committed to ensuring that all students find at Pima an accepting, safe environment where they can thrive and grow.
World-class faculty – Our faculty members employ innovative teaching methods and care deeply about the success of our students. Numerous PCC faculty members receive national recognition every year for their accomplishments and contributions to their fields of endeavor.  Whether you are an academic over-achiever or someone who needs extra guidance and support, our faculty ensure that your educational journey begins with a solid foundation.
Support services – You'll find that Pima offers many resources to support your educational journey. From financial aid, advising and counseling, to Access and Disability Resources, career services and tutoring, PCC is constantly improving these resources to help new and returning students adapt to college life, explore career options and excel in their classes.
I'm sure you'll find that Pima Community College is the smart choice to help you fulfill your dreams, regardless of your chosen program or major.