Pima Becoming a Leader in Nurse Education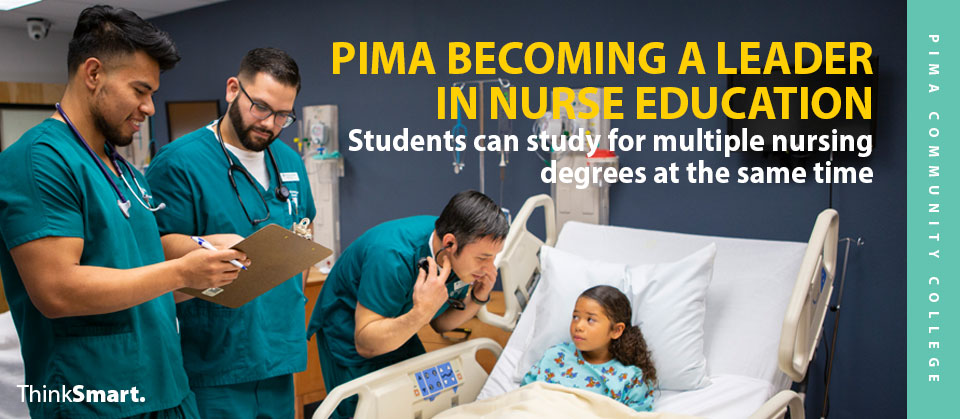 By PCC Staff

Pima Community College, which long has been highly regarded for its Nursing program, is becoming the obvious first choice for future Registered Nurses and other nursing professionals.
With the nursing profession becoming increasingly technological and even more detail-focused, and nursing jobs in especially high demand in Tucson, the College is expanding its Concurrent Enrollment Programs (CEP) with other colleges and universities in the state. These partnerships allow students to work toward more than one degree at a time. Plus, Pima is establishing a health professions Center of Excellence.
Andreotti Federico chose Pima because it offered CEPs. He will graduate in December 2018 with an Associate of Applied Arts (AAS/ADN) from Pima and a Bachelor of Science-Nursing (BSN) from Northern Arizona University.
"This is a solid program that has a tremendous amount of clinical hours to help you feel comfortable in the healthcare environment," Federico said.
While pursuing a Pima AAS/ADN degree, qualified bachelor's and master's degree students simultaneously can study for a BSN from NAU, Arizona State University or University of Phoenix. In addition, AAS/ADN students who already have a bachelor's degree may begin work toward a Grand Canyon University Master of Science in Nursing (MSN) before transferring to GCU.
Nursing faculty member Kathryn A. Di Pierro MSN, RN, said the duration of CEP programs varies, from graduating with the AAS/ADN and BSN at the same time to attaining the BSN six to nine months after the AAS/ADN.
"With the changing climate of health care, nurses not only need to be competent in bedside patient care, but they need to be leaders and advocates for patients and nursing practice within healthcare," said Nursing faculty member Olivia Holt, MSN-Ed, RN. "In order to be the nursing leaders and change agents that we desperately need in healthcare today, they need to have advanced education."
Thanks to the CEPs, students in Tucson whose only previous option for a BSN or higher was a pricey college or university can cut their tuition and fees for two years in half by choosing Pima. The cost  to complete Pima's AAS/ADN degree is about $12,000 for two years, compared to nearly $24,000 at the University of Arizona. Pima Medical Institute and Carrington College are even more expensive, charging almost $26,000 and almost $29,000, respectively.
Plus, Pima Nursing students can work in the profession while pursuing a higher degree because Pima trainings build on completed credentials. For example, a student can complete training as a Nurse Assistant, then work as a Certified Nurse Assistant (CNA) while studying to become a Licensed Practical Nurse (LPN). The Nurse Assistant and Practical Nurse trainings are through Pima's Center for Training and Development.
Pima's Dean of the Division of Critical Care Joseph J. Gaw, Ed.D., MSN, RN, said Nursing graduates work in all areas of healthcare,  including acute care, home health, skilled nursing, rehabilitation and long-term care/assisted living.
Within nine months of graduation, virtually all Pima AAS/ADN Registered Nurse graduates have a job. Di Pierro noted that most of them stay in the Tucson area.
RN Ashley Moran has experienced the quality of Pima and especially its Nursing program as a student and, since 2007, as Clinical Nurse Lead in one of the Adult Medical/Surgical units at Tucson Medical Center. Moran, who had taken dual enrollment courses at Pima while in high school, completed her AAS/ADN in 2007 and has been at TMC since. Though she had taken some Nursing pre-requisites and also applied to UA's program, Moran said Pima was her top choice for quality and affordability.
"I had always wanted to work here because my grandmother was a TMC nurse for 23 years – and a PCC grad – and I wanted to work with her," said Moran, who is pursuing certification as a Medical-Surgical Nurse. "PCC student nurses receive so much more hands-on experience in clinicals, and they are expected to get out there and get into it. I see many nursing students pass through the unit and am always very impressed by PCC students. They are motivated, driven, knowledgeable, and expected to help and learn."
Federico, who works as a pharmacy tech at Banner-University Medical Center Tucson, said he appreciates Pima's knowledgeable instructors and that they have office hours allowing students to review materials with them.
"I loved everything about Pima – the convenience, the smaller class sizes, the amazing faculty and the personal attention I received from them," Moran said. "I felt a sense of community at PCC, it felt like home."
In 2017-18, Nursing was the College's No. 4 degree program, with 183 AAS/ADN graduates, and since 2013, Pima has awarded 1,247 AAS Nursing degrees. In that same period, Pima CTD has awarded 273 Practical Nurse certificates and 333 Nurse Assistant certificates.
"We expect much from our students, but so does the industry," Gaw said. "Nursing is a profession of service to others – dedicating your life to the benefit of your patients, the community and all of mankind."