The Trucking Life One Route to the American Dream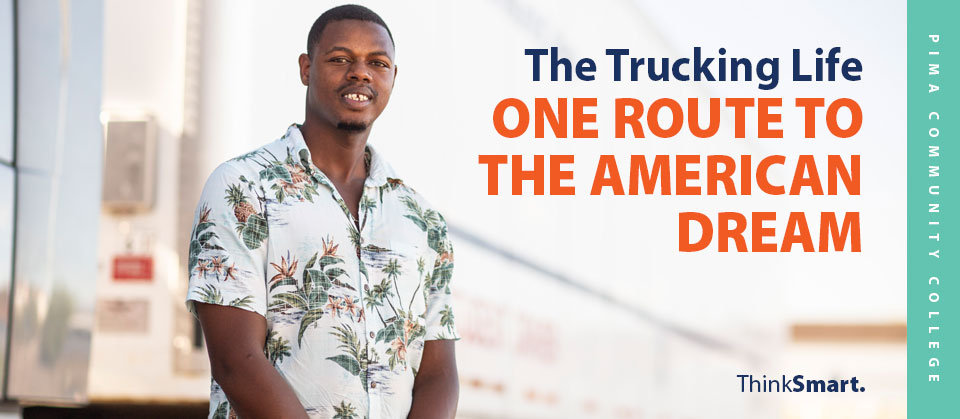 Earn your commercial truck driving license in as little as five weeks
By Jamila Caamaño
Izabayo Zachee, a refugee from the Democratic Republic of Congo, came to the United States four years ago to make a new life for himself. Just out of a refugee camp in Rwanda, he didn't speak English, had lost both parents and, at age 23, had never been behind the wheel of a car or truck.
Today, he's a graduate of Pima Community College's Truck Driver Training program, driving a big rig on America's roads and highways.
"I'm extremely proud of how far I've come," said Zachee. "With being a native French speaker and not having a lot of driving experience, it was hard work. But I did it. I'm a truck driver with pride and I take a lot of pride in what I do."
Zachee wanted a job that paid well. He was attracted to trucking because of its earning potential and the travel involved. For him, it's a dream and a privilege to make money doing something he loves.
"I never thought I would do this kind of job," Zachee said. "I'm enjoying the open road and the sights."
According to a report from the American Trucking Associations, more than 70 percent of goods consumed in the U.S., are moved by truck, but the industry needs to hire more drivers to meet the rising demand.
Over the next decade, the trucking industry will need to hire an average of nearly 90,000 new drivers per year. The need to replace retiring truck drivers will be by far the largest factor, accounting for nearly half of new driver hires (49 percent). The second largest factor will be industry growth, accounting for 28 percent of new driver hires.
"There is great job stability and opportunity as a commercial truck driver," said Missy Blair, program manager for Pima's Center for Transportation Training. "Truck drivers are in high demand across the country. As long as you keep good driving and background reports, you can make a good living with full benefits."
To learn more about a career in the professional truck driving industry, contact Pima's Center for Transportation Training at 520.206.2744 or visit pima.edu/program/truck-driving.
Pima's Center for Transportation Training Offers Comprehensive Hands-on, Over-the-Road Training
Class A Commercial Driver License
Program schedule: Five-week (Mon.-Thur., 8 a.m.-4:30 p.m.); 10-week (Mon.-Thur., 5:30-9:30 p.m.); 10-week (Sat. and Sun., 8 a.m.-4:30 p.m.)
Salary range estimate: *$35,488 – $51,037 per year
Class B Commercial Driver License with Passenger Endorsement (Coach/Transit Bus). "P" endorsements are required to drive passenger vehicles that can carry at least 16 passengers.
Program schedule: Three-week (Mon.-Thur., 8 a.m.-4:30 p.m.); six-week (Mon.-Thur., 5:30-9:30 p.m.); six-week (Sat. and Sun., 8 a.m.-4:30 p.m.)
Salary range estimate: *$24,000 – $40,780 per year
*Source: Economic Modeling Specialists, Inc.