Get Connected: Enjoy on-campus activities and make new friends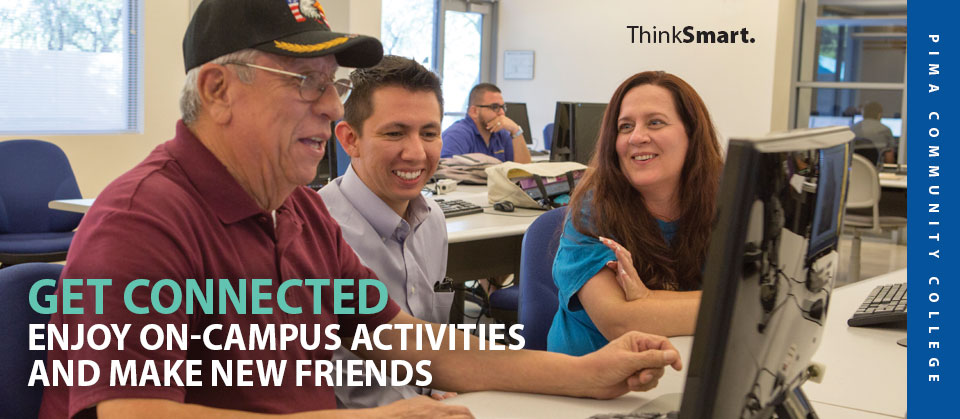 Being connected to campus and knowledgeable about resources are paramount to your success as a student, regardless of whether you are taking in-person, online or hybrid classes. Spending time on campus and getting involved will make your college experience more enjoyable. It also will create a network of friends for you to turn to if you find yourself struggling academically.
But making new friends is not easy for everyone. Here are five suggestions to help you get more involved on campus and have a greater feeling of belonging:
1. Join a campus club or organization
Through Pima Community College Student Life, you can get involved in activities, student organizations and leadership programs that interest you. The student clubs focus on shared interests, including culture, wellness, careers and more. As just a few examples, we have a veteran students club, an honors club, a math club and a diversity club. Student Life can provide you with information on how to start your own PCC student club. 
2. Participate in the First Year Experience program 
PCC's First Year Experience program connects first-year students with each other and with campus resources for success. The program offers information on numerous topics, including how to join the PCC's Honors Program; how to participate in campus events and the benefits of attending a program information session related to your major.
3. Stay on campus for the time between classes
Instead of leaving campus between classes, stay on campus and be productive. If you have a question or need help with research, go to the library and work with a librarian. The Learning/Tutoring centers at all of the campuses also are a great place to review content and get help. If you prefer to spend your downtime working out, use the Health and Wellness facilities at West, East, Northwest or Desert Vista campuses.
4. Explore opportunities that fit with your major, career and interest
There are various opportunities to study abroad through the Gilman Scholarship Program and National Student Exchange, as well as through University of Arizona, Arizona State University and Northern Arizona University programs that are available to Pima students. For more information, contact the Center for International Education and Global Engagement at 520-206-6732 or intadmit@pima.edu. If you are interested in talking with an academic counselor about a meaningful career choice that fits best with your long-term goals, you can make an appointment to speak with one at any of the campuses.
5. Attend an event
Go to an event on campus. The College has athletic teams to cheer to victory. We host an annual car show, a major fashion show, festivals of various types, music and theatrical performances, holiday celebrations and educational events on such topics as writing, diversity, academic success, identity development and more. Events are a great opportunity to meet like-minded people, build college spirit and discuss issues that matter to you.
Ryan Sermon is a PCC Admissions and Recruitment Program Coordinator. You can reach him at rsermon@pima.edu or 520-206-7448.