Chancellor's Letter to the Community

PimaOnline's promise: convenient, affordable education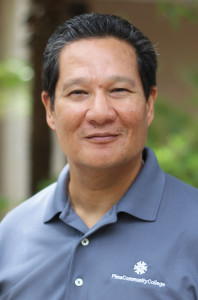 Pima Community College is entering a new era of opportunity to fulfill our mission in ways that will tangibly benefit our students and the people of Pima County. Many obstacles lie ahead. But defining and executing a vision for a premier 21st-century community college is a challenge we are eager to tackle.
One important example of our commitment to our constituents is through the growth and enhancement of PimaOnline, chronicled on pp. 4-5. We understand that many Pima students balance work and family with education. PimaOnline's courses and programs offer flexibility and convenience, allowing students to meet their obligations while learning skills that will propel them to greater success.
We are especially proud to offer a completely online Associate Degree in Liberal Arts that relies on low- or no-cost textbooks. In some traditional classes, textbooks cost more than PCC tuition, and we know high textbook costs represent a significant barrier to education for many students. Pima students in the online Associate in Liberal Arts degree program will save about $2,000 on textbooks over the course of the program.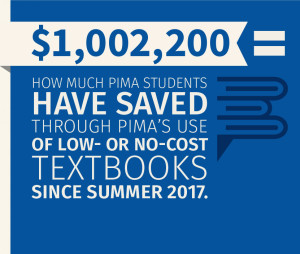 Another way we serve the needs of the community is by offering programs that provide the skills for emerging sectors of our region's economy, such as Automated Industrial Technology (pp. 6-7). Evening newscasts are rife with accounts of how artificial intelligence, automation and robots will transform the world of work. But people are still needed to maintain and repair those systems. Technicians in the modern world of manufacturing use their knowledge of mechanical and electrical systems, computer science, engineering and robotics to keep the automated work place running smoothly. Through Pima's AIT program, students help robot-proof their careers.
I should note that Pima will celebrate its 50th anniversary in 2019, a milestone we acknowledge on pp. 8-9.  Given that our first home was an old airplane hangar at Tucson International Airport, it's safe to say much at Pima has changed. But some things do not change. Pima Community College always will strive to help fulfill the aspirations of students seeking their personal vision of the American Dream through the promise and power of higher education. And I believe that during Pima's next 50 years, the best is yet to come.
Lee D. Lambert, J.D.
Chancellor