Fit Your Degree Around Your Life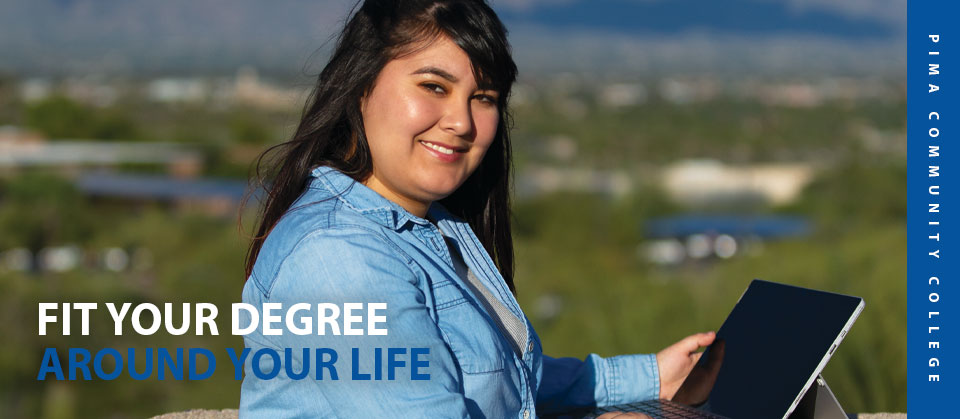 By Jamila Caamaño
If you find it difficult to attend classes on campus, the convenience of online education may be just what you are looking for. With PimaOnline, you can fit your degree around your other commitments.
Jennifer Ramirez Trillo, who recently completed her Associate of Arts (AA) degree in Liberal Arts, said she enjoyed the versatility of studying on her own schedule and not having to physically attend classes.
With PimaOnline, "you have the freedom and flexibility to learn from wherever you are," she said. "I completed my coursework while living in Buenos Aires, Argentina. This is something that is beyond priceless."
Trillo, who formerly worked as a Certified Medical Assistant, said she turned to her hometown college to pursue a degree in something she was more passionate about.
"When I learned how I could earn an online associate and work on my bachelor's degree before transferring into a university, I thought it was the perfect plan. Pima offered many courses transferable to the online English degree program at Arizona State University."
At Pima, students can take advantage of the great transfer agreements with numerous colleges and universities across the country. Some even offer online bachelor's degrees. These programs include the same kinds of courses a student would take during the first two years at a four-year college and are designed specifically to help students succeed in making
the transition.
"Enrolling in PimaOnline was one of the best decisions I've made," Trillo said. "Pima helped me to raise my GPA to be accepted into my dream university."
This spring, she will begin her studies at Arizona State
University Online.
Beth Shironaka, a retiree, said PimaOnline was a smart way for her to complete her college degree.
"I live 25 miles from any Pima campus," she said. "Given my distance and my environmental consciousness, online learning is my only option.
"When you take classes online, it has a positive effect on the environment. From reducing greenhouse gas emissions to
saving trees from being made into paper, online learning is an environmentally
friendly choice."
Last fall, Shironaka received her AA in Liberal Arts while taking advantage of Pima's Open Educational Resources (OER).
OER are textbooks that have been funded, published and licensed to be freely used, adapted and distributed. These books can be downloaded for no cost or printed at low-cost.
"Economically, OER courses are my first choice," she said. "I've saved at least $1,000 in book fees. And since the textbooks are digital, it's an excellent way to save paper."
After taking Pima's online class on the Holocaust, named the best eLearning elsewhere course in 2018 by the National Instructional Technology Council, Shironaka decided she wanted to become an instructional designer.
This spring, she will begin an online interdisciplinary studies program at Northern Arizona University. She plans to eventually earn a master's degree in Educational Technology and, perhaps, pursue a doctorate.
For some students, the benefits of earning a college degree online go far beyond the convenience and versatility of studying anywhere with an Internet connection and avoiding the commute to class.
Anisha Duchiela found online to be more conducive to her learning style and felt more comfortable communicating with peers in an online format than in a classroom.
"It is easier to focus on learning when I am in an environment that is comfortable, like my own home," Duchiela said.
"Online classes have allowed me to truly capture the essence of the course content. I am shy and online find myself to be more open and willing to connect to people I never met. This has allowed me to really understand the material and relate to what was being taught. Most importantly, I found myself creating a solid structure and routine to my life and my classes. That is something I can take with me forever," she said.
"With online education, you're able to learn wherever you are and at your own pace to let the information soak in," Duchiela said.
With PimaOnline, students can complete their coursework when they are at their peak energy, whether that's early in the morning or late at night. Students can study at a time and place of their choosing and receive the same high-quality education and support services as on-campus students.
Pima has a dedicated online student advisor, online library resources, and tutoring and technical support services to ensure students taking online classes have everything they need to finish their degree on time.
Find out how PimaOnline can help you start or advance your ideal career. For information, go to pima.edu/pimaonline, or contact aacosta29@pima.edu or 520.206.6587.
Pima offers the following certificate and degree programs you can complete exclusively online 
Business
Associate of Business Administration
Associate of Applied Science
in Business Management
Basic and Advanced
Business certificates
Early Childhood Education and Early Childhood Studies
Associate of Arts, Associate of Applied Science and certificates
Elementary Education and Teacher Education
Associate of Arts and Post-degree certificates
General Studies
Associate of General Studies
Health Information Technology
Associate of Applied Science and certificate
Human Resources
Certificate
Liberal Arts
Associate of Arts in Liberal Arts