Not Your Grandfather's Factory: Industrial technicians use high-level skills to keep things running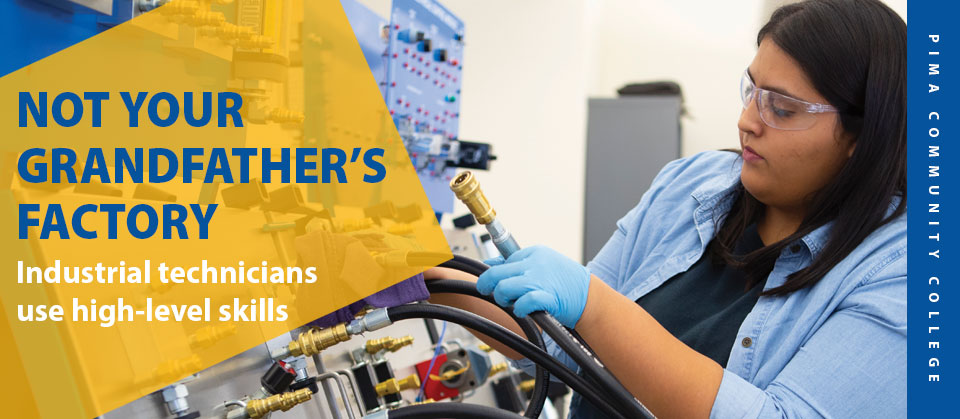 By Anne T. Denogean
Today's manufacturing jobs are not the factory jobs of your grandfather's day.
Modern manufacturing work "is a really good combination of analytical thinking, problem-solving and hands-on work," said Charlie Perkins, lead faculty for Pima Community College's new and growing Automated Industrial Technology program. "It's not the kind of work where you have to check your brain at the door whereas manufacturing jobs of the past had that kind of image."
Pima offers a level one certificate in Automated Industrial Technology and is expanding to offer a level two certificate and an associate degree in the fall. The program prepares its graduates to find employment as well-paid, highly skilled technicians in a field that has undergone major changes in yet another industrial revolution.
Factories of old had reputations as being dirty, dangerous and generally unpleasant. The job could be repetitive and poorly paid. Modern manufacturing relies heavily on automated production systems, with the capability and efficiency of machines largely eliminating the need for humans in manufacturing in all but one important area – the care of the machines.
"There's a lot of excitement about these machines but they all break down sometime, and someone has to work on them," Perkins said.
The demand for people to do that – with such job titles as automation engineer technician, electronic assembly technician or maintenance and instrumentation technician – is growing steadily. And the wages reflect the sophisticated skills required, with salaries ranging from $37,000 to $65,000, according to ziprecruiter.com.
"They keep the production line up and running," Perkins said, adding, "As automated production systems are getting more integrated and more intelligent, it's opening up a lot of opportunities."
PCC student Luis Villarreal, who works at Caterpillar through a contract with another company, wants to make the most of those opportunities by earning formal credentials. He started in facility maintenance, then moved to instrumentation.
"I want to advance my career with them," he said. "I'm at the entry test technician level and there are different levels, but they require me to get my associate degree in a mechanical or electrical field."
Perkins said for other students without relevant experience, "this program has really opened up a new world for them."
PCC student Gianina Mata had never worked in manufacturing before taking classes at Pima. Now in her second year at Pima, she's completing a paid internship with Perfection Industrial Finishing.
"This is really all brand new to me," Mata said. "I wasn't sure I would be good at it, but once I got the hands-on experience, I really liked how quickly I was able to get the hang of it."
In Pima's laboratory, students train on $500,000 worth of equipment designed to simulate the real-world systems that run automated assembly lines. They also have opportunities to gain work experience through paid internships, Perkins said.
Devron Reddington, vice president for operations with CAID Industries, Inc., hopes Pima's program will produce a pipeline of potential employees for CAID's automation group.
"We want to develop talented people for our workforce," he said.
"CAID's automation group is doubling in size in the next two years," Reddington said. "Resourcing is our biggest hurdle right now, finding people who have the experience and training or finding people who want to be trained and get that experience."
CAID hopes to identify up to four full-time employees from Pima over 2019 and have at least one paid intern from Pima at any given time, he said.
CAID's relationship with Pima allows the company to provide feedback on the curriculum with hopes of turning out industry-ready graduates.
"We can help develop the curriculum to better define what those necessary skills are," Reddington said. "We're trying to help them and help ourselves at the same time. We want them to have the skills learned in the classroom and mesh those with real experience."
"Go to Pima," is Reddington's recommendation for anyone interested in a career in manufacturing.
"It's a good, affordable program that's going to give them a solid foundation," he said.
For more information on the program, contact Charlie Perkins at 520-206-7132 or jperkins14@pima.edu. In this semester's online schedule of classes, the program courses are listed as Mechatronics with an MCT subject prefix.
What is Automated Industrial Technology?
Automated Industrial Technology, also known as mechatronics, combines the study of mechanical, electrical, robotic and instrumentation control systems, as well as computer science. Technicians hired by manufacturing companies use this unique skill set to keep automated production systems up and running.