Pima Internship Leads to NASA Research, Ivy League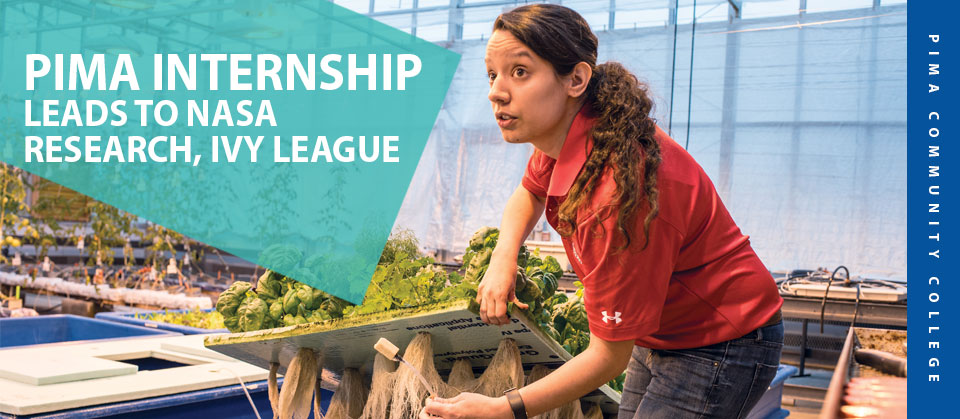 By PCC Staff
Pima Community College led a Tucson newcomer to a NASA-funded internship and graduate school at one of the world's leading universities for Controlled Environment Agriculture (CEA) research.
Erica Hernandez, a 2013 Pima graduate, is completing her Master of Science in Horticulture at Cornell University. She is one of the more than 100 Pima students in the past five years to attend some of the country's top 50 colleges and universities, including Princeton, Stanford, Duke, Johns Hopkins and University of Chicago.
"I feel like, more and more, community college is the real smart choice due to financial considerations," she said. "The quality of education is similar to the intro classes at four-year institutions, and there is more freedom to explore different areas of interest without investing money heavily."
Being able to pursue a degree at her pace helped her keep down her debt, which was important because she was supporting herself financially.
"I moved to Tucson as a young person just trying to find some new surroundings and without much of a plan. I was lucky that Pima was there to offer me a wide variety of classes when I was trying to decide what direction my education would take," said the Portland, Ore., native.
"I learned a lot about myself and what I could do to make my goals happen – and how to find or make my own opportunities."
That determination led her to her first CEA experience – a NASA Ralph Steckler Space Grant internship at the University of Arizona's Controlled Environment Agriculture Center Prototype Lunar Greenhouse. Pima and UA interns helped develop technologies that could one day allow astronauts to sustain themselves on the Moon as a base to travel to Mars.
In 2016 during her senior year at UA, Hernandez was accepted into Cornell's joint M.S./Ph.D. program. That Cornell had a well-established, highly regarded CEA program was more important to her than its Ivy League stature.
Her research now is through the Greenhouse Lighting and Systems Engineering (GLASE) consortium, a partnership between Rensselaer Polytechnic Institute, Rutgers University and Cornell. She focuses on plant responses to light and LED applications in horticulture and CEA. She also is developing a middle school curriculum on science-minded thinking, the nature of light and how plants interact with it.
After her Ph.D., she wants to investigate how plants interact with light, and then develop dynamic strategies for using light in different environments.
"I have also maintained an interest in space-based agriculture and want to be involved with any projects concerning the development of Mars – or lunar-based missions."