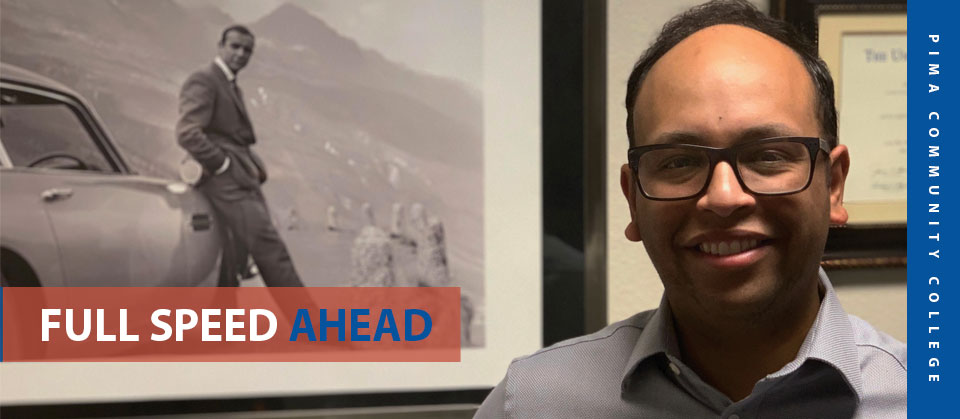 By Paul Schwalbach
A Pima student graduates on time and with a degree, thanks to hard work, a full course load and an advisor who asked the right questions.
Elizabeth Rodriguez-Cuenca admits she sometimes felt lost during the fall semester of 2017, when she began her Pima Community College academic career as a part-time student.
The semester didn't go as planned. She withdrew from one of her two classes.
"I felt that I wasn't sure what I was doing" at Pima, Rodriguez-Cuenca said.
Fast forward to 2019. Rodriguez-Cuenca graduated from Pima in May. This fall, she will attend the University of Arizona, pursuing two bachelor's degrees, in Criminal Justice and Psychology. Her grade point average qualified her for UA scholarships. At UA, she will continue an internship that she began at Pima.
What was behind the two-year turnaround? Credit goes to Rodriguez-Cuenca's focus and hard work – and a meeting with John Ocasio, a Pima program advisor. Ocasio and Rodriguez-Cuenca devised a plan built around a key to community college student success – attending school full-time, with a course load of 15 credit hours each semester.
The power of 15
Community college educators have strong evidence that attending school full-time correlates to a better college experience. For students, the benefits are multiple:
On-time graduation
Less debt
Faster entry into a career and the accompanying paycheck.
Those benefits are driving Pima and community colleges across the nation to promote a campaign encapsulated by the hashtag #15toFinish. "Colleges that encourage students to enroll in 15 credits per semester see student GPAs increase," said Nina Corson, Acting Vice President of Instruction and Transfer Pathways. Noting that many students enroll part-time, she said, "Even adding one class a semester saves time, money and increases the chances of completing a degree or certificate."
Key questions
After graduating from high school in Marana in 2016, Rodriguez-Cuenca worked part-time selling sports footwear at a mall. After a year, in fall 2017, she began attending Pima part time.
Interested in healthcare, Rodriguez-Cuenca registered for an Introduction to Biology lab course and an Early Childhood Education course. She dropped the four-unit Biology course because of work conflicts.
A Pima staff member suggested she meet with Ocasio before registering for classes in spring 2018. Ocasio asked two key questions: "Why are you at Pima? What are you passionate about?"
Rodriguez-Cuenca had always thought about following family members into law enforcement.
Building off that "aha" moment, they mapped out the classes Rodriguez-Cuenca would need to take each semester to graduate in two years with an Associate Degree in Liberal Arts, followed by a transfer to UA to study Criminal Justice.
"John made it super-simple," Rodriguez-Cuenca said.
Following through
Now it was up to Rodriguez-Cuenca to execute the plan. Advisors can create a roadmap. But students have to commit to following through.
"It's a two-way street," Ocasio said.
The graduate-in-2019 goal was ambitious because Rodriguez-Cuenca had earned only three credits in the fall. She caught up by earning Spanish credits through the College Level Examination Program, a form of Credit for Prior Learning. Rodriguez-Cuenca left her job for less time-consuming babysitting. She kept in regular contact with Ocasio to fine-tune her schedules of classes. Successfully taking four courses in summer 2018 – "It was a lot of work but you just kind of put your head down and do it" – was a milestone.
Rodriguez-Cuenca is grateful for the guidance Ocasio provided. Her advice to students who aren't sure of their academic path: "Go talk to an advisor. It's so much easier to get where you want to be if you have a plan."
Ocasio said putting students such as Rodriguez-Cuenca on a trajectory to success is one of the most gratifying aspects of his job.
The work of advisors and counselors is simple, he said: "We are setting them up for success."