Makerspace Encourages Collaborative Learning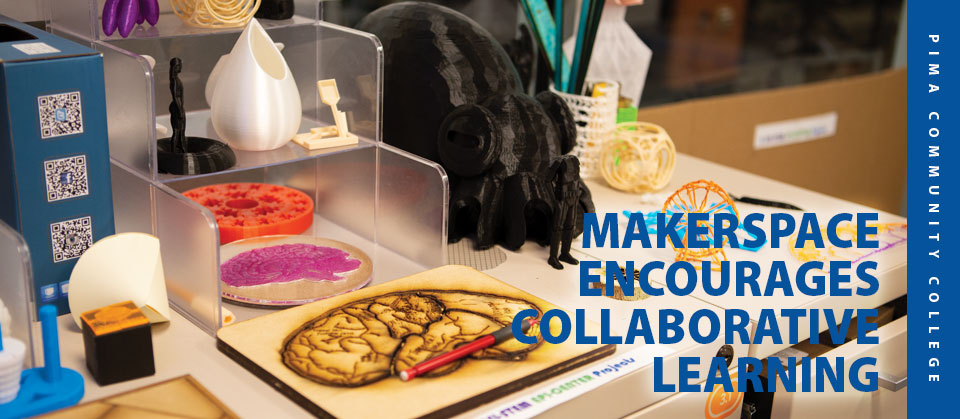 By Anne T. Denogean
Major employers worldwide need workers who can use and even develop technology, however, they also desperately want those workers to have the types of "soft skills" being cultivated in Pima Community College's new Makerspace.
"Companies like IBM and BMW want people with technology skills but complain that their prospective employees are lacking such soft skills as teamwork, creativity, communication and critical thinking. This space is designed to enhance those skills," said Lourdes Rivera, Pima's program manager for the Hispanic Serving Institution (HSI)-STEM Project.
This past November, Pima opened its state-of-the-art Makerspace at the East Campus. The center features 3D printers, laser cutters and other electronic devices, as well as group study spaces with interactive whiteboards. It was funded through the HSI-STEM Project EPIC (Engage, Prepare, Inspire, Challenge) grant, which aims to adapt curriculum and learning spaces to 21st Century learning styles, and increase the success of Hispanic students in science, technology, engineering and math.
In the East Campus Makerspace, students and faculty have designed and created various projects that teach and visually represent learning concepts, said Jorge Caballero, instructional media coordinator. For example, math students have designed vases that, given a constant flow of water, represent a specific graph. Early Childhood Education students picked children's books and designed something related to each, such as the three little pigs and wolf finger puppets. Psychology students have created puzzles of the brain.
"Students come up with the most amazing things we never would have thought of," Caballero said.
Pima student Dan Ventrone visits the Makerspace regularly. He used it to complete a project for his Calculus 2 class last year, creating a visual representation of three differing numerical methods for evaluating an integral.
"It wasn't required for the project. We basically went above and beyond to visually represent that element of the project," Ventrone said.
"The Makerspace definitely facilitates my learning. It's given me an avenue to really be diligent about pursuing assignments outside of what I would normally have done," he said. "Making visual representatives, like that graph I made, aided my understanding by creating a functioning model of exactly what we were doing with our equations."
The Makerspace could be an intimidating place for students, but staff members make sure it's a place where students are not afraid to fail.
"We want students to run into problems and reassess, then redesign," said Brittany Griwzow, program coordinator for the HSI STEM Grant. "Our faculty members have redesigned classes to include that element. It's about the learning process. And it seems so well received by the students. They can fail and figure out what to do with those mistakes."